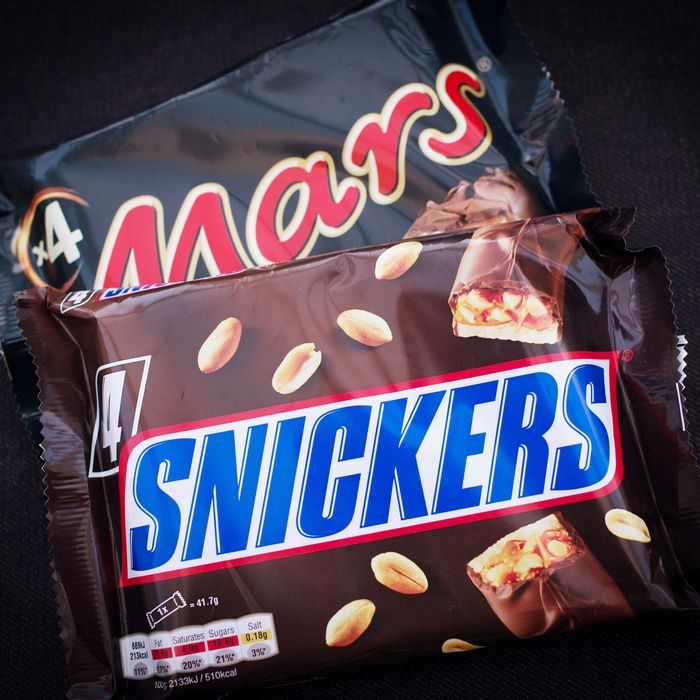 On the do-not-eat list.
Photo: Matt Cardy/Getty Images
Colossal candy-bar-maker Mars doesn't mean to alarm anyone, but it's afraid it's got a small problem right now: Candy bars sold in 55 countries may pose a choking hazard. It announced a recall yesterday after admitting a German customer found a red plastic fragment in a fun-size Snickers he bought last month. The recall only applies to candies produced at a certain factory in the Dutch town of Veghel, but unfortunately that factory is described as "one of the largest chocolate-producing plants in the world." It affects candy bars sold everywhere from the majority of Europe to parts of Asia, and includes Mars, Milky Way, Snickers, Celebrations, and Mini Mix, according to the company.
A spokesperson explained the move is precautionary: "We cannot be sure that this plastic was only in that particular Snickers. We do not want any products on the market that may not meet our quality requirements, so we decided to take them all back." Mars wouldn't hazard a guess about the losses incurred from a recall that extends to over a quarter of the world's nations. But analysts assure The Guardian they'll be "certainly running into tens of millions of dollars." Rival chocolate makers Mondelēz and Nestlé may end up with an early Easter gift during the chocolate busy season, too, since as one expert notes, "It is not great timing."
[Guardian]