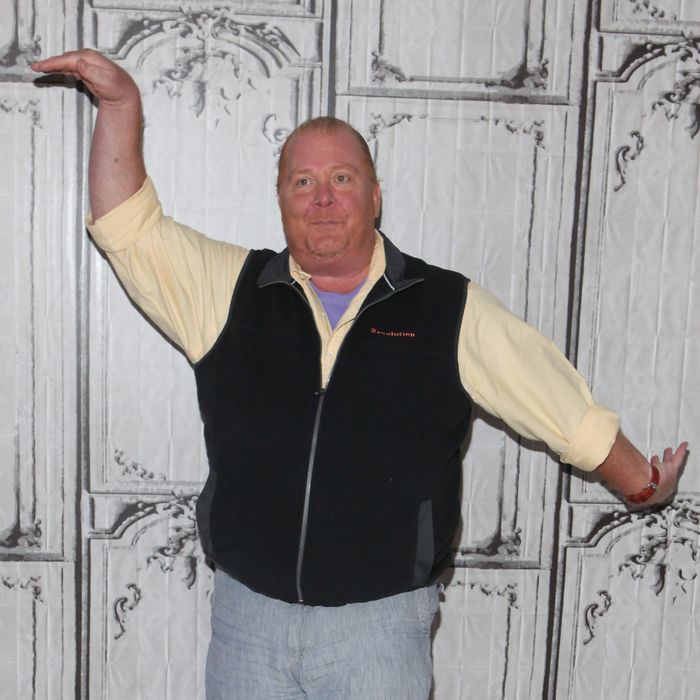 "Man, I'm ripped."
Photo: Steve Zak Photography/FilmMagic
Mario Batali is a noted master of Italian cooking, known as much for his ways with spaghettini and lasagne alla Bolognese as he is, now, for his Crocs. But in an interesting turn of events, Batali has turned his attention to the Denver Broncos' upcoming Super Bowl appearance and Colorado's love of gourmet marijuana edibles. As such, the chef has at long last published his official recipe for the most classic of all weed snacks: pot browines. (Could a Molto Marijuana book be far behind?)
This being Batali, a man whom The New Yorker once called excess incarnate, the brownies are double-chocolate and the recipe calls for four grams of "high quality marijuana," which is ground up and added right to the batter.
And that step right there has some kush-cooking connoisseurs up in arms, taking to the comments and calling Batali an amateur. Notes one apparent enthusiast:
this is a piss poor way to make pot brownies, by leaving the plant matter in the recipe you are ensuring a strongly and unpleasantly flavored brownie, you are better off making pot butter and straining the plant matter
Another commenter goes even further:
humor me here… if you bought 4 grams of 20% THC flowers, and presuming these incomplete and inaccurate directions actually decarboxylated your THC efficiently, each of those brownies would contain 89mg THC!! (that's 4g x 200mg THC / 9 servings). Newbies take note: strain your pot butter, better yet, infuse it into everclear after decarbing & grinding and strain/steep that into sugar, then evap off the everclear. That way you keep your butter tasting like butter. And maybe start off with ohhh 1 GRAM of 20% THC Bud for a whole pan of brownies.

shaking her head in legalized Oregon
Where's Alton Brown when you need him?
[Food52]