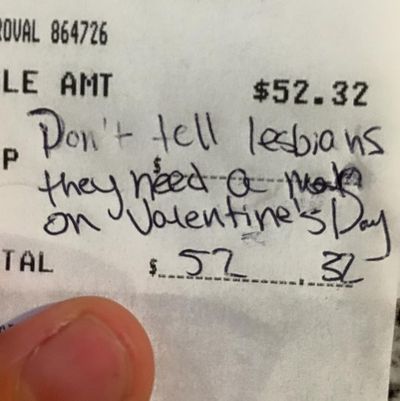 A hibachi chef at Asahi Japanese Steakhouse in Lafayette, Indiana, decided to greet customers on Valentine's Day by asking each person to state their relationship status. That teasing probably embarrassed a handful of customers, but according to Ellie Parker and her girlfriend, Lucy, he saved the homophobic and borderline sexually harassing stuff for their table: Parker says that after they announced they were "each other's Valentines," the chef replied, "It's such a waste to not have a man," and offered to join the pair at home to "heat things up." Once their $52 bill came, Parker explains on Facebook that the two of them, now duly offended, decided to leave one of those life "tips" that involve no actual money:
I'm not normally one to complain on social media, but the service I had at dinner tonight warrants a little complaining….Posted by Ellie Parker on Sunday, February 14, 2016
"I cannot believe I paid over $50 to have my relationship insulted and sexualized," she fumes in her post, adding in a later comment that she hopes sharing what happened "helps others avoid this situation in the future." As far as trying to work things out with their angry customers, Parker's mother said in an update that Asahi offered Parker a refund — if, that is, she agrees to remove her Facebook post that's now reached 7,000 shares. That was more than a day ago, so looks like she's now viewing it as money put to good use.
[Yahoo]