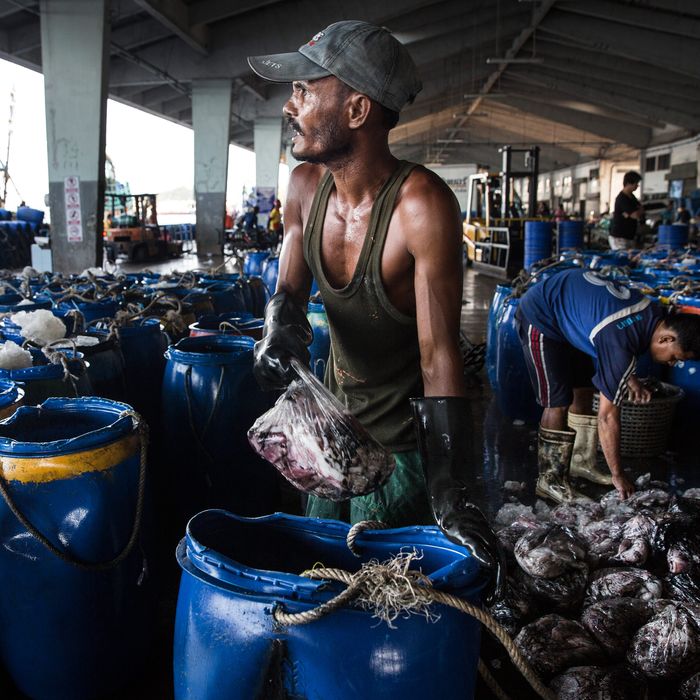 About time.
Photo: Paula Bronstein/Getty Images
The ubiquity of forced labor in Big Food's supply chains is incredibly distressing, partly because it sheds light on America's complicity in it — a terrible part of a 1930 trade law that allows products made by children or slaves into America if consumer demand "cannot be met without them." Well, Congress is apparently equally horrified by these reports, as this week it finally sent President Obama a bill killing that loophole, with backers calling it "an outrage" that it's existed for so long.
The bill comes on the heels of investigations into Thailand's corrupt fishing industry by The Guardian and the AP that, thankfully, freed many of these slaves and brought heat on companies like Red Lobster and Walmart. Several of them, Nestlé most prominently, have since sworn to vigilantly monitor their supply lines, but that hasn't necessarily been as transparent a pledge as the public maybe hoped.
Critics (because aren't there always?) argue the fix overreaches because Customs and Border Protection officials can't prove a particular product on its way across the border is irrefutably the result of forced labor. Plus, they add, corporate efforts to self-police are already a step ahead of government regulators.
Assuming President Obama signs the bill — and he's expected to — it may help clean up the ethics of as many as 350 imports tied to human trafficking by a Labor Department list, like Thai seafood, Pakistani wheat, and West African cocoa.