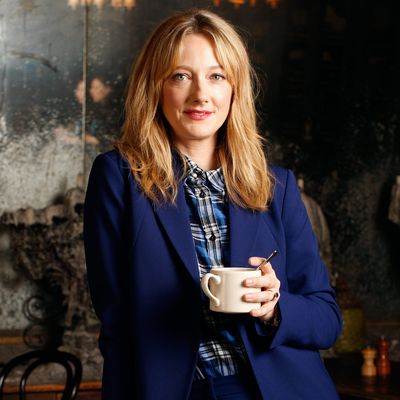 "I feel like I eat like a college student."
Photo: Melissa Hom
It's hard to say that actress Judy Greer is known for one particular role: After all, she has appeared in countless excellent television shows — Arrested Development, It's Always Sunny in Philadelphia, Californication, and Archer, to name a few. (Plus, movies like The Descendants and Jurassic World.) Right now, as Greer is preparing to direct her first film, she says that she's in "food is fuel" stage, and that translates to lots of leftovers, random red-velvet cake pops ("whoever invented cake pops is awesome, and maybe should be running for president"), and Cholula on basically everything. Read all about it in this week's Grub Street Diet:
Thursday, February 4
Thursday was actually a strange, unusual day for me because I was home all day, and usually I have either work or meetings. For breakfast, I usually have oatmeal. I'm always starving as soon as I wake up, but if I get coffee immediately, sometimes I can push breakfast. So I was just home working all day, and I went and made myself a toast situation: toast with hummus, spinach, and hot sauce.
And then chips and salsa, and a handful of peanuts, because we have loads of peanuts in the house. You can have a handful when you're running out the door and it can keep you from wanting to kill other drivers on the road.
My family decided to have tacos on Thursday night for dinner, so I ran to the store. I wanted to try jackfruit. It's like all the rage now. We made a Tex-Mex situation. I made the tacos for my husband and stepson, but I made mine in a salad form: spinach, the jackfruit, corn, onions, and tomatoes, which I mixed all up with some olive oil and hot sauce. It sounds weird, but it was really good.
I feel like I eat like a college student. I also had bought myself a matcha doughnut for dessert. I don't even know what that is, but I saw it in the checkout line, and I had to have it. It was really food! It had green frosting on it, because it's matcha, and my stepson was super freaked out by it. It was a lonely little doughnut in the case, and I needed to rescue it.
Friday, February 5
Friday is a little embarrassing, because I had leftover macaroni and cheese for breakfast. Um, I was in a hurry that day. I have a really long commute, so I was running late, of course. I grabbed an apple to eat in the car, but, yeah, I totally hoovered some leftover macaroni and cheese that had peas and carrots in it. I sound like I have a toddler. That was what I made for my husband, I think on Wednesday, so that was my breakfast. Yay.
I had lunch at Le Pain Quotidien, where I had a meeting. I like meeting at Le Pain because they have free Wi-Fi, and I can sit there for a while if I need to work. I had iced green tea, avocado toast, and a little cup of the split-pea soup. I actually had two meetings back-to-back at Le Pain, so for round two, I ordered chamomile tea and a chia seed muffin, which is kind of next-level awesome. It's probably terrible for me, but it was really good.
When I have two meetings in a row at a restaurant, I'm always starving when I arrive, so I have a big meal for the first meeting. And then for the second one, I'm not really hungry, but then the person comes and they want to eat, and I'm so co-dependent that I feel guilty if I'm not eating with them. So I order food and then I end up just being so full. I'm getting ready to direct a movie right now, so there's a lot of coffee-shop meetings.
Oh, Friday night is also really depressing because I got home in time to make it to my stepson's basketball game. I sat through that. He's only on the frosh/soph team, so he stayed for the varsity game, and I went home by myself. I always have high hopes for us hanging out, but then, why would he want to hang out with me when he can hang out with his friends? I raided the refrigerator — again! I had a leftover half of a burrito that I had for lunch on, maybe, Tuesday? That was in my fridge still … It was sad. I am so gross. I'm into leftovers.
And then, for snacks later I had a tangerine and raspberries, and I think a whole bucket of dried mangoes. I could eat dried mangoes until I die. My husband calls them nature's gummy bears, but I also really love gummy bears. And then, later, I had a handful of peanuts.
Saturday, February 6
Saturday morning was very fun, because, my stepson's also in a bowling league, so he has these games at 9 o'clock. We're like, "You couldn't join a bowling league that had later games on Saturday?" We had to take him there, so we went out to breakfast with some friends at this local breakfast place called Eggs N' Things. It's the only real breakfast spot in Thousand Oaks, California. I don't usually order off the menu: I make them bring me toast and a side of avocado, salsa, and Cholula, and then I make my own avocado toast at the table. And I had black coffee there.
I took my stepson for lunch at Panera, where I had a chocolate-chip cookie. The chocolate-chip cookies at Panera are so good. I got so excited because I shot this movie in Minneapolis over the summer, and there was a Panera right by my hotel, and I was like, "Oh, yes!" And then someone on set was like, "Ugh, and the only place to eat is, like, Panera."
I had an early dinner on Saturday: I made quesadillas with spinach, pico de gallo, and Cholula because we were going to a party that night. The food options at the party were not great, so we came home and my stepson had ordered pizzas. I had two pieces of pizza — just pulled off the cheese. Basically just ate bread with pizza sauce on it, which is awesome, by the way. Never going to complain about carbs. I had bought my stepson a chocolate-chip cookie at Panera that he forgot to eat, so my husband and I split that, too.
Sunday, February 7
Sunday morning, we stayed home, and I had coffee with Lactaid in it. And then I made toast with hummus, chia seeds, spinach, and Lactaid cottage cheese on the side. And more coffee. I made myself some water with a splash of pomegranate juice and some fresh-squeezed lime in it, which I drank all day long. Like a spa water situation. I found the pomegranate juice in the fridge, but who knows when I bought it.
I went to a Super Bowl party on Sunday, and they had tacos for us. I had three veggie tacos, chips and salsa, and a scoop of guacamole about the size of my head. I made blueberry mojitos, and my girlfriend made coconut-cucumber-mint coolers. I also had a Diet Coke and one red-velvet cake pop. Which, I don't know, whoever invented cake pops is awesome, and maybe should be running for president. And then I went home and didn't eat more, for the first time in my life.
Monday, February 8
I woke up and I had my coffee. This time, I put my cottage cheese right on my toast with shredded spinach and salt and pepper and Cholula. And berries, and a tangerine.
I like Cholula, a lot. A lot of what I eat, if you notice, is really bland, and I don't really cook. I assemble leftovers. So the hot sauce, I feel like, makes me feel like I've done something more in the kitchen than just like putting leftovers on toast, which, as I'm reading out loud, feels like my diet. The leftovers-on-toast diet.
For lunch, we were on a location scouter, so, we stopped in Chinatown at a place called Plum Tree. I ordered brown rice, broccoli with garlic, veggie spring rolls, and tea. And then from there, I went to a fitting with my stylist, Karla Welch, and she had a box of doughnuts, so I had half of a doughnut. I don't even know what it was but it was awesome. My husband got takeout from Louise's Trattoria, and he got me the chopped salad with no meat and no cheese, and we shared an order of Penne Arrabiata.
Tuesday, February 9
My flight was crazy early, so I went to Starbucks and got myself oatmeal, a fruit cup, and peach hot tea, because they didn't have chamomile. On the plane, I ate more oatmeal, some black coffee, and then this weird little pretzel roll that I couldn't resist.
For dinner last night, I ordered two salads from room service at the Bowery Hotel: this artichoke and radicchio salad with white-truffle vinaigrette, and then one with kale, Tuscan bean, and red onions.