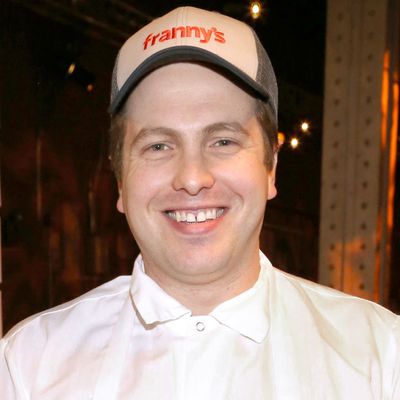 Johnathan Adler has been at Franny's since 2008.
Photo: Sylvain Gaboury/PatrickMcMullan.com
Last week, Franny's chef Johnathan Adler announced he was leaving the Brooklyn pizzeria after an eight-year run. It was a surprising report, if only because Adler has become such a vital part of the restaurant, which is co-owned by Andrew Feinberg and Francine Stephens. However, Adler already has another gig lined up: a culinary position at Blue Apron, the popular meal-delivery start-up. Grub called Adler to talk about the change, as well as how the restaurant industry has changed in the decade-plus he's worked in New York City. Below, a slightly abbreviated version of the conversation.
I want to talk about your new position, but first, I want to back up and talk about your time at Franny's. The restaurant changed a lot in the time that you were there — what was the evolution like, from your perspective?
I moved to Park Slope in the fall of 2006. I was at Per Se at the time, and my first weekend off work, I ate at Franny's and I was like, Wow, this is fantastic. The menu was still that tiny little rectangle with bruschetta and two salads and some pizzas. It just felt like a very comfortable place. Danny [Amend], who was my station partner at Per Se, moved to Franny's in 2007, and he was working with Joshua McFadden. They did a kitchen renovation, and they put pasta back on the menu. It started to feel a bit more complete as a place to go eat. Then they got that glowing review from Frank Bruni in the New York Times, and Joshua made the decision to move on mutually with Andrew and Franny. So Danny took over, and he said, "You should really come be my sous-chef. I feel like we could really take this restaurant to another level." The more we talked, the more I started to understand what he was saying, as far as the potential of the restaurant. I think we went back and forth for about six and a half, seven months, and I came to trail, and at the end of my trail, I sent Andrew an email, and I said that the only thing standing in the way of me taking this position is my ego handling the move from the world of Per Se to Franny's. But that sort of set me on this train of thought, which is, why can't a casual restaurant take itself as seriously as a four-star restaurant? Why can't we hold ourselves to that standard that there is no compromise, that there's nothing that we can't try? There are no limits other than the fact that we want this to feel casual, and we want to make the price point accessible. So Danny and I sat down and we said, "Let's go. Let's start trying things."
When was this?
We're talking about spring of 2008, and so the first thing that we did was decide, with a couple exceptions, that we were no longer going to buy from produce distributors in season. So when the market's in season, the market determines the menu, which automatically forces you into an area of creativity and into an area of, hopefully, innovation and development, because you're not working with a product that's as predictable. That allowed us to develop stronger relationships with farmers, and we were getting access to things that maybe only Dan Barber had access to in the past, or Peter Hoffman. And it really developed from there.
As a diner, it started to feel like the menu was really growing beyond pizza, too.
I feel like we made it more ambitious because we just decided that we weren't going to stop at, Well, this is just traditional Italian. Not to say that Franny's had in the past, but it was more recognizably so. And also, we weren't going to recycle. We tried to, for a long time, only give a dish two years in a row, and then we couldn't run it a third year. There were exceptions, like Meyer-lemon pasta, and obviously some of the pizzas. I think if I took the clam pizza off, there would be small riots … I think there was just a general attitude of, we're not going to ever take it easy on ourselves. And I don't mean that with any sense of negativity or with any sense of ego. It was really just, Let's take everything that we've learned — Danny coming from a lot of years in Ducasse, and me coming from working with Dan Barber and Michael Anthony, and both of us working together for Thomas Keller — and saying, "Let's see what we're capable of."
And eventually, the restaurant moved to the bigger space across the street. What went into that decision?
I got hired as sous-chef, and after about a year and a half, it really became a co-chef role, both in title and in practice. And so I think we got to a point as friends and as colleagues where we said, "It's clear that neither of us wants to always have to check in with the other person or put our idea on hold to give the other person a chance for their idea." We could both feel that, and I think Franny and Andrew felt that, and that begat the expansion. I will say I do think, wisely, on their part, they decided to do what they could to keep us. That was part of it, but also, at that point in Franny's history, and I don't think a lot of people realize this, but in 2011, we were turning away on the average night almost 50 percent of the total number of people that we were able to accommodate. So on a Saturday night you would see turn-aways of up to 75, 80, 90 guests. You don't want to be a neighborhood restaurant that nobody can get into.
Why do you feel like now is the right time to leave?
There are so many things that go into it. There are personal ambitions regarding what I eventually would like to achieve, which I think is owning a few businesses on my own, or in partnership with another chef or another front-of-house person. So that's a small element of it. The biggest driving force is my family. A little while into my time at Franny's, I met the woman who is now my wife, and she is the most supportive person in the entire world. And then, almost two years ago, we had a baby. Restaurant life is not easy on families. That's obvious. Despite living close, by and despite being here for a long time, I'm not able to go 60 percent or 70 percent. I'm an all-or-nothing kind of person. And since reopening in 2013, the kitchen management team has gone virtually unchanged, but the two people who have taken the role of executive sous-chef are both incredibly talented people. And our other sous-chefs are also incredibly talented, and could be sous-chefs at three- and four-star restaurants in Manhattan. So that's been a driving force of what we do, but that comes with an understanding and a commitment that we're all in it together. I'm not going to be the person who shows up at 4 p.m. and is like, "All right, guys, what do you have ready?" Right now my primary concern is, what's the best decision for my family? The best decision for my family is to move out of restaurants for a little while and be able to have a greater work-life balance, both in terms of time and financial security, and really take a step back and figure out what sort of restaurant, or restaurants, if any, would be the best for me to own and operate so I don't feel like my family is always second.
A lot of chefs are talking about trying to create an environment that's not as hard on staff, where work-life balance is more of a priority. Has it gotten harder to do that over the years, or are people just more vocal about the long hours that people have to work?
I think it's all of the above. I'm shocked at the state of restaurants right now, in terms of the lack of people looking for work. I think that there is the ten-second news cycle that has grown from social media, between Twitter, Instagram, Yelp, and Facebook, that a restaurant's life can be thrust into question after one night of service. Enough Yelps or bad Instagrams or tweets, and something that somebody has worked for years to create can suddenly be put into jeopardy. So what you find is a lot more uncertainty in general. I think that's the word that keeps coming into conversations I have with people: uncertainty. And work-life balance boils down to stability. Emotional stability, financial stability, physical and wellness needs.
And that's informing this lack of potential cooks?
I think that there's a bit of a top-down movement. Chefs are saying, "Okay, what we're hearing from everyone is that you don't want to work in restaurants because you don't want the following things." And then what we're hearing from our sous-chefs, who then have to pick up the extra slack when we can't staff the restaurant, is, "I can't do this anymore. This is killing me." Then the cooks who are there, who are watching the sous-chefs burn out, say, "No, thank you. I'm don't want to step up into that role." So things come to a grinding halt, to a certain extent, in terms of growth within the restaurant professionally for people who come, but also stability within the restaurant. What happens if no one wants to move up and no one wants to work here? Then what do we do? Not to say that that's the case at Franny's right now, or that's the case anywhere. We've had our fair share of staffing issues. But it is interesting.
This is a new phenomenon?
When I worked at Per Se, if you walked out the door because you just couldn't handle it anymore, there were six commis champing at the bit to move up to the main kitchen, and there were 20 culinary students or other cooks from around the country waiting to get into the door just to be a commis. But now I put up a job on Culinary Agents, and there's a job posting for Franny's, Per Se, the Modern, Marta, Untitled, Jean Gorges, Daniel. There's something wrong with that picture. Jean Georges, Daniel, Untitled, and Per Se should have kids camping out in front waiting to get in the door. So I think what you're seeing is a top-down reaction to all of this change and all of this uncertainty, where somebody says, "Okay, we are going to make life better for you so you want to come back to the restaurant, so you want to stay in a restaurant longer." … If we want our cooks and chefs to be celebrities — and I say "we," we the people — if we want them to be these superhuman artists who create these gastronomic revelations for us, then it can't be at the expense of their health and their wellness and their happiness.
Let's talk about your move to Blue Apron. What was the appeal of the new position?
The big question I've always asked myself is, what am I doing to make the world a better place? On a small scale, restaurants like Franny's and even restaurants like Blue Hill and Gramercy Tavern, are able to affect positive change in the food system through a very local audience and through very local relationships. And that's incredibly important, but, as Dan Barber has pointed out, farm-to-table doesn't really work. That's a one-on-one relationship that works, but it doesn't work to affect change in the food system. More and more, what you read is: Change has to happen. Not "It would be nice." Change has to happen. And so, in thinking about what I wanted to do next, and thinking about what are values that are essential to me, in looking at my 21-month-old daughter and saying, "What am I going to do now to make the world better for you?" the ability and the potential for Blue Apron to affect massive positive change in the food system is, I think, largely unknown to a lot of people, and also incredibly intriguing to me.
What is that potential?
They feed millions of people a month. I think last year the tally was 133 farms that they worked with directly. We're talking about the types of farms that show up with four cases of arugula at the farmers' market, the mid-size farms that still exist that are resisting becoming the mono-cropping, Monsanto-growing farms that are destroying the soil of this country. Like Dan Barber writes about in The Third Plate, if you change the palate of the country, if you're able to change the palate of millions of people a month, and you can get people to start looking at mustard greens not as, "Ooh, I don't know about that," but as, "Oh yeah, they're awesome, I'm going to buy mustard greens," we start changing consumer demand … The question is always scale and distribution. For that, you need someone who can distribute the product, and you need to create a demand. Blue Apron is in the position to do both.
So what are you going to be doing there?
The title is culinary manager. There's one other culinary manager who is a colleague of mine from Per Se. The culinary director is a Franny's alumnus, and also a Blue Hill alumnus and my old roommate. So I'm going to work with my friends. It's recipe development, product development, instructional videos, research. But a lot of it is really just recipe-testing and product-testing.
You leave Franny's at the end of March. Are you taking any time off before moving to the new job?
I'm going to a wedding in New Orleans that I'm really excited about. I'm hoping, fingers crossed, that I can go eat at Shaya, because I really look up to Alon [Shaya] and what he's created there. And then I come back and start Monday, April 4, full-time with Blue Apron. There's a little bit of overlap here and there. Like I said, I'm an all-or-nothing guy. I'm at Franny's my normal schedule, working hard with the chefs who are taking over, Ian Auger and Rikki Giambruno, on making their transition super smooth and successful. I don't know if you fully asked this, and I never answered it. There's no part of me that's leaving Franny's with any negativity. There's zero negativity. I think Danny Meyer once said, "It's always really important to leave a restaurant before you reach that downward slope." There's no negativity. Francine and Andrew are my good friends. They've been amazing people to work with and for. The staff here is wonderful. I've got nothing but love for this place. So I'm really excited about the next two months because I still get to work in my favorite restaurant in New York. And then I'll just get to eat here. As the chef, you feel bad eating in your own restaurant because you know it makes the staff nervous,. Now it's like, take the baby for a walk down the block and come home with pizza.