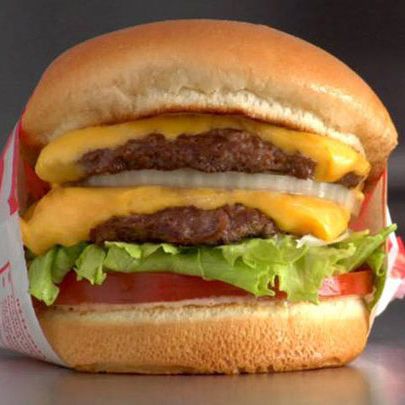 Even Subway's onboard.
Photo: In-N-Out Burger
In-N-Out acquired cult burger status partly because of its commitment to using only fresh, high-quality ingredients. (Patties are made in house, the kitchens have no freezers, and all locations are within 300 miles of a distribution center.) Probably for that reason a large coalition of consumer groups is giving the chain flak for continuing to use beef raised with antibiotics. Representing more than 50 different nonprofits and activists, the group has singled out the beloved chain, arguing that if In-N-Out adopted an antibiotic-free-meat policy, it would prod the meat industry "to do the right thing for public health." Scientists link the alarming amount of antibiotics used to rear livestock to the rise of drug-resistant superbugs, and these consumer advocates say the big push to get them out of poultry isn't enough by itself.
Vani Hari, the so-called "Food Babe" activist, is part of this coalition, and she's quoted in the press release saying it's time for In-N-Out to "stop lagging behind companies like Elevation Burger and Shake Shack who have responsibly decided not to serve meet raised with routine antibiotics or growth hormones." She could've really hit below the belt and said it's lagging behind companies like Subway, the chain Hari famously denounced for using the yoga-mat chemical azodicarbonamide, but that now pledges to be completely antibiotic-free by 2025.
Experts have said this belief that beef can just go antibiotic-free isn't really a reality for a variety of reasons. The two big ones are that cows live longer than poultry, so it's harder to keep them healthy, and ranchers are risk-averse since beef is going for record sums right now. Pressure is still pressure, though, and the groups' noise seems to have encouraged progress. In a statement to Reuters, an In-N-Out executive said, "Our company is committed to beef that is not raised with antibiotics important to human medicine, and we've asked our suppliers to accelerate their progress towards establishing antibiotic alternatives."