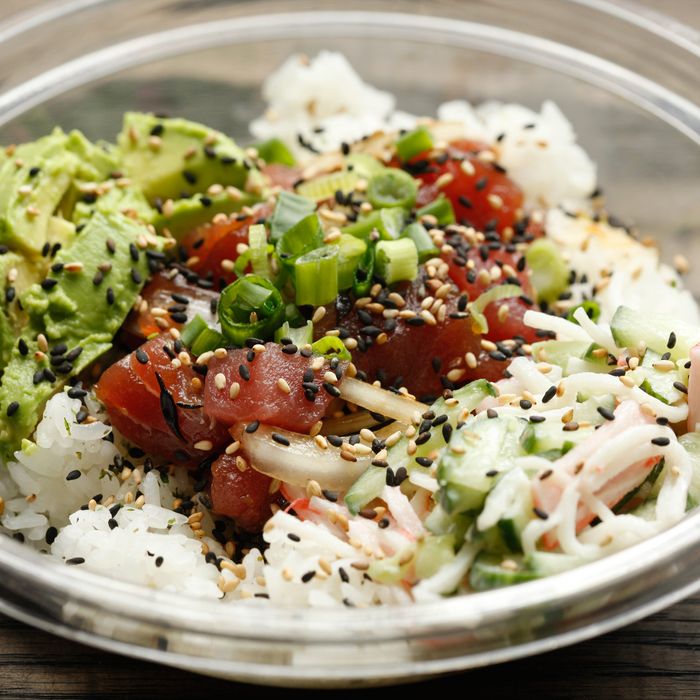 An ahi poke preparation from Wisefish in Chelsea.
Photo: Melissa Hom
Hawaiian poke (or, as mainlanders know it, poké), the classic chopped raw-seafood dish, is poised to break through to the mainstream. It's already enchanted the Hawaii-adjacent metropolises of Los Angeles and San Francisco, and a positive New York Times review of four new Manhattan poke establishments further highlighted the ever-growing demand for to-go lunches of seasoned chunks of raw fish. Nouveau poke establishments seem to have realized that by combining young urbanites' favorite aspects of the bowl craze and affordable sushi, they'll create a business that appeals to health-conscious, Paleo-leaning lunchers who crave something more substantive than another bottle of green juice. They'll take diced tuna or salmon and layer it over salads and rice, and, in the process, of course, they're hoping they can launch the next major national chain. (There was a time, not long ago, when you might have even said these people were aiming to be the next Chipotle.)
But anyone who's seen the news in the last, say, decade has also read about slave-labor practices at Thai fisheries, and mass shellfish die-offs on the West Coast, global warming's abhorrent effects on Maine lobster supplies, and all of the other bummer seafood stories that are quickly becoming the norm.
With its reliance on large portions of top-of-the-food-chain fish, poke is a resource-intensive dish that doesn't necessarily fit into the Dan Barber–influenced waste-to-plate dining world, and — given the environmental constraints facing the fishing industry — it seems fair to ask: Can any poke-centric business actually scale in a responsible way? The answer, as you might expect, is more complicated than it seems.
For the most part, the new NYC poke establishments say they're proactive in sourcing what is generally thought of as responsibly harvested fish. Drew Crane, owner of Wisefish Poké, says they work with respected local vendors such as Greenpoint Fish & Lobster Co. and Wild Fish Direct, and try to source domestically caught fish whenever possible. Kevin Hsu, of Pokéworks, which has locations in New York and Mountain View, California, and is looking to expand to more cities, says sourcing sustainable fish is one of the key tenets of their business plan. In evaluating vendors, they look at everything from aquaculture water management to the packaging used for fish feed. "We want to make sure we're keeping up with the Monterey Bay Aquarium Seafood Watch," he says. "Vendors, over time, we want to monitor."
Others aren't sure it's possible. Hawaii-born chef Mark Noguchi, who now runs the Mission Social Hall Café in Honolulu, says that concerns about the viability of yellowfin, one of the fish most frequently used to make poke, led him to not serve 'ahi (the Hawaiian term for the fish), as poke or otherwise, in his restaurants for all of 2014. "People are losing touch with what 'ahi meant," he says. "It was a fish for royalty, caught by hand line — a top-of-the-food-chain fish."
In Hawaii, increased demand for the fish combined with the convoluted economics of the global fish trade means that much of the 'ahi being sold as poke no longer comes from local waters. Noguchi, who often supplements his poke offerings with alternative fishes such as u'u and weke, has concerns about the mass adoption of 'ahi poke, especially now that it is becoming popular in New York. "This is a finite resource, and we all know what happens when the New York Times reports on it," he says. "Every motherfucker in the world jumps on it."
Indeed, the bigger challenge for poke may come when, or if, the dish makes the jump from specialty item to mainstream as it has done in Hawaii, where it now is sold everywhere from convenience stores to grocery stores to white-tablecloth restaurants. The pervasiveness offers a glimpse at what happens when a dish becomes untethered from its cultural underpinnings and churned through the business world's bottom line.
The Monterey Bay Aquarium's Seafood Watch, one of the most widely recognized classification organizations, lists yellowfin tuna under green (best choice), yellow (good alternative), and red (avoid), depending on how and where the fish are sourced. (Salmon and octopus, other popular poke choices, also fall anywhere in the green-to-red range depending on the fishery.)
"It clearly has nothing to do, from their perspective, with how many fish are in the ocean," says University of Washington professor Ray Hilborn, who studies the management of sustainable fisheries, and says a lot depends on how fish are sourced and which environmental values are prioritized. He notes that yellowfin stocks appear to be stable. "It's all about bycatch" — i.e., what is caught alongside the main catch — "and what they think is acceptable and not."
The environmental impact of eating yellowfin tuna is unclear at best. In fact, Hilborn says simply focusing on low-impact fishing methods can be misleading. He says greenhouse gases are the biggest threat to the environment, and so fishing methods that reduce the greenhouse-gas footprint are preferable, even if they result in more bycatch. But others don't agree with this line of thinking, and there's no consensus among experts.
Author Paul Greenberg, who studied the tuna trade for his 2010 book, Four Fish: The Future of the Last Wild Food, takes a more sanguine view of the poke trend's implications. "In the sphere of bigger tuna, the yellowfin is probably the best-reproducing," he says. "So because of that, that one vector makes it less sensitive to fishing demands. In that sense it's an okay choice." Still, he keeps a note of caution in his assessment, pointing out that the yellowfin tuna is migratory, which adds some uncertainty to its viability: "That said, the ocean is under stress. There are many things going on that affect fish beyond fishing. Acidification, ocean temperature … that puts migratory species under stress, and fishing is another stress."
Ultimately, though, picking apart the ethical implications of consuming more yellowfin tuna may be beyond the scope of American diners. Dr. John Kittinger, a Hawaii-based ocean scientist who works with Conservation International, says demand for tuna is going to dramatically increase globally in the near future whether we have any say in it or not. "Consumers in Asia are driving that trend," he explains. "That outpaces everything that's going on here in the U.S.."
But for customers who would rather search for less resource-intensive options, Kittinger says the poke trend and the push for consumption of smaller fish or invasive species aren't mutually exclusive. The word poke, when translated from Hawaiian, simply means to slice or cut. "You can make poke from more than just tuna," he says, explaining that his favorite poke is 'opelu, a small fish common in Hawaii. "You can poke anything. That might be a cool trend — chefs who integrate small fish into poke."