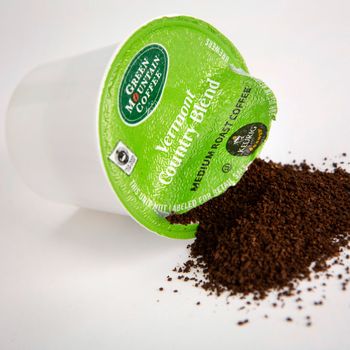 Nein.
Photo: Scott Eells/Bloomberg via Getty Images
All who bemoan how the number of K-Cups sold annually could circle the Earth 12 times can stand proudly today with Hamburg, Germany: In order to go greener, the European city has outlawed all single-serve coffee pods from government buildings because of how much waste they create. An edict laying out the ban, which went into effect last month, put the kibosh on a list of "certain polluting products" that naturally include the ubiquitous capsules, since they now account for one-eighth of all the coffee bought in Germany. As the report says, "These portion packs cause unnecessary resource consumption and waste generation, and often contain polluting aluminum." Hamburg's senator for the environment explained to the BBC that because the city has a budget of hundreds of millions of euros every year, this crackdown "can help ensure that environmentally harmful products are purchased less frequently."
It's just the latest blow to Keurig: Sales of its machines and pods both continue to plummet, and the company, while still giant, sounds way behind the times with its promise to make all pods recyclable by 2020. Keurig also risks losing important partners like Starbucks. The system Keurig made popular is no doubt convenient, but as the company keeps rushing to dehydrate every food known to humankind and shove it into a pod, it might pay to remember Hamburg.
[BBC]