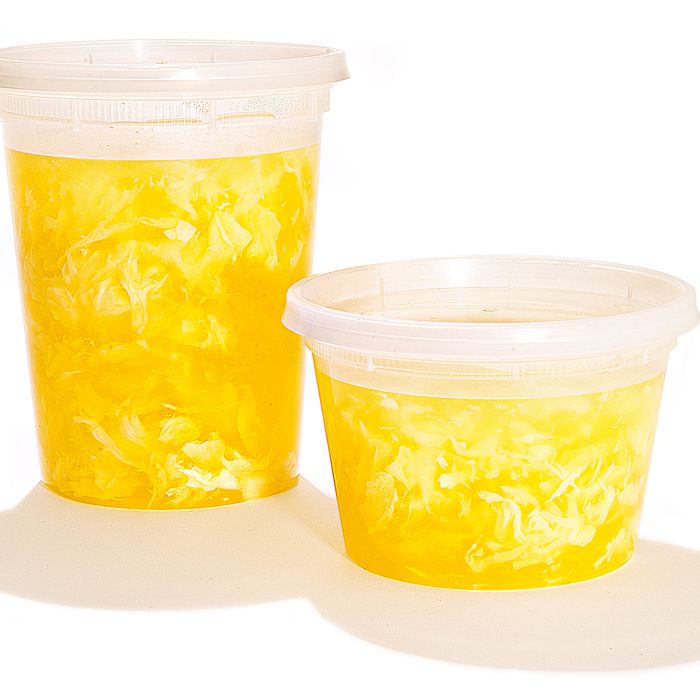 "This is the right moment for corn starch and store-bought chicken broth."
Photo: Jed Egan
Egg-drop soup is almost shockingly simple, one of those comfort foods where the blandness is kind of the point. Yet I'm giving my everything to a batch that's simmering on my parents' stove. In fact, as I stir the soup warily, I'm aware this is the first consequential gesture I have made in my life that depends upon small, gooey clumps of egg properly congealing in hot chicken stock. People who cook know there is meaning and comfort in the act of making a meal for other people. It can also be a way to show off — the food world puts such an emphasis on innovation and ingredient sourcing — but there is no way to show off when you prepare such an undemanding recipe. The entire idea here is to make someone else happy.
It's my father's 81st birthday, and if his pulmonologist is right, it will be his last. He's battling pulmonary fibrosis, a condition that has left his lung tissue permanently scarred, his ability to breathe progressively diminished. His decline has been slow and grinding. At this point, he needs a high flow of oxygen 24/7, and even the simplest physical acts — like taking two steps from a car into a scooter — leave him incapacitated for ten minutes. He is still completely present intellectually and emotionally, but I can see the light in his eyes dimming.
 
My father has also developed a minor obsession with egg-drop soup during the six years that he's lived in Manhattan. He buys a couple of quarts at a time and eats it every day for lunch. He'll load an oxygen compressor and a portable scooter into the car and battle crosstown traffic to pick some up from his favorite takeout joint in Hell's Kitchen — he says the broth has the right flavor and consistency (some restaurants make it bland and too thick, he complains). It goes without saying that the price is right. A container almost always sits in the refrigerator; its contents glow in a deep and unnatural shade of yellow.
Everyone in the family winces and makes lighthearted jokes about my father's two-bowl-a-day habit. Fortunately, he doesn't care: It's a good source of protein and he can heat himself lunch whenever he wants and it tastes good and we all can go to hell.
I moved to Los Angeles in 2014 and now only see him five or six times a year. But, this particular week, I'm in town for a couple of days for work, so I decided I would enable this habit a bit even if egg-drop soup isn't the kind of thing I make very often. Though I love to cook for others, I'm self-aware about what I make. You might say I tend toward food that fits my personal brand. Of course, this isn't the right afternoon to make a carbonara with perfect Italian guanciale. This is the right moment for corn starch and store-bought chicken broth.
After studying two dozen recipes, I did what most experienced home cooks do the first time they make something: I pulled together my favorite parts from a couple of sources and decided to wing it. Essentially, I wanted the soup to have some complex flavors, but I didn't want to try anything that strayed too far from the Platonic ideal (I winced when I imagined my dad's reaction to a highly rated recipe I saw that included mint leaves and asparagus). The only firm line I drew was to nix the yellow food coloring — a bowl of soup is not a birthday cake.
It doesn't take too long to put together. As the broth simmers, my parents' apartment fills with subtle scents of chicken, ginger, and cured pork. I prep my corn-starch slurry, scramble the eggs, dice the scallion. The bulk of the preparation takes four or five minutes: I thicken the broth with the slurry and drizzle the egg into the hot soup off the tines of a fork. The Mandarin name for the dish translates literally as "egg flower soup," and I can sort of see why when the egg whirls around the pot. I pause for a moment to admire the otherworldly, monochromatic allure, and then I ladle the soup in bowls. A minute later my father digs in. We have lunch on the couch in his office.
The finished product is not perfect — I'd make it a bit saltier if I tried again — but it's full of quiet flavor, and the egg's texture has a nice delicacy. My father doesn't complain. Instead, he and I sit together and share lunch and talk — about how my two boys are growing up, how he's dealing with frequent nosebleeds, how we both don't like Bill Belichick. I look over at my father, still very much alive, tipping a bowl toward his mouth with a loud slurping sound, and I savor the moment before it is gone.
Egg-Drop Soup
1 quart low-sodium chicken broth
2 ounces slab bacon, diced
6 scallions, whites left whole, greens sliced thin
1-inch-long knob ginger, peeled
5 teaspoons cornstarch
2 eggs
Salt
Combine the broth, bacon, scallion whites, and ginger in a stockpot and bring to a boil. Reduce to a simmer and cook for 20 minutes. Strain the broth and discard the solids.
Mix 4 teaspoons cornstarch with 1 tablespoon of water in a small bowl and whisk until smooth. Stir into broth and bring to a simmer.
Whisk the eggs and remaining cornstarch in a small bowl until smooth. Swirl the soup with a large spoon, then, using a fork, slowly drizzle the egg mixture into the soup. The egg will cook immediately. Season to taste with salt, sprinkle with scallion greens, and serve.
Peter Flax is the features editor at the Hollywood Reporter.