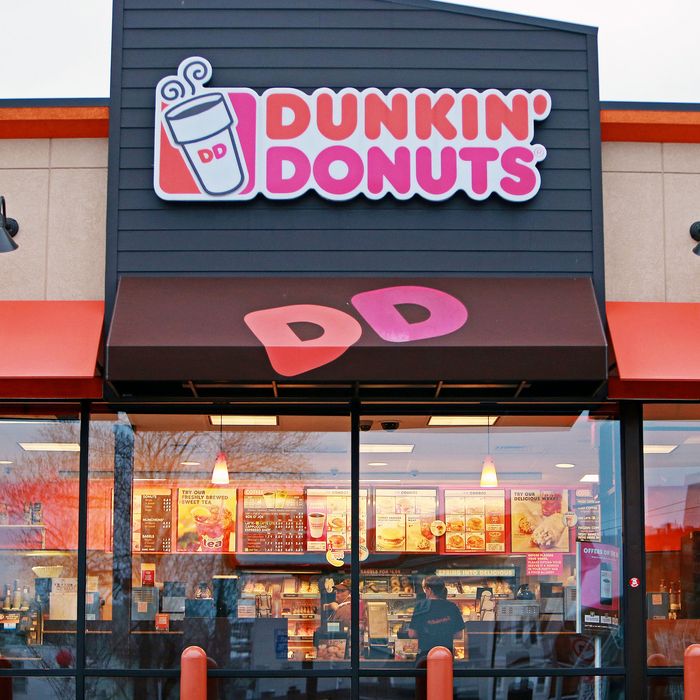 Your morning tax burden.
Photo: Jim Davis/Globe Staff/The Boston Globe/Getty Images
Angry customers in New York City and New Jersey claim local Dunkin' Donuts shops are ripping people off by taxing nontaxable food items. A pair of new lawsuits, one filed in each state, claim a dozen area stores overcharge customers on around 70 percent of transactions. The unlawful tax allegedly turns up on a variety of products; according to the Jersey suit, a location over in Fort Lee charged 7 percent sales tax "in clear violation of the law" on bags of pre-ground coffee (which, interestingly enough, are themselves clear violations of food-decency law).
The plaintiffs say these stores have been erroneously taxing everything from coffee beans to bottles of water for three years, and as a result pocketed an extra $10 million from New Yorkers and $4 million from customers in Jersey. Dunkin' tells the Post it's working to get to the bottom of this, but sooner is better if the chain hopes to be spared more corny lines like this from the plaintiffs' lawyer: "Dunkin' should stop dunking their customers and provide customers with refunds or discounts so they are made whole."
[NYP]