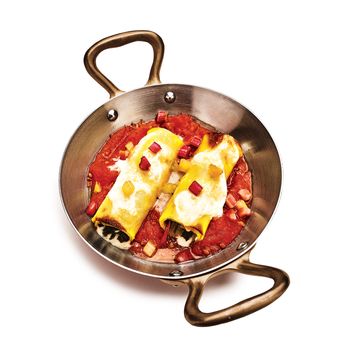 Del Posto's Five-Cheeses-and-Swiss-Chard Manicotti.
Photo: Bobby Doherty/New York Magazine
Manicotti, that old Little Italy cliché, may not be what you expect to find on the five-course tasting menu at Del Posto. But why not? Folks are more nostalgic for iconic Italian-American dishes than ever. Vegetarian cooking is all the rage. And demand for gluten-free options — these "pasta" crêpes are made entirely from eggs — is undeniable. That's what executive chef Mark Ladner says about it. What we say to him: You pretty much had us at "five cheeses."
Mouse over or tap the image to read more.
Five-Cheeses-and-Swiss-Chard Manicotti: On the tasting menu ($149), or offered à la carte, at Del Posto; 85 Tenth Ave., at 16th St.; 212-497-8090.
Photograph by Bobby Doherty
*This article appears in the February 22, 2016 issue of New York Magazine.