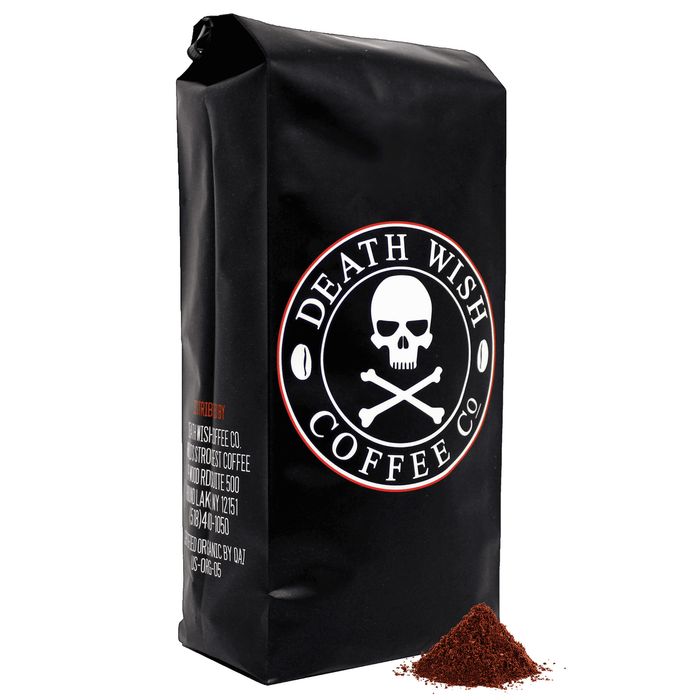 Hopefully a little bit of false advertising.
A Super Bowl ad by a tiiiny 11-person company is noteworthy enough, but throw in that the product being sold is coffee that comes with a warning label, and everyone is going to have some questions. The ominously named Death Wish Coffee is a three-year-old roaster whose line of joe contains a comical amount of caffeine — enough to unequivocally herald the robusta-Arabica mix as the "world's strongest," as well as "highly addictive."
Death Wish snagged ad placement probably worth $5 million (the company's 2015 total revenue) by winning a contest held by Intuit, TurboTax and QuickBooks' parent company. About 15,000 small businesses entered, and Inuit whittled those down to nine finalists and told them the winner would be determined by public vote. Death Wish apparently has a "rabid fan base" that also gets very little sleep, sort of turning this into a cakewalk for the company — especially after it called in favors with the stars of Deadliest Catch and Ice Road Truckers, who are among the company's devoted buyers.
Owner Mike Brown explains the idea wasn't even that serious at first — he was running a café in Saratoga Springs, and customers would come in asking for "a cup of your strongest." To "mess with them a little bit," Brown invented an absurd roast that averages 54.2 milligrams of caffeine per ounce when brewed, which means it's about six times more caffeinated than McDonald's coffee and nearly three times more than the typical cup at Starbucks. It has an alarmingly high coffee-to-water brew ratio, and there's a money-back guarantee if it's "not the strongest coffee you've ever had."
Death Wish had an earlier brush with fame back in 2013, when the coffee got on an episode of Good Morning America and promptly sold out on Amazon. Brown says the publicity "almost buried" them, so this time they hired more people, contracted two additional roasters, and have been cranking out coffee 20 hours a day for more than a week.
[NYT]