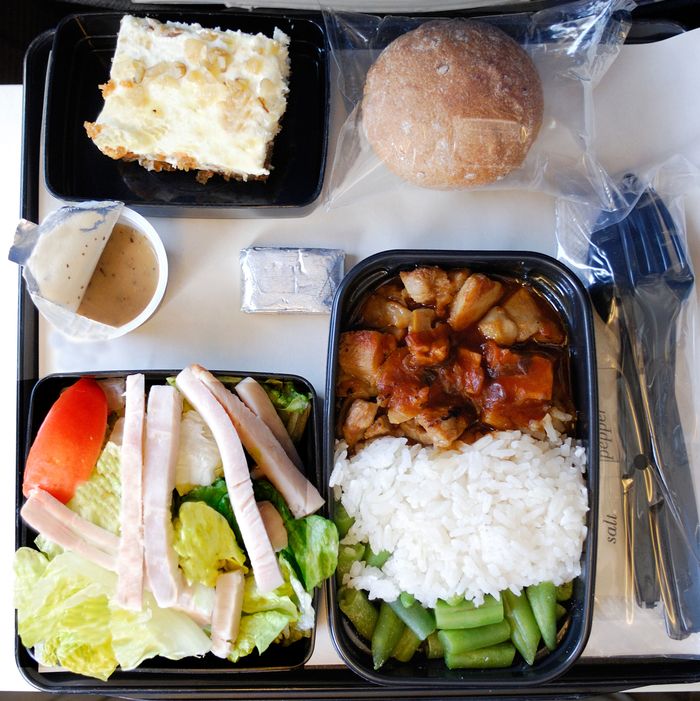 Should be a major improvement over this stuff.
Photo: Bill Grove/Getty Images
Ever since 2013, Delta passengers who fly business class from JFK to London's Heathrow have enjoyed barbecue, courtesy of Danny Meyer's Blue Smoke. And now the restaurateur's aim of making airplane food not taste like airplane food is getting even more ambitious. The Times reports his restaurant group, Union Square Hospitality, is kicking the Delta partnership into overdrive and on March 1 will start serving meals during all international flights out of JFK (though you'll still have to shell out for a seat in the Delta One cabin).
The new menu is the creation of Carmen Quagliata, chef at Union Square Cafe. He and Meyer hope it bears closer resemblance to the food in the restaurant than the typical in-flight fare branded with a celebrity chef's name. Meyer already set a high-ish bar for himself explaining the roll-out to the Times: "If someone had told me a few years ago that we'd be serving our food on an airline, I would have said over my dead body." But here we are, and now passengers can expect to start with the café's famous bar nuts, salads, and appetizers like sunchoke-topped carpaccio, before moving on to soups and pastas.
Getting these right, Meyer's team says, meant realizing airline food is best when it understands its limitations — basically the same angle they took with Blue Smoke's stand at Citi Field, which has translated well up in the air. Daniel Dilworth, head of Meyer's catering arm, says it's more about learning what doesn't work with food that's catered, then served in confined spaces 30,000 feet in the sky. Trying to serve meat cooked to a specific temperature, for example, can't really happen. And when Delta asked USHG to make a pasta, Quagliata nixed the initial idea after having choked down one too many reheated airplane pasta dishes. His answer is a baked-pasta dish he says "comes out all bubbly and smelling fantastic." Which should only make the people sitting back in coach even more jealous.
[NYT]