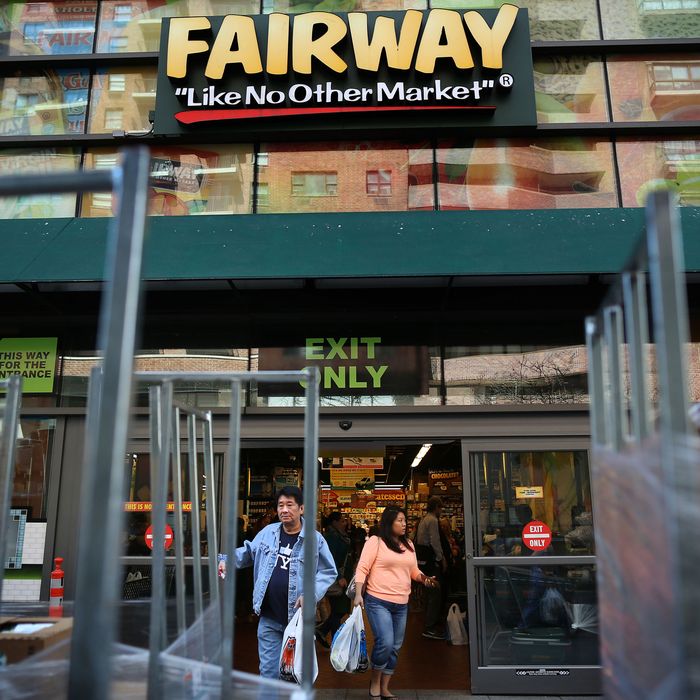 The chain was poised for blockbuster growth. Now it's millions of dollars in debt.
Photo: Victor J. Blue/Bloomberg via Getty Images
In July of 2011, Fairway Markets held the grand opening of its Upper East Side store, the eighth location of the beloved, New York-based grocery chain. The occasion was marked with lines of customers stretching down East 86th Street, waiting hours to buy some olive oil, or maybe some fresh-roasted coffee beans — even though the original location, which sold the same products, was just across Central Park. By the time Fairway's 15th outpost opened in Lake Grove, Long Island, in 2014, the growing empire looked poised for Whole Foods-like expansion, a national chain committed to high-quality sourcing that was perfectly aligned with America's increased appetite for excellent food. Instead, just two years later, the Lake Grove location will likely be the last new Fairway: The company is saddled with $267 million in debt and on the brink of bankruptcy, and its stock price, which once peaked at $28 per share, is selling for roughly 30 cents. The collapse has been swift and brutal. "Lives have been totally changed and ruined," says one former buyer for the chain. "What happened was an injustice."
The company's current leadership didn't respond to requests for an interview, although past high-level employees were willing to speak on the condition of anonymity. But almost everyone agrees that a confluence of issues — including an overly aggressive and poorly executed expansion plan and rising competition in the quality-produce business — are the reasons Fairway is now in crisis. "It was a perfect storm," says a former executive for the company.
Fairway Market started as a fruit and vegetable stand on the Upper West Side in 1933 and eventually grew into the nerve center of a culinary revolution. Throughout the '80s, '90s, and early aughts, it was a pioneer in selling the then-rare ingredients we all take for granted now: Spanish clementines, fresh goat cheese, authentic balsamic vinegar, crème fraîche from Normandy. The owners — Howie Glickberg (whose grandfather, Nathan, started the business), Harold Seybert, and David Sneddon were making a small fortune on blueberry jam, pickled herring, and mozzarella di bufala.
Expansion was slow. The second store in West Harlem didn't open until 1995. "People thought we were crazy," says another former exec. "They thought nobody would trek up to Harlem, but they were wrong." It was a huge success, but even still, it would be six more years before a third outpost opened, this one in Plainview, Long Island. 2006 saw the opening of the store in Red Hook — then the far reaches of the universe as far as most New Yorkers were concerned — but the sprawling parking lot was soon full around the clock.
Seybert and Sneddon were ready to cash out and retire. Glickberg was not, and went looking for a partner that could provide the capital infusion to support more growth. He found Sterling Investment Partners, a private equity fund based in Westport, Connecticut. As one former exec puts it, "The private equity guys believed that the Fairway brand was so strong that it could operate pretty much anywhere, with fanfare." Sterling took a majority ownership of Fairway Market in early 2007. Glickberg stuck around as the vice-chairman of development and the New York family face of the mushrooming business. By the end of 2011, the market was nine stores strong and employed about 3,500 people in New York, Connecticut, and New Jersey.
I began working there that same year. I was 24. I started behind the cheese counter, cutting and wrapping massive wheels of Parmigiano Reggiano. Eventually I worked my way up to a job as the director of copywriting and communications, a fancy title that I created and they approved. I loved it. We roasted our own coffee and butchered our own subprimals. I gave tours to visiting luminaries and investors, waxed poetic about bialys, hosted olive-oil tastings, and blogged about our new Lambrusco vinegar.
But even then, the place was kind of a mess: It took months to get paid, with leadership claiming paychecks had been lost on the truck to Red Hook. As expansion scaled, finding talented, knowledgeable staff became more difficult, so quality at new locations began to suffer. It became increasingly apparent that Fairway's corporate leaders were good at running two or three stores, but they didn't make the right preparations to run a dozen. "There were not processes or systems in place that were scalable," says one erstwhile executive. "The leadership was completely incompetent."
I alone helped open new stores on the Upper East Side; in Douglaston, Queens; Woodland Park, New Jersey; Westbury, New York; Kips Bay and Chelsea; and Nanuet and Lake Grove. We pulled all-nighters, everyone chipping in to hang signs and stock shelves. "Even 12 hours before letting customers in, the store would be packed with coffee roasters running on overdrive and construction workers covering exposed wires and cleaning," remembers my former co-worker, Ryan Casey, who began in the coffee department. Fanfare was hit-or-miss. Some stores had next to no buzz when they opened, instant disappointments.
Fairway moved into "suburbs with not enough people to fill a block or two on the Upper West Side," says Daniel Webster, a veteran grocery-industry expert. "There was overexpansion in lower volume markets. They should have known better." Newer stores opened in strange areas without sufficient research or enough population density to support them. "The private equity guys overpromised and underperformed. They are an unpopular crowd," Webster adds.
Even still, many employees envisioned a future with hundreds of stores around the country. The company borrowed, and borrowed some more, growing on a foundation of debt that hugely eclipsed its capital. Eventually, Fairway decided to go public, a move that many say was disastrous. "They got both the price and the timing wrong," says PD Shah, CEO of PDS Capital Management.
"The IPO was way too soon," one of the former executives explains. "There was no reason to go public." Another mentioned that the company was less than rigorously honest in calculating its margins.
An antiquated POS (point of sale) system, feeble inventory management, and lack of logistics infrastructure further crippled the company. "To turn a profit in the grocery business, you need high turnover and high margins," Webster says. With the broken logistics chain, both of those things suffered. "It's a nightmare."
At the same time, competitors — like Trader Joe's, or the almighty Whole Foods, which has opened stores across New York in the last several years — moved in and even bodegas began carrying goat cheese, Castelvetrano olives, and Carr's water crackers. At the same time, it's tougher than ever for the grocery sector in general. Larger empires have fallen: The grocery behemoth A&P recently filed for bankruptcy. "There are so many places in New York to find excellent products at good prices," Webster says. "It's tough competition."
In some ways, Fairway also became the victim of its own initial success. Aaron Foster, proprietor of Foster Sundry, a new specialty cheese and butcher shop in Bushwick, notes that "our eating and shopping habits as a country have evolved significantly over the past 20 years." With "way more access to exotic ingredients, and more knowledge about authenticity, food safety, traceability, local and organic," shoppers have higher standards than ever.
And while others have caught up to Fairway, the stores themselves have also lost a lot of the character that made them feel unique in the first place. There are no more off-color jokes on laminated signs, or flatbreads piled sky-high. Nearly all of my former co-workers are long gone. Some people who were once associated with the company still have hope that Fairway can return to its former glory, but industry watchers say the only way out now is to restructure and close at least some of the chain's 15 stores. A total rebound looks unlikely. At this point, it might be more realistic to hope that the original UWS location can survive long enough to see its 100th anniversary.