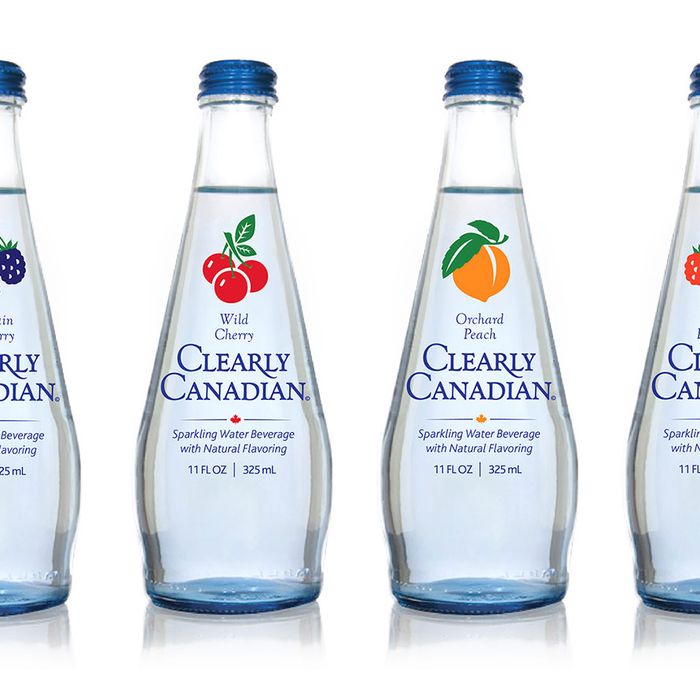 A lucky few are basking in their Country Raspberry right now.
Photo: Clearly Canadian
Last year, the world learned about the imminent return of Clearly Canadian, the '90s-era clear soft drink that was known as something of an anti-soda. Appropriately, the world freaked out, and people signed up in droves for the crowdfunding campaign that promised, if all went well, to finally return bottles to store shelves. However, getting the mountain-blackberry-flavored bubbles into those bottles has been a more difficult task than first imagined by the brand's new owners, including chairman and CEO Robert R. Khan, and people are wondering where the product actually is. The good news: It's now on its way, albeit at more of a trickle than fans might like.When the company first announced the planned comeback, the owners said they would start production after receiving 25,000 orders. On March 18 of last year, they announced the goal was met. Fans got excited. But several target dates for shipping were missed. Indiegogo-ers who contributed to the campaign were initially told to expect their goods in September, but the month ended with no Wild Cherry in sight. An October email to crowdfunders promised bottles would arrive in mid-November "barring any delays." More holdups did indeed follow, and as of the beginning of this month fans were told that the first shipments would go out February 8 "at the latest." Needless to say, the continued delays tested the patience of some of the crowdfunders, who took to the Facebook page to express their discontent.
Clearly Canadian order months and months ago was initially told I would receive the product in November of last year,…Posted by Robert Scrivani on Thursday, February 4, 2016
What's going on with orders?!? When I intiatially ordered, I had it sent to my previous address in California, now I'm…Posted by Brooklynn Bustrum on Tuesday, January 26, 2016
On Dec 31 you updated that next week (which would be first week of Jan) 6,000 cases would be shipped to Utah for…Posted by Laura Bumbala on Wednesday, January 20, 2016
I ordered this over a year ago. 2 cases. Still haven't got a single bottle. Starting to think you guys need to be reported to the better business BureauPosted by Michael Fogleman on Sunday, January 17, 2016
Some fans just wanted more regular updates from the company, but others were more conspiratorial in their tone. One, Philip Petty, asked, "Where is all the money going? Can you please just tell us the truth about whats [sic] going on?" Another, Jeremiah Edwards, told Grub on February 10 that he had lost his faith: "I am pretty much done with it at this point. It has been 'next week,' 'next month,' 'soon' over and over." Edwards wants his money back, and another crowdfunder, Joseph Pipitone, does, too, saying he will call "his debit card for a refund if it's not here this month." Others were irked that posts were deleted.
Khan, however, would only tell Grub that he places the blame for the delays squarely on issues with both their glass manufacturer and bottling plant, Whistler Water, which last year shut down without any notice after, Khan says, "two years of planning."
But all hope is not lost: On Friday, almost 26 months after launching the first preorder campaign, Clearly Canadian announced that it was shipping the very first preorder cases. And over the long weekend some devotees took to Facebook to confirm that they'd received the bottles they'd waited so long to sip again, with one person writing that it was "YES!!!!!x 10000" worth the wait.
Indeed, the company confirms it's shipping out 6,500 cases in two flavors (500 cases of Wild Cherry, the rest in Country Raspberry). The problem for Clearly Canadian is they've got 30,100 cases on preorder. Getting the first batch out is a start, but there's no set timeline for when the next shipment will go out, as it depends on when the first plant gets going. That means many people are stuck waiting for the next announcement, whenever that comes. Khan says he wants to fulfill the orders as quickly as possible, but one alternative plan calls for waiting until the company can ship products directly to stores and allows people who preordered cases to redeem them locally.
And Khan says the aim now is for the national rollout to happen sometime during the summer, but given the difficulty that the company has had so far, he wasn't willing to be more specific than that. People might want to pick up a few extra boxes of La Croix in the meantime.