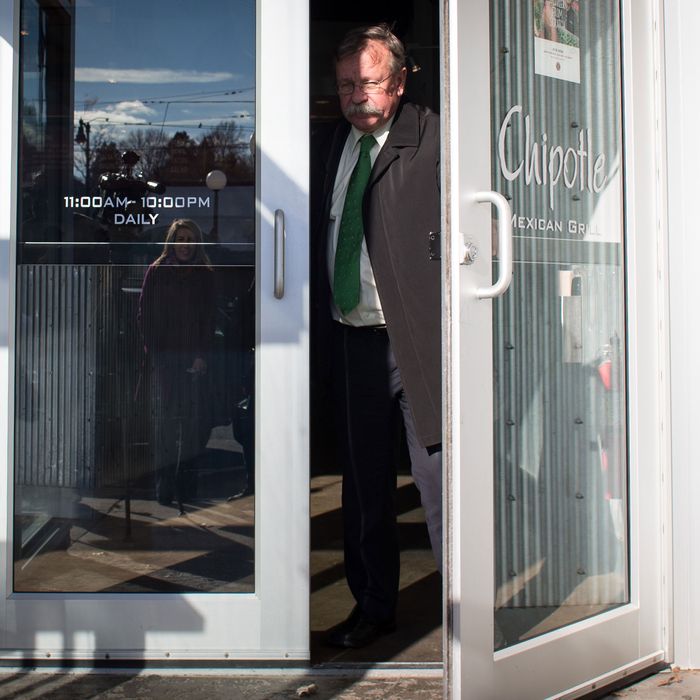 It's okay. Take some time to regroup, guys.
Photo: Keith Bedford/The Boston Globe via Getty Images
The CDC says Chipotle's E. coli nightmare is over, but the lingering effects of the burrito chain's terrible year certainly aren't. The company released today its first earnings report since its E. coli outbreak, revealing a mixed, but mostly bad, set of numbers. This was to be expected, and the additional bad news is that the federal investigation of the company, which was first announced in January, has now been widened in scope beyond the single California restaurant that was previously subpoenaed.
In the report, founder and co-CEO Steve Ells gets right to the point: "[T]he fourth quarter of 2015 was the most challenging period in Chipotle's history." The figures reinforce Ells's admission; before this, Chipotle sales had only ever gone up at established stores (those open 13 months or more) since the company went public in 2006. In the most recent report, though, comparable restaurant sales dropped this quarter by 14.6 percent, enough to bring net income down a whopping 44 percent.
Figures for the whole year were, of course, more positive, with revenue increasing 9.6 percent to $4.5 billion, and net income increasing 6.8 million to $475.6 million. But the picture isn't so rosy when you compare those with the numbers from 2014, when comparable restaurant sales increased by 16.8 percent, revenue increased by $27.8 percent to $4.11 billion, and net income increased by 36 percent to $445.4 million. Despite the downtick, the company's earnings still beat Wall Street's expectations.
Meanwhile, the government investigation of Chipotle is getting more intense. The company disclosed that it's been served with an additional subpoena requiring, according to CNBC, three years' worth of information related to the company's food-safety practices.
Chipotle, of course, was once the most promising food company around. On August 25, its stock traded at $707 per share. As of today, it's down to $476, a drop that was precipitated by a series of terrible food-poisoning incidents, including the E. coli outbreak that spread to 11 states, a salmonella outbreak, and second norovirus outbreak in Boston. It's still grappling with the effects of those food scares, which have also resulted in lawsuits from both investors and consumers, suppliers laying off employees, a hit job from White Castle of all companies, public apologies, and a generally tarnished image.