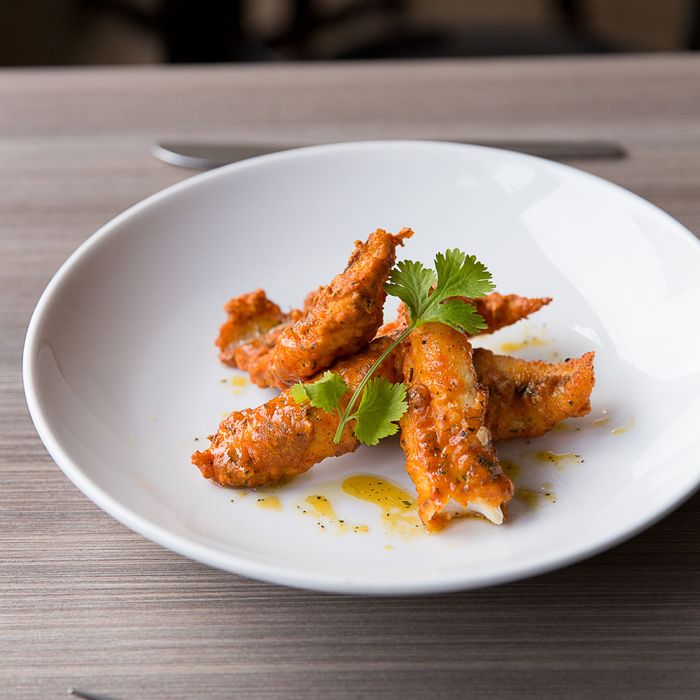 Babu Ji's Punjabi-Szechuan fried fish.
Photo: Hilary Walker/Babu Ji
Monday is the first day of the Year of the Monkey. There's a lot of fantastic Chinese food around town these days, it's true, and you could just go to your regular haunt or that spot you've been meaning to try forever. But chefs around town will also create original, sometimes-indulgent specials just for the holiday. Here are five great, unexpected options to check out:
Punjabi-Szechuan Fried Fish
Where: Babu Ji
Price: $18
Chef Jessi Singh has served tweaked versions of Indo-Chinese dishes, like his much-acclaimed Colonial Tso's cauliflower (essentially Gobi Manchurian). To celebrate the Chinese New Year, the restaurant is rolling out a few new fusion dishes including green-mango spring rolls, fried rice vegetable biryani, and Punjabi-Szechuan fried fish, made with smoked Szechuan peppercorn, coriander, garlic, tomato, and wild Alaskan pollack fried in sesame oil.
Lunar New Year Feast
Where: Chomp Chomp
Price: $39.88
The Singaporean restaurant will serve a budget-rate seven-course feast (for at least two people) with dishes that include prosperity pork (pork shanks, edible seaweed moss, and shitake mushrooms) and a nian gao cake with taro root and sweet potato.
Chinese New Year Style Bao Bun
Where: East Wind Snack Shop
Price: $7 for one
Windsor Terrace's noted dumpling destination is serving foie gras bao with crispy shallots on the bottom and drizzling them with a foie gras–char siu sauce. There will be house shrimp chips, banana bubble tea, and "crazy rice" with Chinese bacon, sausage, dried fish, and quail egg.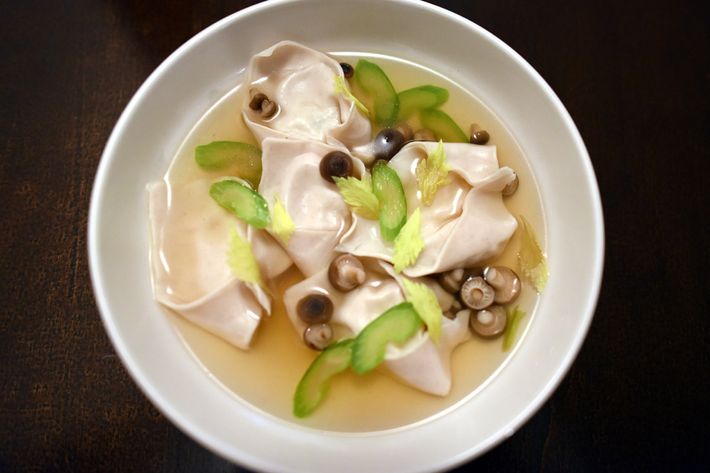 Scallop Wontons
Where: Fung Tu
Price: $15
The impressive wine selection and quality cooking on display always make the Orchard Street restaurant a great place to celebrate. But if you want an added incentive, chef Jonathan Wu will serve a few specials from Monday through Saturday, one of which is a dish of delicate wontons filled with scallops, seasoned with sherry and white soy, in a broth of truffle juice, celery juice, dashi, and barley.
Shrimp-Flavored Noodles
Where: RedFarm
Price: $25.50
Both locations of Ed Schoenfeld and Joe Ng's restaurant are serving a slew of specials all week long. For maximum good luck, do as they do in China and eat (long) noodles: in this case, Ng's shrimp-flavored rice noodles with barbecue pork shoulder.