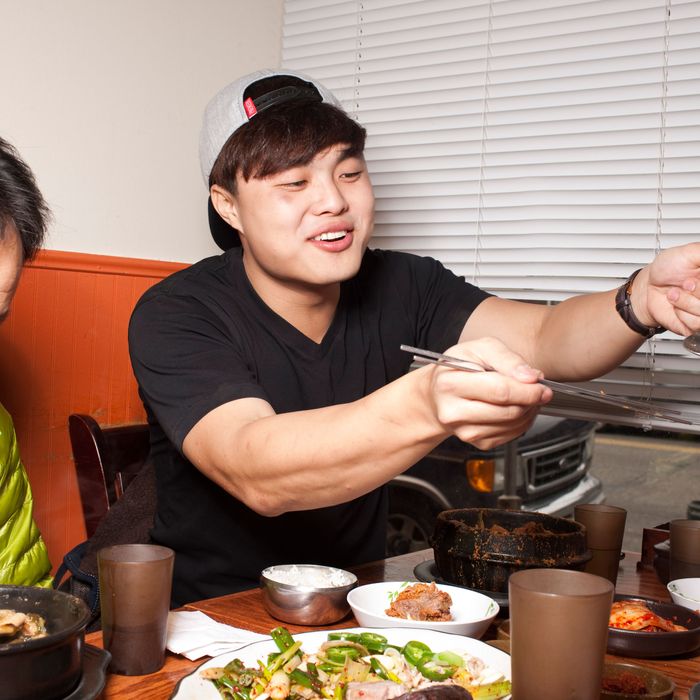 Hong, at Busan Gukbap in Fort Lee.
Photo: Melissa Hom
If you've walked past the corner of Fifth Avenue and 32nd Street in the past 14 months, you've inevitably seen the line of people who are perpetually waiting to eat at Kang Ho Dong Baekjeong, the blockbuster Korean-barbecue outpost from chef Deuki Hong. He credits the instant popularity to people in the restaurant industry itself, who stop in to the late-night spot after work. "People think that when it's three or four in the morning, you send out the leftovers, but for us, that's when the chefs come in, so I actually want the food to be better because these people are my heroes." It's working, apparently, because Hong is now expanding, with both a poke restaurant in collaboration with Leann Wong, and another barbecue spot. "We want to focus on offcuts, the kind of things that real Asian Asian Korean people eat," he says of the new restaurant. Before all that, though, the chef is also out promoting his new book, Koreatown, which he wrote with Matt Rodbard. "This is a story that hasn't really been told, the culture of Korean-Americans here," the chef says.
Friday, February 19
Living across the street from a post office means you have a natural 6 a.m. alarm clock every day. You hear the garage doors going up and trucks loading up, so thank you, USPS.
At the restaurant, I have the same daily routine, doing my walkthrough and checking the sauces and stews. We have more than 20 sauces and marinades that I have to keep tabs on. I also check the kimchee and doenjang stews.
That afternoon I went to Dominique Ansel Kitchen. We had a meeting to talk about a potential collaboration event that will be super exciting. I brought family meal for them, so we tasted some of their freshly made bread to go along with the Korean-marinated meats. The final product is still up in the air, but it will be very Korean and very French. I spent the rest of the day there recipe-testing, getting schooled on canelés, and taking selfies with chef Dominique.
Back at the restaurant, I tasted a kalbi jjim (braised short ribs) we're putting on the lunch menu. When I'm working at the restaurant I am constantly drinking the most cheap-ass powdered-iced-tea mix. It keeps me going.
I cut out of work around eleven that night and headed to Jersey. I often go home on weekends to spend time with friends and family, see my mom, and chill. I met my friends at this pocha called Duri Pocha. I ate a steamed-seafood platter (clams, mussels, king crab) and some hweh (Korean-style sashimi). And some soju shots and Kloud beer.
Saturday, February 20
I woke up late and started the day with some fresh orange juice from Mom. Thank God it wasn't something green. She likes to surprise me a lot, but today she decided to be nice and stick with good ol' OJ.
I don't really ever eat breakfast. My first meal usually is lunch, so I went to one of my favorite Korean restaurants in New Jersey, Busan Gukbap. I had a large bowl of gamjatang (pork neck stew) and blood sausage called soondae. I like this place a lot. They let me walk in through the kitchen, there are six tables, and quality service is not their priority. Damn good food is, though.
I went back to the city to prep for service at the restaurant. On my way, I stopped at Grace Street for a Thai iced tea, but that was it for eating the rest of the day. On the busiest night of the week, you sometimes forget to eat. That's how it goes. I got home at 1:30 a.m. and just crashed.
Sunday, February 21
I never eat brunch. I am also almost never in Brooklyn. So if I'm going to eat brunch in Brooklyn on my day off, the food had better be very delicious or the cocktails very strong. That day I had a very rare Brooklyn brunch at Beco. My boy Jenrique Stangorlini runs the place. It's Brazilian-French, so he had a feast of pão de queijo cheese bread, baguette French toast, and a Brazilian omelette made with minas.
After brunch I went to my church in Jersey and had some super-ghetto Chinese food for fellowship. After that, I met up with Marian Cheng of Mimi Cheng's for dinner. We talked about starting a small group for young people in the industry, and we ate her ridiculously good pan-fried pork dumplings, spicy dan dan noodles, and chicken-potpie dumplings, which is one of her February specials.
Monday, February 22
I went to L.A. to meet up with my co-author, Matt Rodbard, and talk to some folks about Koreatown. I almost never eat Shake Shack in the city, and only get cravings when I'm at the airport, so I had a double SmokeShack with crinkle fries before the flight.
Right off the plane, I headed to Tsujita for tsukemen. Whenever I'm in L.A. I go there, or Corner Place in Koreatown for dongchimi guksu, which is white-radish-kimchee soup and noodles. After my Tsujita fix, I headed to Baroo, which is run by my culinary-school friend Kwang Uh. Baroo is the only restaurant in America that is focusing on Korean fermentation. For dinner, Matt and I met up with Besha Rodell for dinner at Soban. It's the best place in L.A. for ganjang-gejang (raw soy-marinated crabs) and kalbi jjim. The owners make their own doenjang (fermented bean paste) and soy sauce. Our hotel happened to be next to Son of a Gun, so we also had a late-night snack there. Jon and Vinny have a great recipe in the cookbook, hamachi crudio with kalbi vinaigrette, so I had to order that along with green-curry hamachi collar, grilled haloumi, and a really, really delicious and refreshing beet salad. I never eat salads, and I never order salads in restaurants. But this salad was special. Oh yeah, the uni burrata too. Can't miss that one.
Tuesday, February 23
I took a quick Uber to Kimbap Paradise to pick a few boxes to take to KCRW, the radio station where we were being interviewed by Evan Kleiman for her great show "Good Food." Kimbap are Korean rice rolls that Koreans snack on. We brought three kinds: beef, burdock root, and fish cake.
After the interview, we drove to Alhambra to meet up with my friend Craig Min of LAMILL Coffee. He made us a really precise, amazing pour-over using a new Ethiopian bean that he just got in. It was the best coffee I've had in months. We then drove to Koreatown to meet up with Javier Cabral from Vice's Munchies. We wanted to pick a seafood spot and Arado is an L.A. institution. We ordered hwe dup bap (Korean sashimi rice bowl) and grilled mackerel. We were supposed to be talking about Korean food but ended up talking way more about Mexican food.
Then, after a short break, I headed out for dinners one, two, and three.
For dinner No. 1, we met up with Eater's L.A. editor Matt Kang at an old-school place, Han Il Kwan, for a big pot of budae jjigae (Korean army base stew). Dinner No. 2 was at Osso in downtown L.A. My boys Akira Akuto and Nick Montgomery run the place. I asked for a light order, and they crushed me with raw hamachi, sugar snap peas with smoked sable fish, beef tongue with smoked egg yolk, and the best bucatini I've ever had. But I am not biased!
Dinner No. 3 was at Faith and Flower, owned by Stephane Bombet — the hottest restaurateur and coolest French dude I know in L.A. — downtown. I had their English milk-punch cocktail and an absinthe cocktail called the Leap of Faith and some incredible panna cotta. Also, I have to say the service was really gracefully handled.
Time to head back to JFK in the morning … maybe Shake Shack?