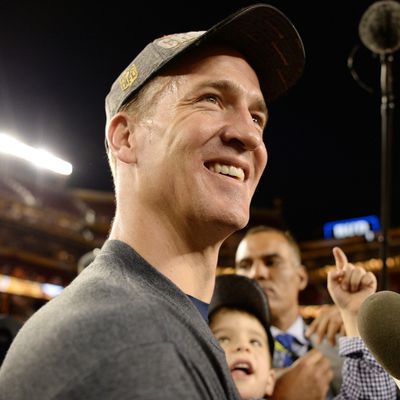 This one's for you, Budweiser.
Photo: Aaron Ontiveroz/Getty Images
The Denver Broncos quieted Cam Newton's Carolina Panthers during last night's Super Bowl, with future Hall of Famer and Papa Johns franchisee Peyton Maning earning his second Lombardi Trophy in what many people say will be the last game of his prolific career. Speaking with sideline reporter Tracy Wolfson following the victory, Manning laid out his list of postgame priorities: thanking his wife, kids, and other family members; drinking some beer; and high-fiving "the man upstairs" — in that order. However, Manning didn't just call out any beer. He specifically repped the King of Macrobrews, making sure that Wolfson understood the ins and outs of his party game plan: "I'm going to drink a lot of Budweiser tonight, Tracy. I promise you that." At the winner's podium, he stressed his top priority once again, saying, "I'm going to drink a lot of beer tonight."
Hey, everybody loves a cold one after a hard day at work on national television. But people quickly became suspicious of Manning's very specific shout-out, which amounted to $3.2 million in free air time for the international conglomerate:
This isn't the first time Manning, who as recently as two years ago was reported to have a stake in a couple of Budweiser distributorships, has called out the brand during postgame press. In a interview following a 2014 playoff game, Manning stressed that he was not — not — thinking about career decisions but just needed a damn beer: "What's weighing on my mind is how soon I can get a Bud Light in my mouth after this win."
Following the response to Manning's comments last night, Budweiser very quickly took to social media to deny that they had paid him, and were as delightfully surprised as everyone else. Not that they have any other choice, as active NFL players are not allowed to endorse boozy beverages — just very mediocre pizza.
During an appearance on CBS This Morning earlier today, an undeterred Manning confirmed that he, in fact, did drink some Budweisers. Presumably, a few crates of the stuff will soon arrive, gratis, at his house.