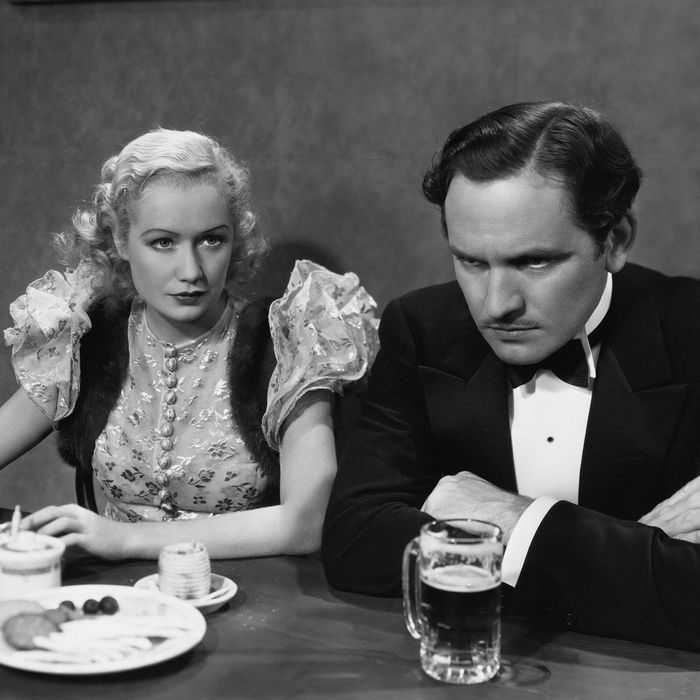 "Fine, you can have it."
Photo: John Springer Collection
Last week, when I heard the news that Northern Spy Food Co. would be closing after six years in business, I felt more than the usual pang of annoyance over another great neighborhood restaurant biting the dust. It used to be my neighborhood restaurant. I was even on my way to gaining coveted "regular" status. But then, suddenly, my visits ended. Not so coincidentally, so did my long-term relationship.
Any beloved restaurant will provide you with years' worth of great memories, but what happens if most of them include an ex? If your romantic relationship ends, do you have to terminate the relationship with the restaurant, too? Who gets custody of the pork sticky buns and duck-fat fries?
The situation's tricky: It's not like you can exactly say, "I'm giving you back your softest sweatshirt; please never make a reservation here in exchange — or at least not on Mondays, Wednesdays, and Fridays." One of the hardest things in New York is to find a spot, in any capacity, that's permanently yours. You don't just get to be a regular somewhere, instantly enjoying the various perks that come with it. You have to earn it.
There are no restaurant prenuptial agreements, of course, but there are some obvious ground rules for guardianship: If you first brought your ex to the establishment, it's yours. If they're friendlier with the owners, it's theirs. If you live significantly closer to the restaurant, you can claim territorial rights to it. (If you date a chef or staff member, the restaurant remains theirs, of course.)
Often, though, it's not so clear. "There was a coffee shop I'd go to every day," says a friend. "I invited a person there who I was dating. We'd work there together most weekend days. She and I and the owner of the coffee shop became pals. But I worked there on weekdays, too, so I became closer to the owner, ­who actually realized I stopped dating the woman before I said anything, because she stopped coming in. The owner said, 'You were always going to win the coffee shop. I like you better.'"
As petty as that may sound, this isn't insignificant stuff: Avoiding a restaurant (or maybe even several restaurants) is often an act of self-protection. After a bad breakup, places that once felt safe and comforting transform into land mines. As you walk around New York, you're constantly afraid of turning a corner and seeing a ghost, and entering an old haunt is like playing Russian roulette. When I did inevitably run into my own ex, my fear turned out to be justified: It was in the middle of a bustling Sunday brunch service at Lafayette, and, well, I cried in public.
Like any breakup these days, social media only makes things more complicated. Just as you would (or should) un-follow your ex, it's wise to un-follow the Instagram accounts of restaurants, so you won't miss your favorite dishes or staffers even more. Arguably the most painful part of any breakup is learning that your ex has moved on with someone new. A real twist of the knife: seeing your ex tagged in a photo of the same sundae you used to share, and realizing he or she takes new dates to "your" spots.
Fortunately, this pain ­— even if magnified by the loss of truly perfect cookies-and-cream — ­eventually dissipates. You move on and create new rituals, which includes discovering restaurants. (In the aftermath of my breakup, I became a regular at bright, cheerful El Rey.) Or you simply refuse to let memories haunt you and spoil future good meals. Another friend's ex-husband got so angry during a dinner at the Odeon that he turned over a table and stormed out (on Thanksgiving, no less). "I don't remember holding it against the restaurant," she says. "It's still my favorite, and I go there all the time. Of course there will be memories, but I don't let him own it."