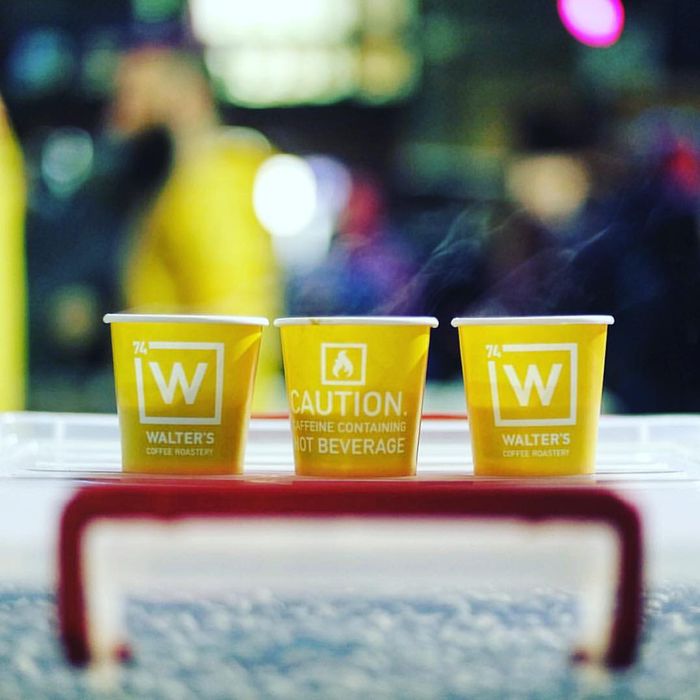 The original location opened about a year ago in Istanbul.
Photo: Courtesy of Walter's Coffee Roasters
It didn't take long for news to spread that Deniz Kosan, a 28-year-old Munich native, had opened a Breaking Bad coffee shop about a year ago, even if the shop is in Istanbul. Outlets like Vanity Fair, BuzzFeed, Today, and, of course, Grub all jumped on it. But even though the viral potential of Walter's Coffee Roastery is clear, Kosan is quick to point out one important distinction: "It's Breaking Bad–inspired, not Breaking Bad–themed," he says. "I can't make it clear enough that this isn't a theme park, but a unique coffee shop with just hints of the TV show." And now, Kosan says, he's working to bring the concept to Brooklyn.
He says the shop should open its doors by the end of the summer. The most likely location: a 2,100-square-foot (including rooftop) spot on Williamsburg's Wythe Avenue by North 8th Street, steps from the Wythe Hotel–Brooklyn Brewery–Brooklyn Bowl maelstrom. Kosan says that he's in the final stages of signing the paperwork, but that he might consider opening in Bushwick if this spot falls through.
Kosan envisions the Brooklyn version of Walter's as a sit-and-linger spot designed to appeal to the works-from-cafés set. "Good comfortable seating, Wi-Fi, and power outlets: A coffee shop with all three is really rare to find, like it's a unicorn," Kosan says. "But no one in 2016 is working in offices anymore. We want people to feel comfortable sitting and working as long as they want."
Now for the obvious question: Why Breaking Bad? Kosan points to a specific scene in the third season when meth master Walter White and his assistant Gail geek out about the chemistry of the perfect cup: "In addition, if you watch the TV show again and again for like the third time, you see hints and details you couldn't see the first time, and there is a lot about coffee going on during the show."
Kosan actually tried to take his concept to Brooklyn before Istanbul, but a key investor pulled out at the last minute after becoming nervous that an off-the-air basic-cable show would be popular enough to bring in business. But by emphasizing third-wave coffee-making techniques, Kosan hopes to turn the gotta-check-this-weird-thing-out crowd into regulars. (Kosan cut his teeth working at Lavazza and is particularly proud of his shop's cold-brew recipe.)
Kosan envisions expanding the Walter's concept to multiple locations in New York within a couple of years, before spreading across the country (East Coast cities and Chicago first, then out West, and definitely a location in Albuquerque). A Dubai location of Walter's is also in the works and scheduled to open before Brooklyn.
And what if pesky lawyers decide that Walter's is, like its namesake, not exactly in accordance with the law? "We tried not to use any official things from the TV show," Kosan explains. "But in case they do call us up, I am more than ready to talk to them and sit down with them and say, 'Hey, guys, you did something beautiful. Let's do something together. And there's free coffee for you.'"