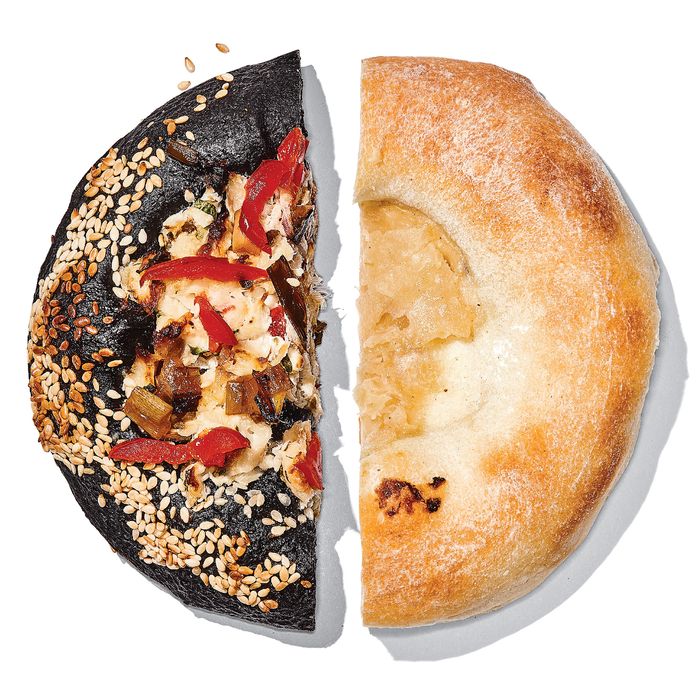 High Street on Hudson's whitefish bialy, left; Kossar's classic.
Photo: Bobby Doherty/New York Magazine
Except for a devoted cult following, the bialy has never enjoyed the fame and fortune of its Jewish-appetizing relative the bagel. Unlike that plump and shiny dough ball, bialys, whose origin in Bialystok, Poland, food writer Mimi Sheraton chronicles in her wistful book The Bialy Eaters, are sunken and matte, tricky to slice (connoisseurs advise against it), and suffused with the aroma and flavor of charred onions, which some find an acquired taste. That hasn't halted the breadstuff's recent revival, which coincides with the reopening this month of Kossar's, New York's — and possibly the world's — most famous bialy bakery. Kossar's new owners have seen fit to update not only the storefront but the bialy itself, introducing flavors like whole wheat and sun-dried tomato. And it's not alone in unfettered experimentation: Open-faced bialy sandwiches have emerged in the West Village at High Street on Hudson, where squid-ink-stained rolls are topped with pickled peppers and whitefish, and at Bushwick's new Supercrown coffee bar, which sells a poached-egg-and-prosciutto breakfast sandwich on a Roberta's bialy. East Harlem's multicultural Hot Bread Kitchen is known for its traditional take, but even the bakers there dare to innovate with their mini-bialys, blanketing the indentation with melted Cheddar. There's activity on the purist front as well: Russ & Daughters recently started baking its own bialys and bagels; find them at the Lower East Side shop and café (and, as of February 23, at the new Jewish Museum outpost). And at Freds at Barneys, Mark Strausman limits his Sunday-morning production to plain or everything bagels and paradigmatic bialys, dotted with poppy seeds and onion. Next month, when he opens a branch at the new Barneys in Chelsea, he'll add Saturdays to the rotation, too.
*This article appears in the February 22, 2016 issue of New York Magazine.