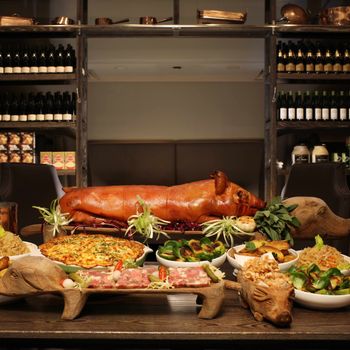 Get a Daniel Boulud–approved whole-hog feast at DBGB.
Photo: Melissa Hom
Picking the right restaurant for a big group of people can be surprisingly tough. Mostly because, as far as restaurants are concerned, bigger isn't always better. Many of the restaurants set to seat parties of 10, 20, or even 30 people pale in comparison to more intimate spots. What you want is a place that's comfortable for a group, but with an eye toward excellent food and service. So, whether you're in the mood for a large feast, need a bar for some serious celebrating, or just want to get together with a dozen of your best friends for a fun night out, these are Grub Street's picks for the best restaurants in New York City to take a group. For Eight People and Under
Dram (Williamsburg) Group Options: It's à la carte, so everyone can order what they want. Designed to look like a speakeasy but sunny thanks to storefront-spanning windows, this early entrant to the crowded Williamsburg cocktail scene is right for those looking for a looser version of canapés. The food is all snack-y — think pickle plates and duck prosciutto — and head bartender Tonia Guffey's house cocktails, like the Dear Chicago (gin, Merlet pear, Dolin dry, dry curaçao, celery bitters, and malört) are boozy, original, and often rely on unusual ingredients (see the malört).
Dumpling Galaxy (Flushing) Group Options: À la carte. There are several banquets and some larger tables you and your friends can occupy at this red-hued restaurant that opens up into one of Flushing's newer, nicer food malls. Owner Helen You is the rare dumpling chef to move beyond the basics, and she offers some 100 different varieties, stuffed with everything from duck to cod roe — more than enough for you and a dozen friends to try without eating too much of the same stuff.
Eastwood (Lower East Side) Group Options: À la carte. This laid-back spot is primarily a bar with a takeout window, which makes it easier to loop in people who might not want to throw down a wad of cash on food. Stake out a communal table, drink some wine on tap, and dig into food that blends the owner's Israeli and Scottish heritages, if you'd like. Or just drink a few beers.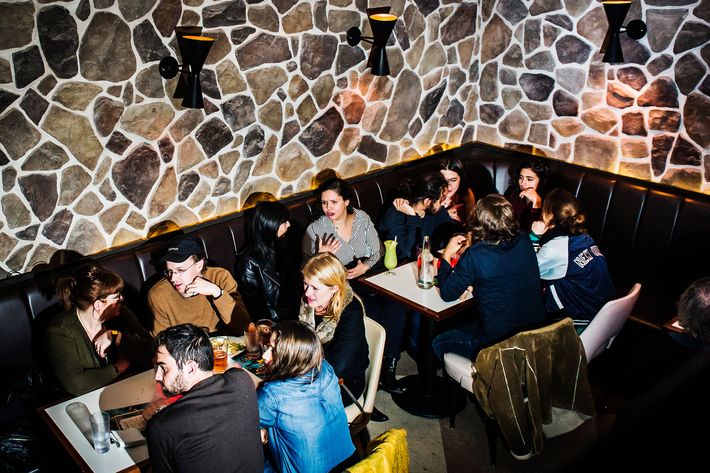 El Cortez (Bushwick) The Group Options: Full buyouts are negotiable, and second-floor reservations are also available. Options to have an open bar with cocktails and/or build-your-own taco bar. The south-of-the-border sister restaurant to the Commodore, a great choice for groups as well, has large booths and a second floor only open on busier nights. Stephen Tanner's menu features what he calls "the three Mexicans," which translates to party-friendly dishes like nachos, fried-chicken sliders, and taco salad. Frozen cocktails flow freely, and good times are a given.
Fu Ran (Flushing) Group Options: À la carte. Flushing's most well-known northern Chinese restaurant, formerly known as Fu Run, is great for groups based on the merits of its fragrant, fatty Muslim lamb chop alone. That dish should be the centerpiece of any meal here, but there's plenty else worth ordering, from the dumplings stuffed with pork and pickled cabbage to crispy sliced fish, all of which will help round out your meal.
Pork Slope (Park Slope) The Group Options: The details and minimum for the room depends on the group, but the staff is flexible. Throwing a party without breaking the bank can require some compromises like swapping out a restaurant for a bar — though in the case of Dale Talde's roadhouse-style spot you won't be missing out on anything. The beers, many of them canned, and whiskey selections are extensive; and the menu, inspired by lowbrow American bar food and fast food, includes tater tots, spicy chicken nuggets, and chili cheeseburgers.
San Rasa (St. George) Group Options: À la carte. Perhaps the best of Staten Island's Sri Lankan restaurants, San Rasa is a gem of a restaurant and, while not as large as its ornately decorated neighbor Lakruwana, can accommodate larger groups given notice.
Sripraphai (Jackson Heights) Group Options: À la carte. The original destination Thai restaurant of Queens is still going strong, and while there are now plenty of excellent places to get your laab fix, none of the others can compete in size. The large space offers plenty of spots to take over and stretch your legs while you enjoy a sprawling spread of fried watercress salad, yellow curry, and pad see-ew.
For 8 to 16 People
Barbuto (West Village) Group Options: A multicourse, family-style meal that goes for $85 per person, plus tax and tip. Alcohol is separate. Jonathan Waxman's iconic West Village restaurant has two spots for parties: A semi-private dining room can accommodate up to ten people, or a table inside the kitchen that seats up to 14. With either option, the restaurant will present the best of what it has (meaning that famous chicken), creating an Italian-ish feast for the group.
The Breslin (Nomad) Group Options: Four options for large-format feast at $50 to $140, depending on menu and if alcohol is included. Plenty of private spaces are available. The place to be at April Bloomfield's Ace Hotel restaurant is the chef's table, which seats 8 to 12 individuals. If you can't snag that reservation, large-format dinners are available for parties of 8 to 14 anywhere in the dining room, centered on one protein — like the famous fried chicken or dry-aged prime rib — served with a seasonally rotating cast of sides. Larger groups should call to arrange private spaces.
DBGB (East Village) Group Options: Family-style meal or set menu. A whole-beast feast is $550 to $775 (plus tax and tip) for 8 to 12 guests. Beer pairings are available for $30 a head, a bottle of Pig's Nose Whiskey for $125. A private dining room can seat up to 18 people. Daniel Boulud's Bowery beer hall and burger bar serves one of the more impressive large-format menus in town. Options include a stuffed whole hog, lamb saddle and shank, or rib-eye roast and braised brisket. All are presented whole and served with appetizers and dessert. There are also two private dining rooms available for brunch, lunch, or dinner, with three- and four-course menus that reflect Boulud's French sensibility.
Han Dynasty (East Village and Upper West Side) Group Options: Yes, a tasting menu that goes for $25 (chicken, pork, veggies, and noodles), $30 (beef, lamb, veggies, and noodles), and $35 (everything on the menu including seafood) per person not including tax or tip. Alcohol is separate. Available for parties of six or more. Reservations are available for parties of eight or more at the American-Sichuan restaurant. The chef will prepare you and your party a tasting menu, and the spiciness of the food can be calibrated to your group's taste — so no one needs to worry about lighting their mouth on fire.
Tanoreen (Bay Ridge) Group Options: For parties of 15 or more, the restaurant requires a set menu, but it is fully customizable. A full buyout is also available. The rule of thumb at this inventive and acclaimed Middle Eastern restaurant is to order as much food as you can (hint: appetizers are where it's at). To get that down you'll need a group of friends. The food is affordable, the room is nice if not a design standout, and the long banquets make it easy to gather a large party together.
For Up to 20 People
Hill Country (Flatiron and Downtown Brooklyn) Group Options: Packages from $25 per person for the first hour to $75 per person. Private spaces and buyout options vary by location. The sprawling, bi-level Flatiron outpost of the barbecue standard-bearer has several options for private dining, with capacity for up to 225. For those looking to dine out with a few friends, there are semi-private spaces, where you and up to 19 other guests can elect for one of several set menus or gorge on platters like nachos and chili-rubbed chicken wings.
Hometown BBQ (Red Hook) Group Options: Depends on the customer. Prices range but are $30 to $50 per person for food or up to $60 to $100 per person with a bar package. A private room can also seat 50 people. While the Red Hook restaurant is occasionally available for private events, a gathering here is never difficult thanks to group-friendly dishes like a whole rack of Jamaican jerk baby back ribs, half-chickens, baskets of wings, and smoked meats by the pound. There's great beer on tap, too, and bluegrass bands often play on the weekends, meaning you'll have yourself a night without having to leave.
Mission Chinese Food (Lower East Side) Group Options: Parties of eight or more must order a prix fixe. Options include the Quick Mission and Vegetarian menus, both are six dishes and $40 per person, and the Feast, which includes 11 dishes for $99 per person. A private downstairs room can accommodate 17 people for dinner or 35 for drinks. The atmosphere is loose and exciting, the cocktails inventive but drinkable, and the food, typically served in large portions, is actually designed for sharing. Larger parties (eight or more people) have to order from one of three set menus, the most ambitious and pricey of which is the Feast, which features house classics like Chonqing chicken wings, mapo tofu, and matcha noodles, plus your choice of cumin lamb, broccoli beef, or koji fried chicken. Large-format dishes like the clay duck can be ordered in addition to the set menu. The restaurant often seats parties of more than 11 people downstairs, but availability fluctuates.
Neerob (Castle Hill) Group Options: It's come-as-you-please. At this Bangladeshi steam table that topped the Underground Gourmet's 2014 list of 101 Best (New) Cheap Eats, a gut-busting feast will cost you less than a couple courses at a sleeker restaurant downtown. There's no booze, and none can be brought because they keep halal, but the flavors of the bhartas (mashes laced with mustard oil), fish curries, and vegetable dishes will more than make up for it.
Prime Meats (Carroll Gardens) Group Options: There is an updated steakhouse-style feast for $70 per person for three courses and $105 per person for four courses, plus tax and tip. Beverages not included. A cocktail den and ode to the German-run restaurants of New York's late 19th century, this large, attractive Carroll Gardens restaurant offers both large-format meals and private dining. Reservations are available for parties of up to 15, along with half and full buyouts, and the set menu covers steakhouse classics like bibb salad and steak-frites.
Roberta's (Bushwick) Group Options: Yes, and everything besides brunch comes with your choice of three pizzas. Dinner-party menus are $32 or $48 per person, lunch $22 or $27 per person, and brunch $35 per person. Tax not included, 20 percent tip included automatically. Alcohol is extra; drink packages range from $25 to $40 per person. Garden packages, served buffet- or family-style, range from $13 per person to $95. Outdoor spaces can be made private. The Bushwick pizzeria offers its spacious outdoor garden, heated during chilly weather, for larger parties, and throws its no-reservations policy out the door for parties of 10 to 16 people. Either way, unless you're going for brunch, you can have a pizza party.
Szechuan Gourmet (Midtown West and Flushing) Group Options: À la carte. All three locations of this underrated Sichuanese mini-chain — which has two restaurants in midtown and another in Flushing — accept reservations for parties of four or more. You'll be able to order whatever you want, whether you've taken over the 59th Street restaurant's private room or have just posted up at the time, and gorge on all the mapo tofu, dan dan noodles, and twice-cooked pork you want.
Tertulia (West Village) Group Options: Yes, a prix fixe of restaurant signatures and daily specials for $55 per person, excluding tax, tip, and beverages. The back room can be separated for a private party. The always-hard-to-get-into restaurant has a trio of chef's tables in the back that are available for parties of 6 to 12. You'll get to watch the kitchen in action while eating a menu that chef Seamus Mullen and his crew have tailored to your group's dining habits and preferences.
Toro (Chelsea) Group Options: A family-style tapas menu for the chef's table. The chef's table starts at $85 per guest, plus tax and tip. Beverage packages are available as well. A large private space is available and required for groups over 16. While some of the city's finer tapas restaurants are the size of sardine cans, Ken Oringer and Jamie Bissonnette's restaurant is gargantuan. The huge space makes it easier for groups to get in, and there's a private space for those interested, but parties of 8 to 16 can reserve the chef's table, which enjoys a secluded perch near the kitchen, where guests can order any paellas and the dry-aged rib-eye in addition to the set menu. Batch cocktails are also available.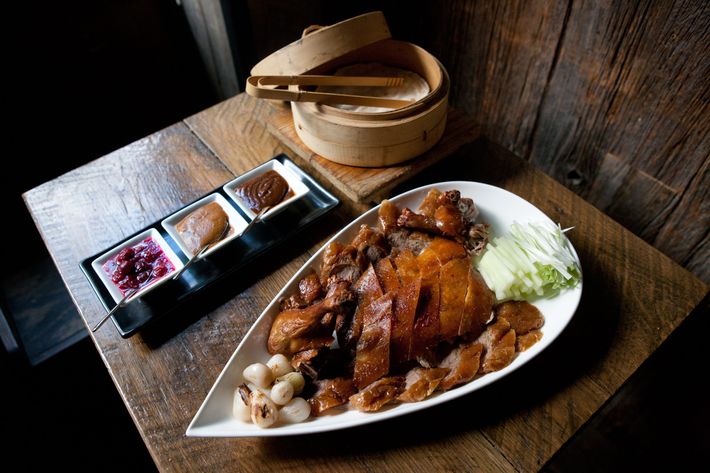 For 16 to 24 People
Decoy (West Village and Upper West Side) Group Options: Prix fixe Peking-duck-centric feast for $78. A full buyout is also possible. This is no Chinatown dive. The handsome, casual restaurant under Ed Schoenfeld and Joe Ng's Hudson Street location of RedFarm has 24 Peking ducks available a night, one of which can be yours if you make a reservation. Each comes with one consommé shot per person, pancakes, and sauces, along with small plates, fried rice, and other dishes. The communal table can be reserved for up to 24 people, or take over the bar with 11 of your best friends.
Forlini's (Little Italy) Group Options: Yes, depending on time and date. Dinner goes for $52 on weekdays or $57 on weekends with beer, wine, tax, and tip included. Lunch is $36. A red-sauce restaurant in Little Italy that is still doing it right, and the place to go when you want to have a throwback feast of antipasto and chicken parm. The restaurant is never available for buyouts because of the regulars, says owner Joe Forlini, but there's a back room that can host up to 70 where you'll get a five-course meal. Bigger booths can seat eight, and there's also a long table for 20.
Tacombi (Nolita) Group Options: Yes, for groups of 12 to 20. From $25 per person for basic food to $40 for food and sangria or beer to $50 for food and cocktails. The original Nolita location has a wide-open, high-ceiling space and a few long communal tables that you can take over with friends. Cocktails are simple crowd-pleasers (spiked horchata, Paloma), beer goes down easy, the Mexican street-food classics are meant for snacking, and all of it is relatively affordable — so you and your friends can indulge even on a budget.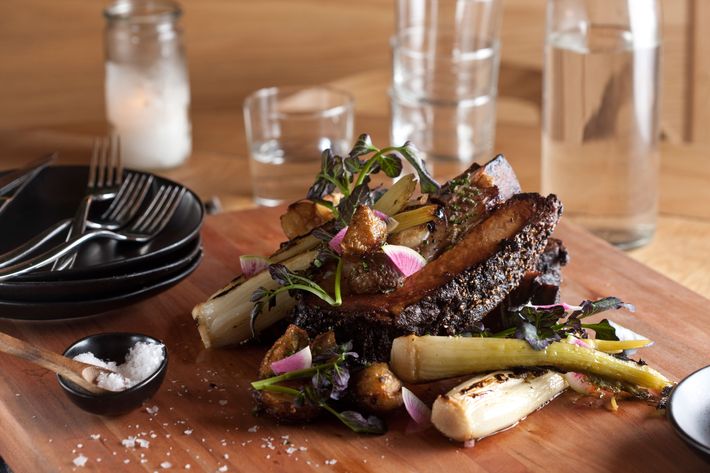 For Parties of 25 People and Up
Booker + Dax (East Village) Group Options: Yes, a five or six duck or bo ssam prix fixe. For buyouts, beverage packages start at $65 per person an hour and food packages start at $30 per person an hour. The entire bar can also be rented out. Momofuku and food-science whiz kid Dave Arnold's bar, attached to large-format pioneer Ssäm Bar, can be rented out for private events: The bar can host up to 50 standing guests for drinks or seat 27 for those who'd like to have some kimchee or bo ssäm, too. (And for smaller groups, Ssäm itself remains a great go-to option.)
Clover Club (Carroll Gardens) Group Options: Passed and stationary hors d'oeuvre are available. A separate back room that fits 45 people can be rented out ($2,500 minimum on weekends), or the entire bar can accommodate up to 110 people. Cost varies with the season. Arrive early and take over a few tables together at this refined Brooklyn bar, where Julie Reiner and her crew have been serving some of the best cocktails in town for years. There are excellent drinks, or group-friendly punches if you're in the mood to share. The menu is mostly snacks, like deviled eggs and bar food (e.g., the lamb burger), so you can focus on having fun.
Liman Restaurant (Sheepshead Bay) Group Options: A family-style meal of appetizers is available, but they are flexible. There are three menus available for $75, $100, or $185 per person, tax, tip, and one drink included. There are multiple dining rooms as well as a deck for large parties. Reservations are available for parties of up to 100 guests at this Emmons Avenue restaurant, which looks like an old, New England waterfront spot. The food, though, is Turkish, and the top-quality mezze (fried anchovies, seasoned eggplant dip, and so on) make for easy sharing.
Upland's Dinner Downstairs (Gramercy) Group Options: A set menu of snacks, four or so courses served family-style for $90 per person, plus dessert and a wine pairing for $40 per person. Excluding tax and tip. The entire space can fit up to 28 people. Chef Justin Smillie has converted the subterranean private dining room at his deservedly acclaimed Cal-Ital restaurant into a Tuesdays-only dinner series. The spread is hearty and sprawling, including dishes like, say, veal brisket with roasted sunchokes, crispy chickpeas, and so on. And if you've ever had Smillie's famous short ribs, which you almost certainly have, you know he can create feast-worthy dishes. Private tables are available for parties of six or more, and smaller groups will be seated at the communal table.
More Restaurant Suggestions From Grub Street Where to Eat the Best Ramen in NYC Where to Eat the Best Brunch in NYC Where to Find the Best Tacos in NYC Where to Eat the Best Late-Night Food in NYC Where to Eat the Best Sushi in NYC These Are the Best Date Restaurants in New York Where To Drink the Best Coffee in NYC These Are New York's Best Bars for Cocktails Where to Eat the Best Steaks in NYC