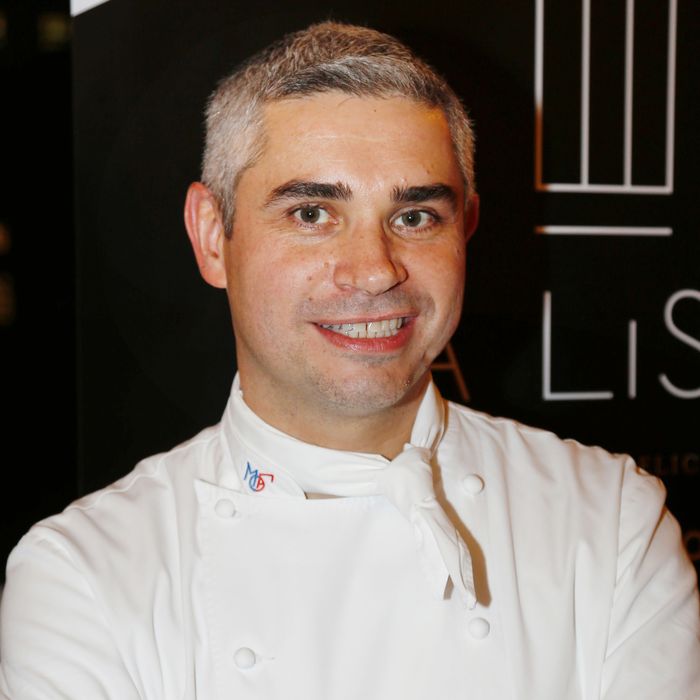 Violier, after his restaurant was named world's best by La Liste.
Photo: Thomas Samson/AFP/Getty Images
A new report suggests that French chef Benoît Violier may have been dealing with other troubles in the months leading up to his tragic suicide. Sources tell the Swiss business magazine Bilan that Violier, owner of the famed Restaurant de l'Hôtel de Ville in Switzerland, was "in considerable financial trouble" in his final months because he'd been screwed over by a Swiss company called Private Finance Partners, through which he bought rare, expensive wines.
According to Bilan, Private Finance Partners was a shady enterprise: It would sell three or four unsuspecting restaurants the same wine, bottles of things like Henri Jayer that go for $20,000 to $40,000 each, and then hang them all out to dry. Private Finance Partners' victims were allegedly numerous and include other world-famous restaurateurs in the region, like Fredy Girardet and Philippe Rochat, two previous owners of Violier's restaurant. Violier had reportedly been scammed out of somewhere between $800,000 and nearly $2 million. Bilan notes that Private Finance Partners declared bankruptcy late last year, and that one of its brokers was arrested in October.
Pretty much as a given, the magazine also adds: "The last months of the famous chef were quite troubled." With the stresses of working in French fine dining well documented, it's sad to think Violier may have been plagued in part by a horrible set of circumstances beyond his control. A friend and business partner of Violier tells the magazine, however, that the restaurant "has no issues with" the wine company and "did not lose any money," adding, "The restaurant is full. It is better than in any previous year."