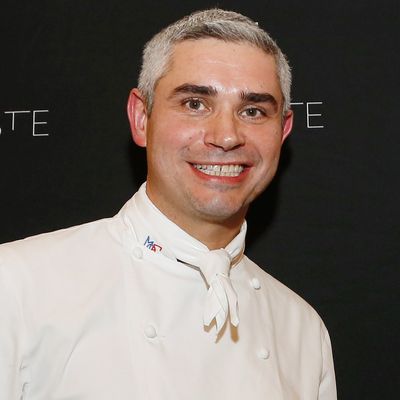 Violier at the La Liste ceremony.
Photo: THOMAS SAMSON/AFP/Getty Images
The chef Benoît Violier, whose Restaurant de l'Hôtel de Ville was recently named the world's best by the new La Liste ranking just a month and a half ago, was found dead on Sunday of an apparent suicide. According to a statement released by officials, Violier was discovered by his brother at his home in Crissier, Switzerland, and took his life with a gun, but no further statements will be made out of respect to the family. He was 44.
A student of world-class chefs including Joël Robuchon and Frédy Girardet, Violier was the author of two cookbooks and known in the kitchen for his skill with game. His acclaim spread well beyond the newly minted La Liste, however, and Restaurant de l'Hôtel de Ville was one of only two establishments in Switzerland to hold three Michelin stars. Friends, mentors, and colleagues of the chefs were quoted by the French-language Swiss paper 24 Heures as saying the death was unexpected and shocking. According to his friend and fellow chef Pierre Gagnaire, Violier was planning to attend today's release of the Michelin guide in Paris.