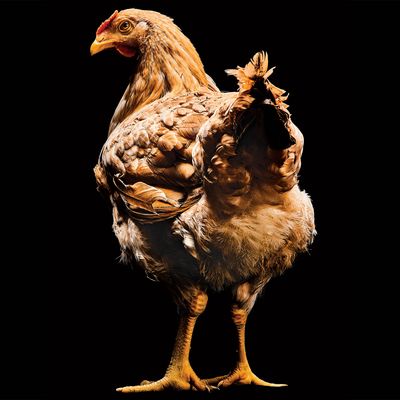 The Sasso X44B.
Photo: Bobby Doherty/New York Magazine
Sharp-eyed menu readers might have recently noticed a new pedigreed poultry around town. The Sasso chicken, as it's called, has quickly become a signature dish at both Lowlife, where chef Alex Leonard grills it over binchotan charcoal and shellacs it with an Asian glaze, and Le Turtle, whose chef Greg Proechel brines, hangs, and whole-roasts the bird to a supreme crispness before parading it through the dining room on a pile of smoldering hay. What do these restaurants have in common besides the Sasso? Both chefs worked at Blanca under Carlo Mirarchi, who first introduced them to this particular strain of poultry, now also found at Claudette, Tessa, Chef's Table at Brooklyn Fare, Atrium Dumbo, and, not coincidentally, Concord Hill, whose opening sous-chef had worked for another Mirarchi adherent, Max Sussman. What exactly is this mystery fowl? A bit of digging around poultry-distribution channels reveals that Sasso is not a breed or a farm but an acronym for Sélection Avicole de la Sarthe et du Sud Ouest, a major player in France's chicken-breeding business that supplies the genetics for birds reared everywhere from Manila to the United Kingdom.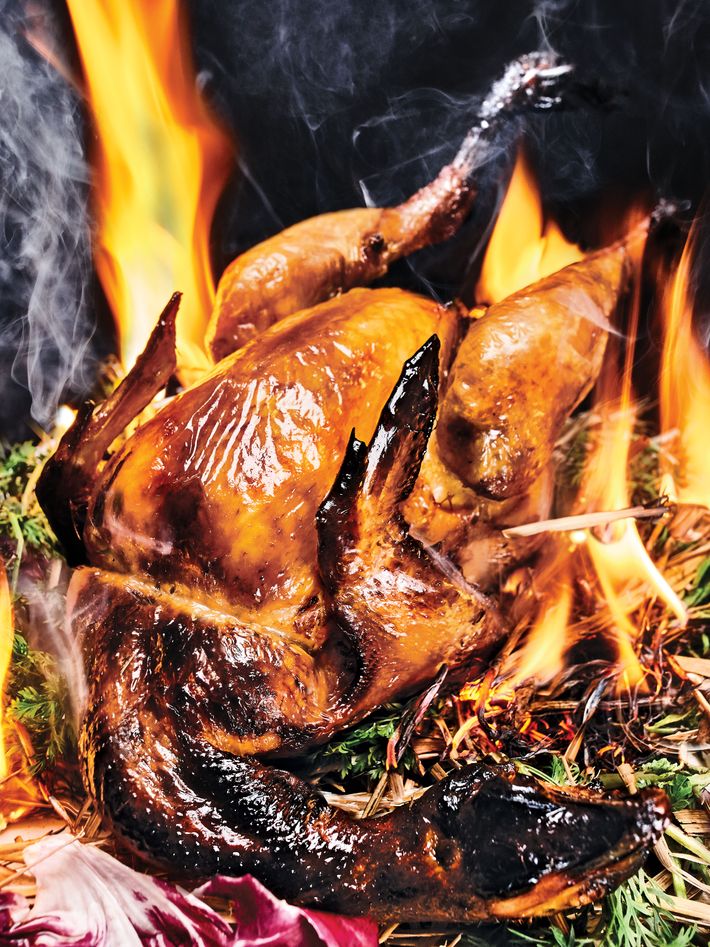 Sasso's presence on posh New York plates is owed to the efforts of Jacob Helfrich, second-generation owner of Watkins Poultry Merchants in East New York, a wholesale distributor to the city's 80-odd live-animal markets. A few years back, Sasso bigwigs enlisted Helfrich to launch their line on the East Coast, flying him over to France to sample their wares and select the specific genetic cross he'd market to his customers, most of whom serve immigrant communities with very specific poultry-buying criteria. These connoisseurs, it turns out, desire distinct reddish coloring; long legs and a thin, narrow, V-shaped breast; substantial amounts of yellow fat; and the richer flavor and firmer texture that are the hallmarks of a slow-growing, well-raised bird. Such characteristics define the X44B, Sasso's proprietary name for the animal Helfrich now traffics in: French-bred, Quebec-hatched, Pennsylvania-reared, and sold live at places like LaPera Bros. Poultry, a Borough Park relic where manager Carlo Formisano made the shrewd decision to market it to chefs under the exotic-sounding Sasso name, rather than the more generic red pullet. Since his first Sasso chef sale to Daniel three years ago, business has boomed; Le Turtle's Proechel has gone from selling four or five birds a night to 60 to 80 a week.
Blanca's Mirarchi might be partly responsible for the Sasso's swift rise, but he cautions against putting too much stock in brand names. "Genetics only play a certain role," he says. "Sasso doesn't really mean anything if the bird is factory raised on a formulaic diet." Despite such caveats, though, you can't help but read the Sasso story as a tale of two Carlos: the discriminating chef, the persuasive purveyor, and a city hungry for everything new.
*This article appears in the February 8, 2016 issue of New York Magazine.