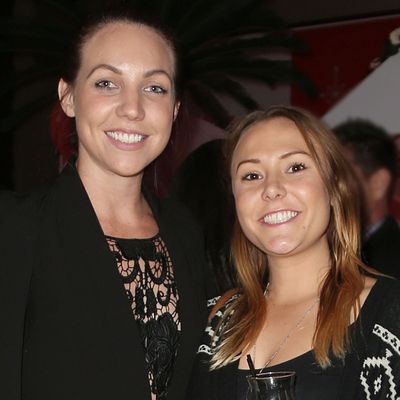 The two critics, in happier times.
Photo: Splash News
A sloppy review is turning into a huge headache for two food critics at Australia's Sunday Times. In a takedown over the weekend titled "Hipster Deli Should Stick to Brekkie," Chloe James and Kelly Ramsay, who work as a pair for the paper's lifestyle magazine STM, awarded a Perth eatery a sorry 9 points out of 20 ("consider takeaway pizza instead") and complained enough food went uneaten for James to supposedly sigh, "Shall we head to the Leedi for dinner, take two?"Obviously displeased, the team at West End Deli has fired back with quite the reply. In a long Facebook tirade, they call the duo's review a "fabrication" and say it appears to be based on a meal eaten back in October that's so old it doesn't even reflect the current season's menu. Among their other complaints is the allegation that Ramsay actually showed up solo, cleaned her plate "spotless," and actually left without paying the $260 bill, which only got settled "begrudgingly" seven weeks later:
There are 2 sides to every story and we feel it's only fair we share ours. In the Sunday times STM section of today's…Posted by WEST END deli on Saturday, February 20, 2016
One prominent food critic in the country thinks the two "blew it" and has already called for an "immediate sacking," and the angry rants on social media haven't been kind to them, either.
Ramsay and James have denied some — but arguably not the most important — allegations. They maintain the bill went unpaid simply because Ramsay didn't have her company credit card on her (try that excuse at your next business dinner!), and that both women returned to West End Deli together sometime in January (seemingly at the paper's insistence), though media have pointed out their review seems entirely based on the first visit. Apparently they're dealing with trolling and death threats because of the scandal.
[WA Today]