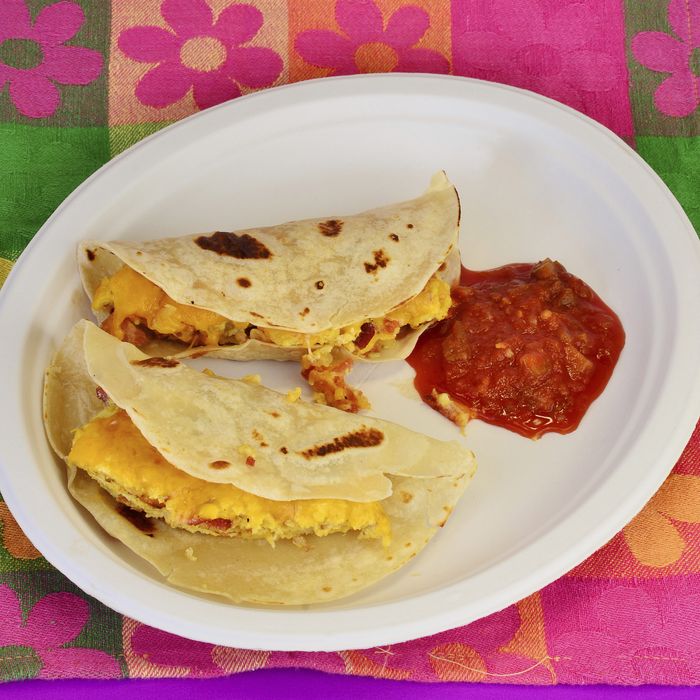 Serious business.
Photo: Warren_Price/Getty Images
Texans love a good food fight. Take, for example, Texas Monthly's 2013 proclamation that its list of the Lone Star State's 50 best barbecue spots is really a list of the world's best because "Texas barbecue has no peer on earth." As the recent post "How Austin Became the Home of the Crucial Breakfast Taco" from Eater Austin demonstrates, Texans also really enjoy interstate squabbles over their favorite foods.
After acknowledging that the breakfast taco originated outside Austin, the post's author, Matthew Sedacca, enters a minefield of queso when he writes, with credit to Tex-Mex evangelist Robb Walsh, that the city "is the birthplace of the phrase breakfast taco." This combination of words, the author writes, is chiefly responsible for the breakfast taco's current widespread popularity, rather than, say, its flavor or simple appeal.
This has not gone over well. The post received a barrage of comments from disgruntled Texans, with readers variously calling it "racist" and the focus on Austin "a bit troubling," billing the research as "massively flawed and historically inaccurate," and rebuking other commentators who tried to defend the post's premise. The center of ire appears to be San Antonio, and several commentators pointed to that city as the real land of the breakfast taco.
Chiming in on the debacle, the astute OC Weekly editor and Taco USA author Gustavo Arellano backs up the claims that Austin didn't invent the phrase "breakfast taco" with admittedly imperfect clippings research. While he argues that Austin has helped spread the gospel because of South by Southwest, he says the post still problematically follows a "far-too-common" trend of whitewashing and ignoring history.
Meanwhile, in what just may be going slightly too far, a San Antonio resident has launched a Change.org petition demanding that Austin exile the post's author for "taco negligence." (More than 1,400 have signed the petition as of press time.) Grub would say that's going too far, but if New Jersey ever tried to claim the bacon, egg, and cheese everyone knows, the entire population of New York City would march on the Garden State immediately. As always, the lesson is: Don't mess with Texas.