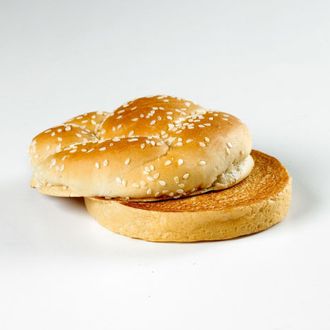 Arby's prefers people who have a beef.
Photo: PRNewsFoto/Arby's
Arby's, whose relationship with vegetarians is best described as hostile, claims to be turning over a conciliatory leaf. It wants to demonstrate it does, in fact, value a no-meat diet — so much that just once, on Leap Day, a day that comes around once every four years, it will offer a special meatless menu that's thoughtfully both "extensive" and "void of delicious, quality proteins." While all signs point to it being something people can legitimately order next Monday, even a casual glance shows how seriously Arby's is taking the idea. It's 42 items long, or the full regular menu, but here are the first three (all emphasis theirs):
• Loaded Italian Sandwich: Melted cheese, banana peppers, shredded lettuce, tomato and red onion, with red wine vinaigrette, and garlic aioli on a toasted Italian-style roll minus the thinly-sliced ham, succulent salami, and delicious pepperoni that made this one of the most popular sandwich launches in Arby's history.
• Reuben Sandwich: Marbled rye bread filled with melty Swiss cheese, tangy sauerkraut, and creamy Thousand Island dressing. Remove the freshly sliced, perfectly brined, cooked, and tender-enough-to-flake-with-a-fork corned beef.
• Smokehouse Brisket Sandwich: Smoked Gouda cheese, crispy onions, mayonnaise, and BBQ sauce on a star top bun minus the mouthwatering, tender brisket hickory-smoked at a family-owned smokehouse in Texas.
And here are those items in the flesh, to use a completely inaccurate metaphor: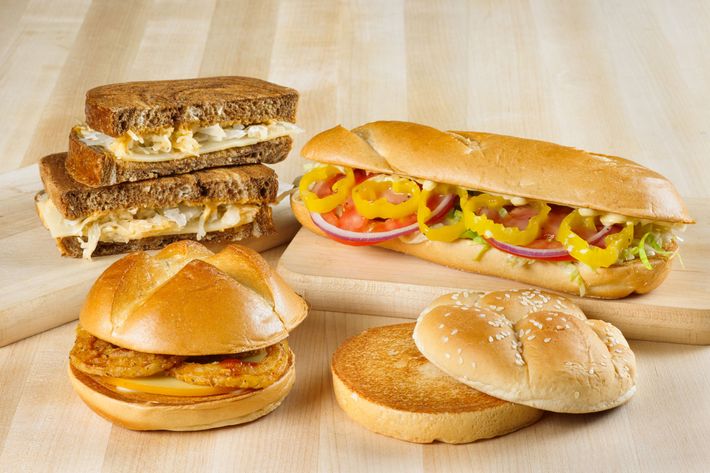 They seem sparse, to say the least, the absurdest obviously being the veggie version of the classic roast-beef sandwich, pictured up top. It's still available "in Classic, Mid or Max sizes." The ironic part is that, while most menu hacks have been in the other direction (remember the Meat Mountain?), vegetarians have been custom-ordering these skimpier meatless sandwiches for a while now.
[PR Newswire]