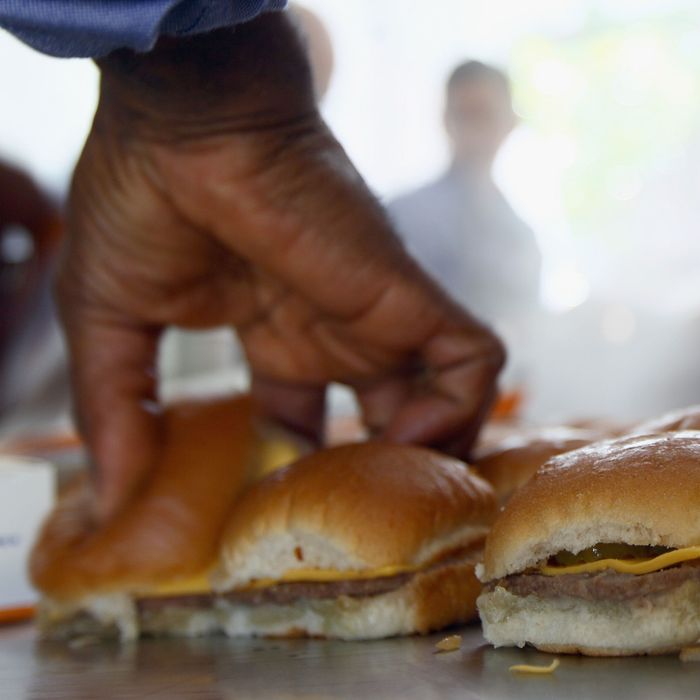 Just four ingredients, none of which are E. coli.
Photo: Win McNamee/Getty Images
It took a little while, but fast-food companies have finally realized that they can exploit Chipotle's vexing food-safety woes for their gain. Freshii, a Canada-based chain, has decided to heavily discount the menu's roughly half-dozen Mexican items on February 8, the day Chipotles nationwide temporarily close for a big employee meeting.
Freshii's plan seems kind of inconsequential, but White Castle — which isn't even a Chipotle competitor, per se — appears to have really gone for the jugular with a new website that's unambiguously called WhiteCastleClean.com. It's chockfull of facts about the chain's food-prep practices, but the biggest dig at the burrito chain is a database of stores' health scores searchable by location. All 420 White Castles are listed, an industry first the chain brags demonstrates its commitment to "promoting food safety, cleanliness and transparency."
Per the chain's press release, White Castle founder Billy Ingram picked white because it symbolized spotlessness. Meanwhile, chipotle is just a Spanish word for a pepper that Americans can barely pronounce.