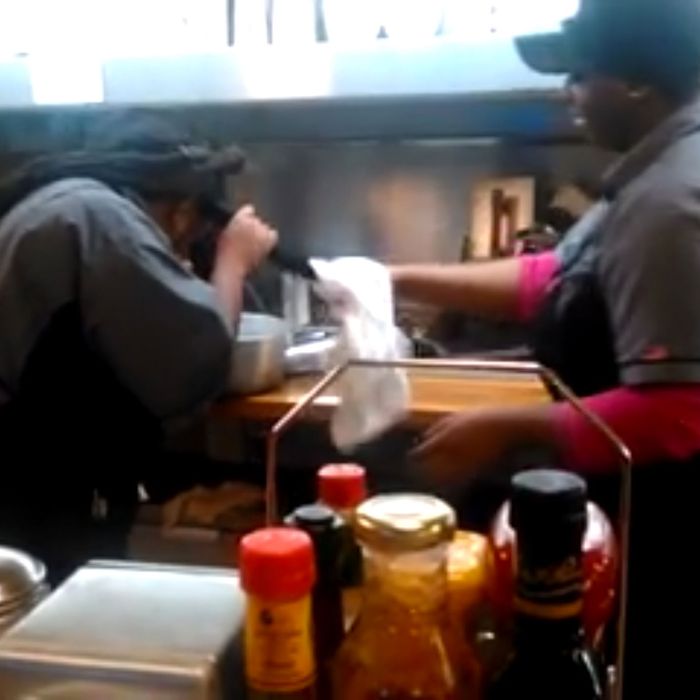 Other Waffle House "incidents" have broken more laws, but few exceed this one in terms of ick factor: A worker with apparently nothing better to do at a Forrest City, Arkansas, location was filmed washing her hair (and even wringing it out) in front of horrified nearby customers. Per the video — posted to Facebook, by a customer who sat about five feet away at the counter — the impromptu hairstyling ultimately became a two-person job.
Forrest City Waffle House Hairstylist/Cooks lolPosted by Antonio Robinson on Monday, January 11, 2016
The workers heated the water until it steamed in a pot on the stove, and the friend patted her colleague's hair dry with a dish towel. The guy who shot it, Antonio Robinson, told the local news: "I just got out my phone and I just started to record. I just thought it was nasty and I needed to let somebody see this." Shockingly, the incident didn't go over well at Waffle House's corporate office, either:
We were made aware of this via a Facebook Private message this morning. We immediately reached out to the local management team. After identifying the parties involved, they were immediately terminated. The health department has been out to the restaurant for an inspection which it passed and they have closed the case. We do not tolerate these behaviors and strive to provide a clean, safe environment for all our customers.
While the restaurant was technically allowed to stay open, health authorities told the news that during their definitely not surprising visit they discovered several "violations of employees not using hygienic practices."