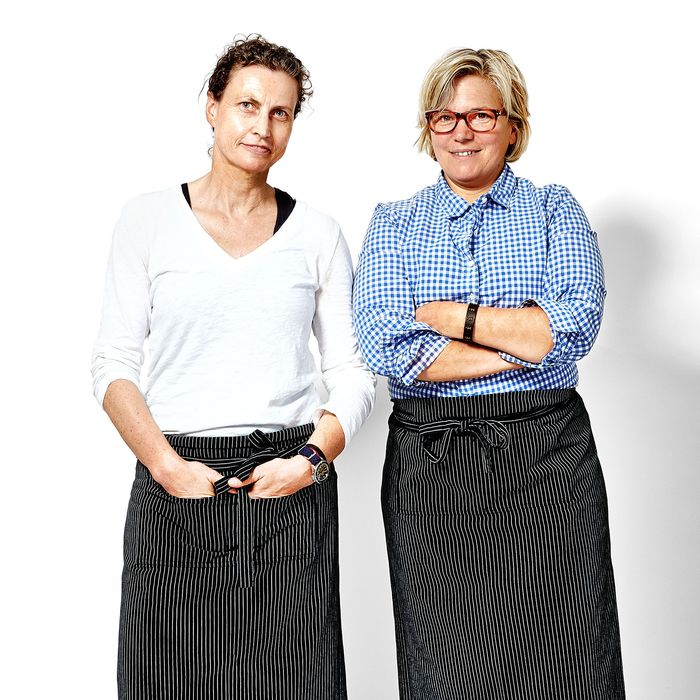 Co-owners Rita Sodi and Jody Williams.
Photo: Bobby Doherty/New York Magazine
Jody Williams and Rita Sodi recently signed the lease on a 350-square-foot space next door to their Tuscan trattoria, Via Carota, but the co-chefs aren't describing the new property as an expansion. "We're just sort of spreading out," says Williams, who nevertheless has big plans for the smallish annex. The new addition will give the partners a bit of breathing room for their growing wine collection, and allow them to explore less strictly restaurant-y pursuits. Williams wants to collaborate with friends on cookbook signings and local-distillery pop-ups, serve the Italian snacks called cicchetti, and open a small shop for prepared foods and condiments. She envisions an antique fridge stocked with crocks of housemade brandade and walnut pesto, the lasagna that's a specialty of the house at Sodi's nearby I Sodi, and preordered set dinners to pick up and take home. Come five o'clock, they might bring in a table from next door for quasi-private dining.
But nothing is definite yet. "We have to see how it feels," says Williams. The plan is to open the new space this spring, and to officially launch Via Carota breakfast at the same time.