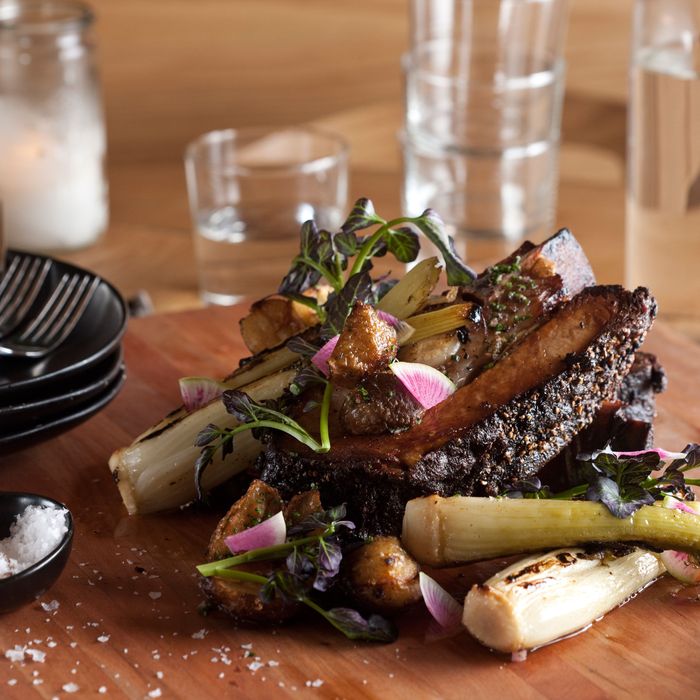 Veal brisket with natural jus, roasted sunchokes, and long-cooked celery.
Photo: Melissa Hom
Next Tuesday night, Upland chef Justin Smillie is going underground. He's taking his slow-cooked meats and veggies and assorted rustic vittles down into the restaurant's subterranean private dining quarters. That's where he's launching Dinner Downstairs, a Tuesday-night supper series, the goal of which would seem to be to provide his customers with enough sustenance so that by meal's end, they can return to their homes, climb into their beds, pull up the covers, and hibernate until the following Tuesday (or maybe spring?). It's purportedly just four courses served family-style, preceded by "light snacks," plus dessert and a wine pairing for $130 a person, not including tax and tip. To see what we mean, here's what's on the opening menu: Ricotta sformato. Crispy chickpeas. Crackers with tapenade and fennel pollen. Fluke crudo. Escarole hearts. Pasta al forno. Slow-cooked lamb shoulder. Crispy polenta. Long-cooked kale, potatoes, eggs, and beans. "It's really just the way I like to eat," says Smillie with a shrug.
To reserve a table (one seating at 7:30 p.m., six-person minimum), email upland.downstairs@starr-restaurant.com, but first take a look at some of the dishes that Smillie will whip up throughout the series.