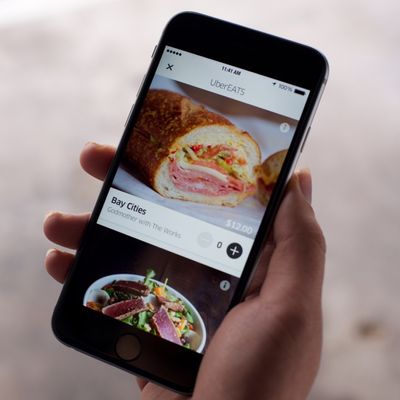 Sandwiches on demand.
Photo: Uber
Uber is finally ready to launch UberEATS, its food-delivery app, as a full-scale service in the U.S., The Wall Street Journal reports. The app-based ordering platform will debut by March in ten large cities — New York, Chicago, L.A., San Francisco, Austin, Houston, Dallas, Atlanta, and Washington, D.C. — expanding a service the company has been tinkering with to serve as a competitor to GrubHub and DoorDash. The expanded service will work similarly to the Toronto version, which runs from 10 a.m. to 10 p.m. and lets customers order from over 100 local restaurants. Once placed, orders cycle through Uber HQ, which notifies the closest UberEATS driver, though in cities like New York, there's a very important question about how the driver will ever park his vehicle.
Probably to that point, Uber says drivers don't have to do UberEATS deliveries unless they opt in, and the company will tack on a delivery fee of about $5, part of which the driver gets to pocket. There's also going to be an option that works like UberPOOL, where people can choose to have their food bundled with other orders in the area and only pay $1. Uber's lightning-fast ten-minute lunchtime service that few people use, meanwhile, will continue, but its name will change to Instant Delivery to highlight its primary selling point.
[WSJ]