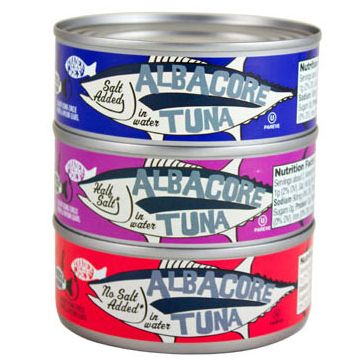 A bunch of lightweights.
Photo: Trader Joe's
A miffed group of Trader Joe's shoppers has filed a class-action lawsuit against the popular grocery chain, claiming it's underfilling tuna cans by an amount that violates federal standards. The two allegedly bum cans — Albacore Tuna in Water Half Salt and Albacore Tuna in Olive Oil Salt Added — are technically five ounces in size, but the government only requires about three ounces of fish to be in them. The lawsuit, however, says recent tests conducted by the U.S. National Oceanic and Atmospheric Administration showed that neither was the correct weight. Per its spot checks, cans of tuna in water reportedly contained an average of just 2.43 ounces, and cans of tuna in oil averaged 2.87 ounces. That comes to about 25 and 11 percent less bang for customers' buck, respectively.
The lawsuit also notes that "nearly every single can" tested by the lab was underfilled. That can't bode well, if true. StarKist was hit with a class action earlier this year for selling tuna cans that were 7 and 17 percent shy of proper weight, and as part of that settlement, it was forced to pay out either a $25 or a $50 voucher for more (now federally weight appropriate) tuna to people who bought even a single can.
[NYP]