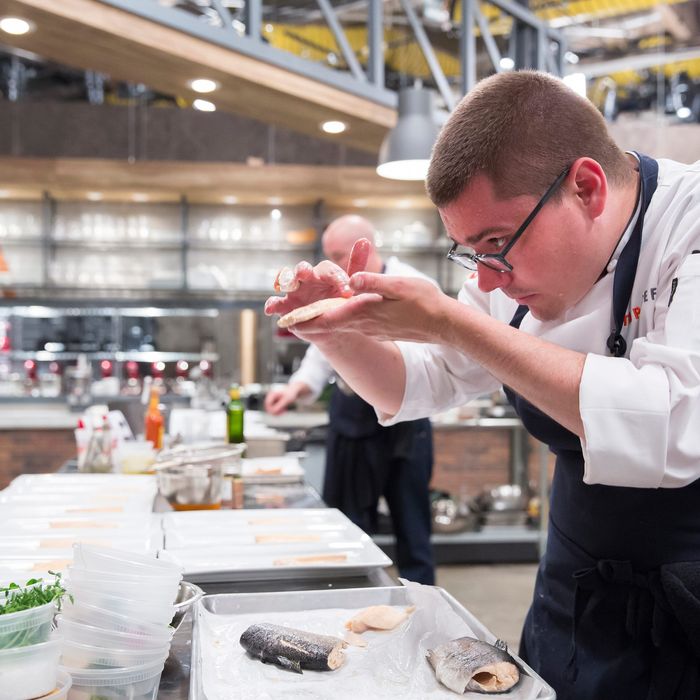 Just get some tweezers, bro.
Photo: Dale Berman/Bravo/2015 Bravo Media, LLC
Back to Los Angeles! After a series of marginally location-specific challenges capitalizing on California's many natural resources, such as craft beer and gay weddings, the remaining chefs head back to HQ. As much as I like establishing shots of scenic docks, it is not totally clear to me what switching locations every few episodes is doing for us, but on the bright side, these travels have given our chefs lots of time to reflect on their past and present struggles from the comfort of extremely crowded black minivans.
Remember that Phillip is from L.A.? (Phillip is from L.A.) It is where his restaurants are, and also the billboards of his face. Accordingly, he is particularly delighted to see that tonight's Quickfire Challenge will be guest-judged by none other than Los Angeles–based chef and season-four competitor Antonia Lofaso. "It'll be really exciting to cook for a neighbor!" Phillip says, brightly. Because there are ten chefs left, and because it is the tenth anniversary of Top Chef, the theme of tonight's Quickfire is … the number ten! Padma lays it out: Each chef will choose one ingredient, and then everyone creates a dish using only that assortment of ten semi-random items. Phillip kicks things off with New York strip steak. Inspired by Phillip's selection of a protein, Isaac chooses whole chicken, which is also a protein. "We already have a solid protein, why are you choosing another protein?" wonders Greek chorus Marjorie. Rounding out the selections: jalapeños, salt, vinegar, olive oil, garlic, mushrooms, tomatoes, and celery. "Celery?" asks Jeremy, quizzically. "Celery?" asks Karen, annoyedly. Celery, it goes without saying, is Jason's contribution. "There was a little bit of head-scratching," he acknowledges, "but I bet you everyone is going to end up using celery in their dish." On the one hand, this is almost certainly true. On the other hand, Jason is the person who made the squid balls.
At tasting, though, Padma and Antonia are mysteriously more critical of Kwame's exceedingly reasonable garlic selection. "I always have to cook with garlic," Kwame tells them. "So you chose more for yourself than for the group?" queries Antonia, widening her eyes. She does not comment on his fire-roasted chicken; probably, it was good. Jason's raw-mushroom salad with shaved celery and chicken fat vinaigrette fares better ("I think the celery choice was really smart," fawns Antonia), as does Amar's wood-roasted chicken breast with mushrooms. Speaking of chicken: It's good that someone used it, because Isaac, who chose it, certainly did not. Perhaps he should have: His "underwhelming" beef carpaccio gets him a slot in the bottom two, along with Karen and her inadequately saladlike steak salad. And Jeremy wins with yet another raw-meat dish: shaved beef with mushroom-and-crisp-garlic vinaigrette.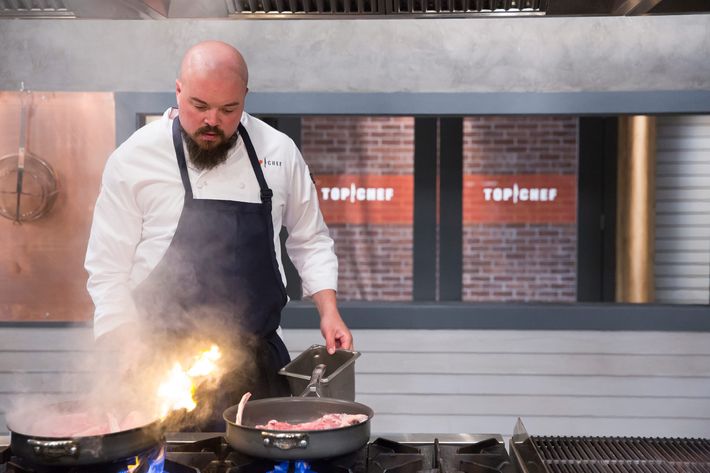 "If you guys think ten ingredients are tough, try thinking back ten years," urges Padma, dressed in an outfit made entirely of pockets. "Ten years ago this year, the very first season of Top Chef was premiering, MySpace was the top website worldwide, and Tom Cruise married Katie Holmes." How things have changed! Today we use Facebook, and Tom Cruise is married to nobody. To commemorate the passage of time, Padma explains, each chef must create a culinary representation of who they were ten years ago. "Me and my father never had the best relationship," Kwame says, gamely taking this challenge very, very seriously. "This was the point in time where I was starting to drift away from him, because our viewpoints were, like, totally different … It's not really a memory I try to go back to." Ten years ago, Marjorie was a new culinary-school grad just beginning her career, and Jason had his first management job and was yelling at everyone. "I was nervous all the time. I was very green," says Marjorie, mapping out her plan for a green curry. "I was turning into this crazy, raging bitch," reflects Jason, hatching a plot for boiled trout. (Ten years ago, I was starring in an experimental college production of The Little Mermaid and spent most of my time writhing across the stage bound in Saran wrap, so I get it.)
Brought closer together by these confessions, or by the fact that with ten chefs left, it is almost possible to keep track of everyone, the crew gathers on the roof of the Hotel Roosevelt to share yet more stories of ten years ago, and also their finest Tom impressions. "Ten years ago, I was wildly in love with my girlfriend. I was wildly in love with making pasta," Karen waxes rhapsodically. From behind his sunglasses, Chad reminds us that he does not drink.
And it's cooking time! Jeremy's doing lobster ravioli with king salmon, because his mother was adopted. Ten years ago, New Orleans was devastated by Hurricane Katrina, and Isaac evacuated to his parents' house in Cajun Country. "How do you feed 30 Cajuns?" Isaac asks. Gumbo is the answer. One of the many nice things about Isaac is that you know what he's going to say before he says it. We take a momentary break from remembering ten years ago to attend to a kitchen emergency — Marjorie couldn't get lemongrass at Whole Foods and decides to substitute grilled lemons instead — but the issue is resolved immediately when it turns out that grilled lemons are delicious and strikingly like lemongrass. "I mean, ten years ago, I probably would have just cried," says Marjorie. And with that, we're back. Ten years ago, Carl had moseyed into Boston's Craigie Street Bistro and talked them into giving him a job. In commemoration of his French awakening, he will be making fricassee of burgundy snails. Chad, meanwhile, was then just out of the Navy and ate an inspirational ceviche in San Felipe (he's making ceviche).
"Poaching fish is a very delicate process," Jason observes, staring ominously into an enormous pot.
But before we can further investigate the trout situation, who should waltz in but Michael Voltaggio, a "real bad mama jama" and the winner of season six. How is Top Chef going? he asks Phillip, who is also making ceviche, because his ex-girlfriend from ten years ago was Peruvian. "I thought that I was going to come in here and just do my food my way, and on Top Chef they want us to cook food to make the judges happy," Phillip informs him, obliviously. Tom tries to contain himself. Michael, who is very contained, suggests that, speaking from his own experience, the competition is actually just about cooking good food. "Absolutely!" Phillip agrees, as though this is what he's been saying for years. As Top Chef is nothing if not a study in contrasts, Amar then explains he's at work on a lobster-based homage to his former boss, Gerry Hayden, whose ALS is deteriorating. "I want to show him that I still remember this dish, and I appreciate everything he did for me when he started cooking," he tells Tom and Michael, who share their own Gerry memories.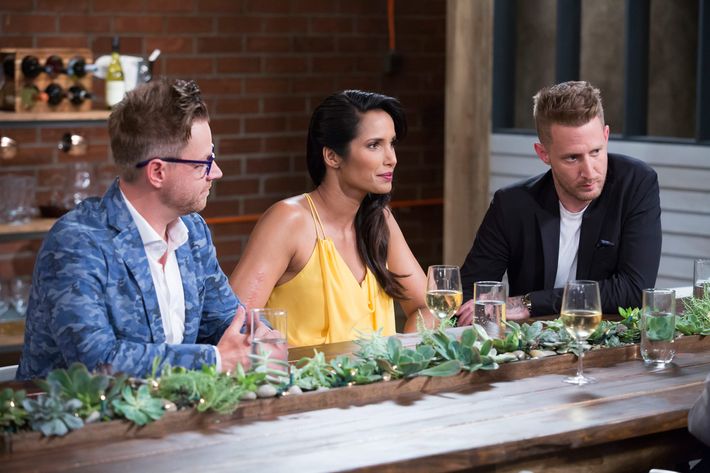 "I wonder what my dad's gonna say when he sees this," says Kwame, who is really going the emotional distance here. "I haven't spoken to him in eight years, probably." His dish is inspired by the Jamaican jerk-chicken shacks they used to visit together. "When you think of jerk, you automatically think of chicken. But I wanted to do something different, so I chose broccoli," he says. "The only thing giving me trouble is having to think about a memory that wasn't really the happiest part of my life all day." On cue, Kwame slices his finger.

Guess how many judges there are? Six? Nine? It will probably shock you to learn: There are ten. The first offering submitted for consideration: Marjorie's seared halibut with grilled and roasted vegetables and green curry sauce. "Whatever you've gone through over the last ten years, you've made some of the right decisions because I think this is delicious," announces Michael. Chad's dish — shrimp ceviche with tomato concasse — also justifies his life choices, as do Carl's snails. "This dish makes me smile so much," beams Gail. "I can't stop staring at it. I can't stop thinking about it." Alas, not all memories taste so sweet. In the professional opinion of judge Nancy Silverton, Karen needs to "find a better relationship between [her] noodle and [her] sauce," while Phillip's Peruvian love-ceviche is deemed inadequately acidic. This doesn't make any sense, because Phillip is actually a very acidic cook, according to Phillip. Jason's catastrophically underseasoned poached trout, meanwhile, "doesn't quite deliver on the promise of the concept," and Tom finds Jeremy's seafood combo completely incomprehensible. "What does lobster have to do with salmon?" he wants to know. Before, the chefs were impersonating Tom, and now Tom is impersonating Bernie Sanders.
As usual, Kwame's dish, jerk broccoli with corn bread pudding, is in a class by itself, but this time, it's not in a good way. Tom: "This is just confusing the hell out of me." Michael: "You definitely have an emotional connection with food, and I think in this case, a little bit too much of your emotion got in the way of your cooking skills." Padma: "We really have to get to Judges' Table."
The top three are pretty much who you expect them to be: Chad gets a shout-out for his "beautifully seasoned" ceviche, Gail moons over Carl's classic French snails, and Marjorie beats them both with her not-so-green-after-all curry. Who's going home is less clear. Kwame's attempt to "bring back a good memory out of the bad memories" is a disaster, but at least it's heartfelt; Phillip still doesn't understand what the judges want; and no one can figure out what's up with Jason's joyless trout, or, for that matter, with Jason more generally. "I think, too often, we forget about the emotional side of cooking," Tom concludes. What he means is that Jason is the next chef to leave.
It is a meditative exit. "We're constantly in flux; we're constantly moving from one place to another," Jason reflects, meditatively. "I definitely feel like I'm in that period of transition." As do we all, Jason.
Next week: Padma outsources judging to Instagram, men cook beef, and Isaac might be exceptionally good at something. See you then!