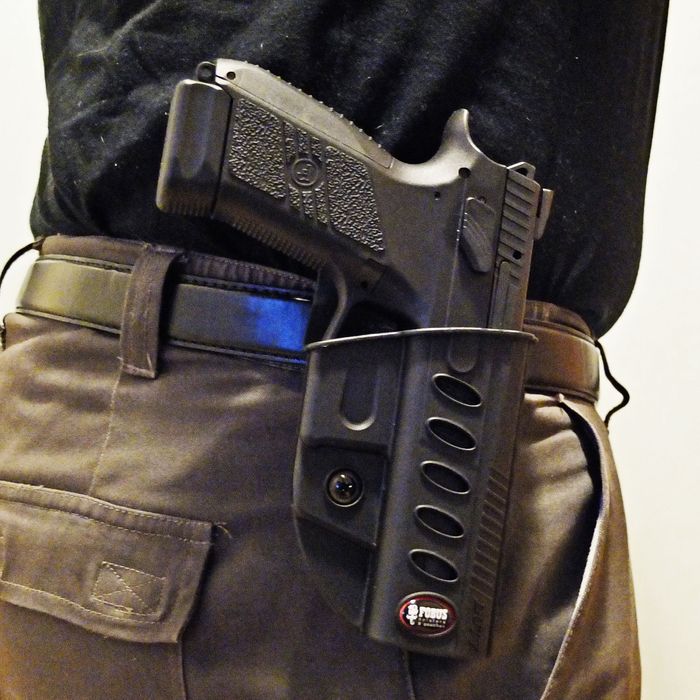 Ready to take the family out for barbecue.
Photo: Michal Fludra/Corbis
Even the NRA has said that gun-toting inside restaurants can get "downright weird" for other diners, but there will always be restaurateurs strongly in favor. The most recent example: The owner of Brooks' Place, a Houston joint that's made Texas Monthly's famed ranking of the state's top barbecuers, has started offering a 10 percent discount to customers who come in visibly wearing firearms.
Texas's new open-carry law went into effect January 1, and owner Trent Brooks wanted the state's 826,000 license holders (plus the recognized license holders from 42 other states) to know they and their .45s are more than welcome to a heavily discounted plateful of ribs. He actually marked New Year's Day with a 25 percent discount, but he's since reduced it to 10 percent (though he adds it applies to both open and concealed carry).
Media statewide are cataloguing which restaurants want guns and which are exercising their right under the new law to opt out. Some of the do-nots are owned by active gun carriers, like a Dallas restaurant owner who explained his position to NPR like this: "If there are three or four people in the restaurant all carrying guns then you're going to be uncomfortable. And I'd just rather people not be uncomfortable."
Brooks, who personally carries a Springfield handgun every day, says so far that there hasn't been much blowback — or at least none that he's aware of, since, as he notes, "There have been no complaints face to face." Wonder why.