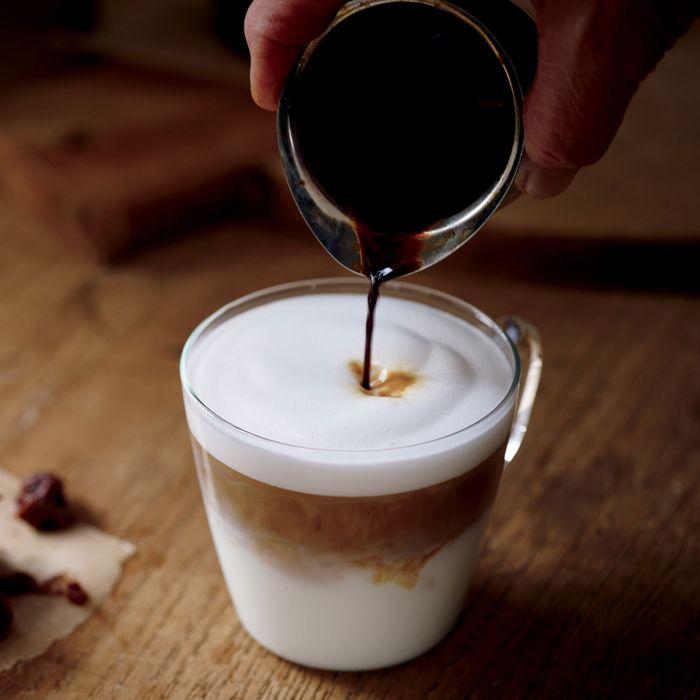 Trying to be fancy, or something.
Photo: Starbucks
Starting Tuesday, Starbucks is adding a brand-new "core" drink to its permanent menu — something called a latte macchiato. The drink is yet another addition to the quasi-dizzying array of beverages made of just espresso and milk. Aware of the need to explain to its Frap-guzzling customer base how this concoction isn't a latte, an espresso macchiato, or a flat white, the company has carefully laid out the latte macchiato's subtleties:
The new Latte Macchiato features steamed whole milk that is perfectly aerated and free-poured creating dense foam reminiscent of meringue. The beverage is then marked by slowly-poured full espresso shots, creating a signature espresso dot. Starbucks baristas will use this carefully crafted technique to draw out an intensely bold and roasty flavor that highlights the Starbucks espresso in the beverage.
The result, theoretically, is a darker drink that's supposed to hit the palate first with the espresso, then end on a sweeter note with the milk. Adding the espresso to the milk, instead of vice versa, also creates a layered look that, from bottom up, goes mostly milk, mostly espresso, then foam. (Not that anyone will see these layers in their paper cup.) The drink also apparently gets an extra shot of espresso: There are two shots in a short or tall, and three in a grande or venti.
The layered look is of course familiar to anyone who's had coffee in Europe, but the potential for confusion here in the U.S. is still pretty high. Starbucks already has its espresso macchiato, described as "a touch of milk foam on top of a perfect, robust espresso shot." A latte macchiato is effectively Starbucks's caramel macchiato, minus the vanilla syrup and caramel, although only recently has Starbucks made an effort to play up the fact that caramel macchiatos are actually prepared in reverse order of plain lattes — frothed milk first, then espresso poured on top.
The new drink is meant to ride the coattails of the popular flat white that Starbucks introduced last year to compete with the smaller, richer drinks popularized by third-wave cafés — ditto the flat white, the latte macchiato looks très sophisticated without requiring that baristas do rosetta or heart latte art on top. The drink rolls out here in the U.S., Canada, and parts of Latin America tomorrow and costs between $3.75 and $4.25 for a tall.