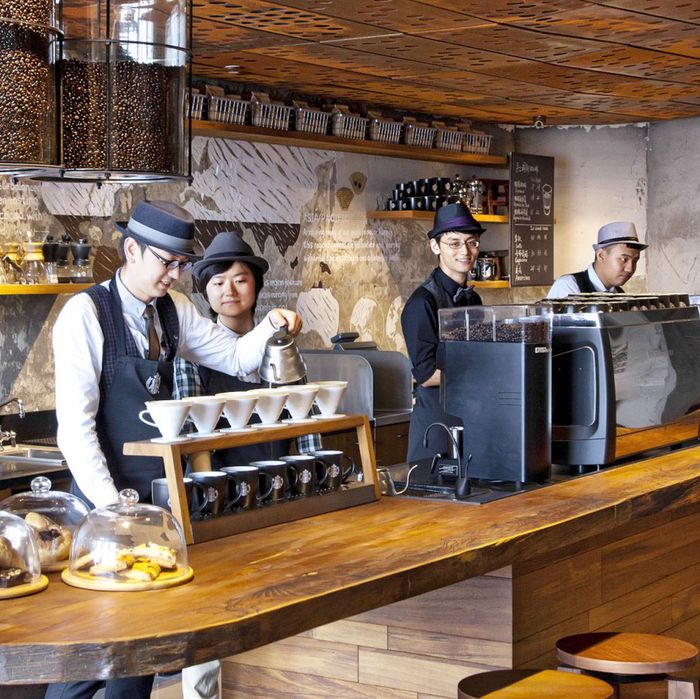 Some Beijing baristas who may soon be paying a lot less for rent.
Photo: Starbucks
Many of China's 30,000 Starbucks employees — the chain's second-largest market — are about to get a work perk that'll make their American counterparts envious. The coffee megachain announced it will help thousands of its workers pay rent in a country where the cost of living is rising fast. It's not uncommon for Chinese companies to offer some sort of centralized housing for employees, and Starbucks says a subsidy is something workers over there have been asking about for a while.
It wouldn't put a dollar figure on the investment, other than promising it's "multimillion," but the company did say on average it expects to pay around 50 percent of the rent for workers who qualify. In order to be eligible, employees need to be full-time baristas or shift supervisors — Starbucks says that means about 7,000 workers will be eligible immediately, and another 3,000 "in the near future." Unlike the claustrophobic-dorm situation Chinese workers face elsewhere (one that's come under lots of fire), Starbucks will give out a monthly allowance that varies from city to city, and workers can apply it to the housing of their choice.
Several major American chains have had trouble in China recently — KFC and Pizza Hut's parent company, Yum Brands, gave up earlier this year and spun off its China unit, for instance — but Starbucks claims it hasn't experienced the slowdown. This housing announcement comes alongside bigger news that the company plans to crank out 500 more locations in China this year alone. Ambitiously, it expects to create 10,000 new jobs in the country every year through 2019.