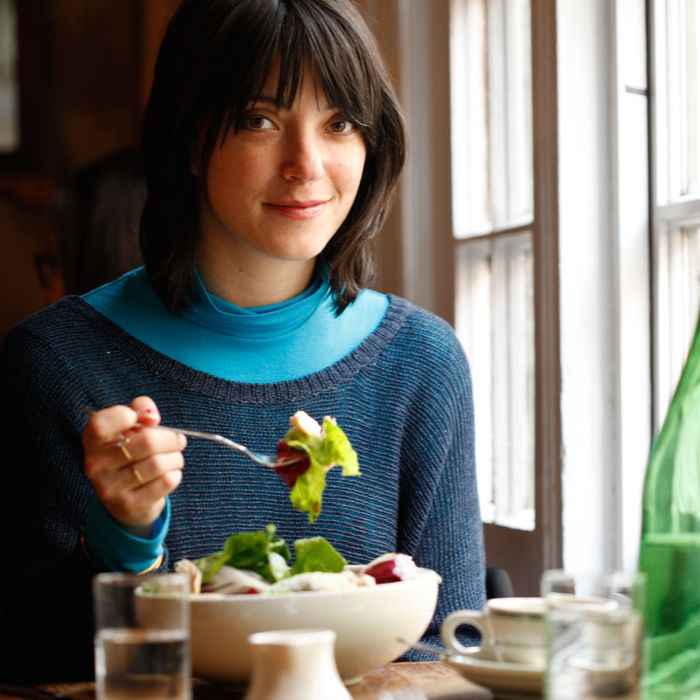 "We brought a Corbières to share as well. Hit the spot."
Photo: Melissa Hom
Before she made it big in the music industry, Sharon Van Etten worked at a wine store and even began training to become a sommelier. Life — as well as albums like Tramp and Are We There — happened, but wine is still important to Van Etten. This week, she drank Australian bubbly during her New Year's feast at home, and Pineau d'Aunis while making strawberry shortcake from scratch. In fact, she's quite an accomplished home cook: "I'm one of five kids, so growing up we ate a lot of one-pot, or big-pan, comfort meals," Van Etten says. "My parents love to cook, too, so I guess I got it from them. It's just so nice to get together in a home and eat together. You learn a lot about people when you're standing around cooking." Read all about it in this week's Grub Street Diet.
Thursday, December 31
I woke up hurting a little this morning. My partner and I went to a Deer Tick show at Brooklyn Bowl and stayed out a bit late. Grabbing a slice at the only pizza place we saw open at 2 a.m. near Bedford, we slammed a slice before we went home for the night. (The name of the place isn't important.)
I always start my morning with my favorite coffee — it's been my favorite since I moved to New York ten years ago: Oslo. Thor's blend. I used to go to the one on Roebling religiously when I first moved here. I love the pour-over method. We make a full pot and keep it in a thermos to keep it hot as we catch up on emails — first task of the day.
I have been a little under the weather, and this year has been a bit chaotic. We just moved into a new apartment together as well. So my guy and I decided to have a mellow New Year's this year.
My parents gave us a waffle iron for Christmas, so it inspired us to make chicken and waffles for dinner. Combining recipes I found from the Commodore and Shake Shack, we made our first attempt, and it was delicious. We soaked the chicken overnight in buttermilk and puréed habanero, cayenne, paprika, salt, and pepper. Then we coated the chicken in a flour mix (with corn starch, salt, pepper, cayenne, paprika), and let it sit in the fridge for about 30 minutes.
Meanwhile, my man made the coleslaw, and I got the waffle batter ready while snacking on Carr's rosemary crackers. My parents also gave us some Vermont maple syrup. We put the syrup on the radiator while we prepped everything else, so it would be warm in time. We then heated two quarts of peanut oil in my Dutch oven until it reached 325 degrees and then let the festivities begin!
While cooking, we also enjoyed eggnog laced with bourbon. Each piece of chicken took about ten minutes, and we had enough to make two batches. So we then poured the batter into the waffle-maker, and before they were done, we lost power! Ha! We had to find out where our breakers were since we never tripped a switch before — and in not too long, we were up and running again. We were sitting down to enjoy our meal in ten minutes' time.

We had Jasz Champagne from Tasmania, Australia. It was incredible with our meal, and we finished dinner off with a Greek wine: the Liatiko grape. We ended the night watching a couple old films (Girlfriends, One From the Heart) rented from Video Free Brooklyn, and watched the ball drop at midnight and danced to the Beach Boys' version of "Auld Lang Syne" with the TV on mute. Then we fell asleep after we snacked on a dark-chocolate bar made by Theo. Perfection.
Friday, January 1
Made our morning Oslo coffee, had some mango juice, and used our leftover chicken and coleslaw for a sandwich. Getting together our schedule for the month ahead — it's going to be a whirlwind between working in the studio and starting school at the end of the month. We headed to my practice space to set up new monitor speakers. Stepping it up this year! Woo!
Right now I'm working with other people to write songs. I've never really done that before. I usually just write my own songs, but I'm trying to expand my horizons. I'm actually doing music part-time, since I start school at the end of the month to work toward becoming a therapist. I'm going to try to figure out how to do both long-term.
We went back home to make dinner. En route, we stopped at a bodega to get some snacks. It was almost 9 p.m. at this point, and we were hungry! So we grabbed some Triscuits, sesame pretzels, ricotta, and peanut butter pretzels, and headed home.
My partner is a Southerner, and his tradition to bring in the New Year with good luck is black-eyed peas and collard greens. So he whipped us up some Hoppin' John, and we opened a Pineau d'Aunis and watched Woody Allen's Stardust Memories. We had a back-to-back double feature, following that with Badlands.
To finish the meal, I made a homemade pound cake with homemade whipped cream and cut up some strawberries and marinated them in lemon and sugar. I drained the juice and drizzled a little on the cake, topped with the strawberries and cream. One of my favorite desserts. We shortly thereafter passed out.
Saturday, January 2
Woke up at 8:15 a.m., made some coffee, and headed to Port Authority to go to New Jersey to help my younger sister, Laura, get ready for my older sister Jess's baby shower. I was running late (as usual), so I stopped by Starbucks for a quick coffee and bagel. Boring! Then I hopped the bus.
Got to my parents' house and snacked on crackers and cheese until dinner was ready, while chatting with my aunt. My mom made beef caraway with rice, creamy cauliflower, and sweet potatoes with prosciutto, paired with a Roussillon. Ended the night playing my dad's favorite game: Fictionary! Someone picks a word out of the dictionary that no one else knows, writes down the real definition on a piece of paper, and everyone else makes up a definition. Then everyone hands his or her definition to the person who picked the word and you guess which one is the real one. I lost.
Stuffed, tired, ready for bed!
Sunday, January 3
Woke up at 7:30 a.m. to my sister throwing her baby on me so she could take a shower. Best alarm ever. We bounced around while my aunt made coffee — Dunkin' Donuts, my dad's favorite. We packed up the car with shower arrangements and fabulous prizes, and headed to the Molly Pitcher Inn in Red Bank. Obligatory Dunkin' Donuts on the way. Got myself a small black coffee and a chocolate glazed doughnut. (My kryptonite whenever I walk into the place.)
We show up at the Molly Pitcher Inn, set up our glorious games and gifts, and poured ourselves some of the Champagne punch at the buffet. Once guests arrived, we were served salad, quiche, clotted cream, and scones — while they set up the buffet of fruit, finger sandwiches, and veggies. Classy, right? After playing a couple of clutch games, we had some chocolate-covered strawberries and cupcakes. Shower duties done! Caught the train from Red Bank, headed to Penn Station, and then home to Brooklyn.
I got home around 8 p.m., and my partner waited on me for dinner! Dreamboat! We decided to eat out since the holidays were so crazy, and we had been doing a lot of cooking at home. We went to one of our favorite places (that just so happens to be BYO), Petite Crevette. We shared haricot vert, French fries, seafood chowder, and whole red snapper with mashed potatoes. We brought a Corbières to share as well. Hit the spot.
We then headed back home and read for a while. Crashed out by midnight.
Monday, January 4
Woke up at 8 a.m and made our usual coffee. Caught up on emails and started writing belated holiday cards, etc. (I am late for life … ) I looked up and realized it was 2:30 p.m. already! Ah! Gotta eat! I heated up the collards and black-eyed peas for a quick lunch fix, then went off to the studio to work on a song I've been stuck on.
After a productive afternoon in the studio, I met my man for the walk home. The original plan was to stop by our favorite fish place (Fish Tales), grab some fillets, and make a veggie and some rice, but it was so cold that we hopped on the train and went to grab a quick ramen at Dassara instead. I love adding a bunch of their homemade chili sauce in there to spice it up. I also had a lemon-ginger mint tea. We headed home, watched the rest of the Carolina basketball game, and crashed early.
Tuesday, January 5
Woke up at 9 a.m., made our coffee. Had one of those mornings where I just drank a bunch of coffee, didn't eat, then looked at the time and had to run. So I chugged the rest of the eggnog we had sitting in the fridge, and I headed out to run errands for the day.
At the end of my errands, I ran to the grocery store to cook my "soup of the week." This week it is Brunswick stew made with chicken — comfort food my mom would make on a cold winter's day. I threw everything in the pot and had it simmering while I started making a baked potato and prepping the broccoli with sesame oil and red chili flakes to roast in the oven once the potato was halfway through. When my man walked in the door, I put the flounder in the pan with half lemon, half lime, and a bit of olive oil, and I covered for ten minutes. Simple and great. Had some rose-and-cinnamon tea, and a San Pellegrino Limonata.
For dessert, we finished the leftovers from our strawberry shortcake. Waste not, want not!