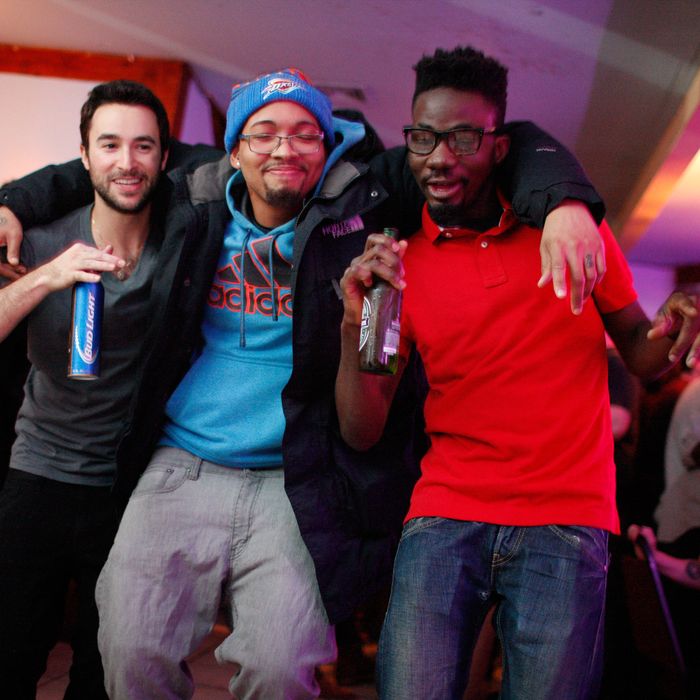 At Dovetail's holiday party, held in mid-January.
Photo: Melissa Hom
Most nights, the dining room at Manhattan's Betony is a stately, ornate, double-height temple of haute cuisine, filled with crisply attired servers ferrying delicacies and fine wines to well-heeled customers. But one night earlier this month, the elegant room looked more like a piñata. "We had this giant balloon chandelier, like the squiggly kind," says the restaurant's chef, Bryce Shuman. "It looked like a giant Dale Chihuly sculpture with streamers flowing all the way to the floor." Tables normally used for multi-course menus of artfully composed plates were instead pushed together and heaped with carnitas, octopus ceviche, bowls of salsa, queso, and, according to Shuman, "more guacamole than anybody could eat in their entire life." There was also Twister upstairs, beer pong, and, of course, a michelada bar. "The food was just nuts," Shuman says. "Your eyes pop out of your head."
The occasion: Betony's staff holiday party. Yes, holidays. By now they're probably a distant, hazy memory for most people, who are all back at work, newly resolved to be healthier and more productive. But for workers in the hospitality industry, this is the time they actually get to enjoy themselves with parties of their own.
The reason for the delayed celebration is simple: Chefs and other restaurant employees necessarily work when everyone else is out having fun. "There's only one December," explains John Fraser, the chef at Dovetail and Narcissca, "and it's when we do the highest amount of business, when people spend the most money, and it's the most festive. If we closed when everyone's trying to have their events, it would not be a good idea." Or, as Shuman puts it, "You've got to make hay when the sun shines."
Packed dining rooms during the holiday season mean more money, and it's the time that staffers really feel the drain of the job. "The holidays are totally insane," says Gabe McMackin, chef and owner of Clinton Hill's one-year-old star, the Finch. "It's hard to celebrate and express your appreciation when you're tapped out. You can't be exhausted and enjoy yourself." (McMackin plans to throw his staff party in February.)
Le Bernardin's Eric Ripert says the strategic timing also allows his team to have a great time without worrying about how they'll feel afterward. "That period is physically very demanding for the team. We want the team to really enjoy the party and not to worry about the next day."
In Louisville, 610 Magnolia's Christmas Party is always in late January. (This year the theme is barbecue ribs and beer.) In West Hollywood, the E.P. & L.P. team celebrated on January 4. Tony Messina of Boston's Clio always does a January party. Chef Tony Maws offered games of flip cup to the staff of his two Boston-area restaurants, Craigie on Main and the Kirkland Tap & Trotter. Redbird in Los Angeles closed for a mid-month staff party, too.
And many chefs wait even longer, for what is historically among the slowest nights of the year: Super Bowl Sunday. "Everyone wants to be somewhere they can watch the game, so it's not worth it for us to be open," said Brian Keyser, the owner of New York's Casellula. He has taken his team bowling on that day every year since opening in 2007. Chef Joshua McFadden and the crew at Ava Gene's in Portland, Oregon, skip kickoff each year and celebrate their holiday-season success instead. (This year they will hit the mountain for sledding.) So does Juliet in Austin and Oxheart in Houston. (Last year it was Szechuan; this year they're considering laser tag.)
McMackin, of the Finch, toyed with the idea of a Super Bowl party, too. But now he's thinking he might do something with more of a block-party feel: "We want to celebrate — not just our own success, but our community," he says. "We want to have a blowout."