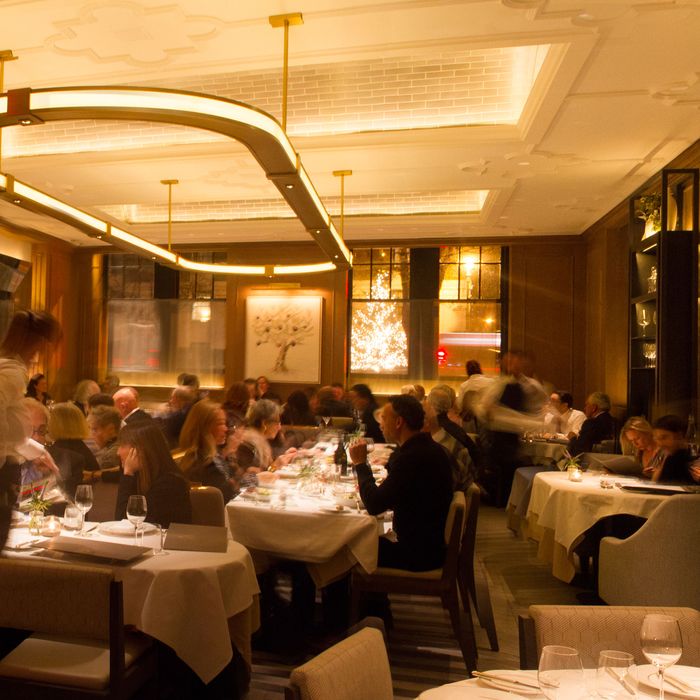 Vaucluse.
Photo: Tirzah Brott/New York Magazine
Ever since their improbable alliance several years ago, the talented pasta savant from Wisconsin Michael White and his partner, the former Merrill Lynch executive Ahmass Fakahany, have been veritable poster boys for the perils of restaurant-empire building. After opening their grand Italian seafood palace Marea six years ago, they've expanded their operations (15 and counting) in a helter-skelter fashion all over the map (Hong Kong; Istanbul; New Brunswick, New Jersey). They've stretched White's Italian expertise to the breaking point (none of their new Italian projects has approached Marea's success) and dabbled in genres too far removed from it (a London steakhouse, a doomed neighborhood bar in Tribeca, a midwestern-style-pizza joint). Along the way, they've railed publicly at their critics and tended to sacrifice quality for quantity, the way aggressive, fast-­moving restaurant chains are prone to do.
The latest addition to the rapidly expanding Altamarea Group portfolio is called Vaucluse, and when you walk through the door, you get the sinking feeling that you've seen this particular movie before. The theme is classic French cooking, after all, and what does Michael White know about la grande cuisine? The menu is filled with a mishmash of familiar trophy dishes (filet de veau Rossini, sole meunière, an elaborate "caviar service"), and the location, on the corner of Park Avenue and 63rd Street, is ground zero for Alta­marea's caviar-and-truffles clientele. Like at many of its sister establishments, the rooms at Vaucluse (a front dining room, a long bar for the sipping of trophy wines, a back-room Siberia) are colored in neutral tones of caramel and gray, and if you squint your eyes on a dark evening, it feels a little like you're afloat in the stateroom of an expensive, somewhat blandly appointed cruise ship.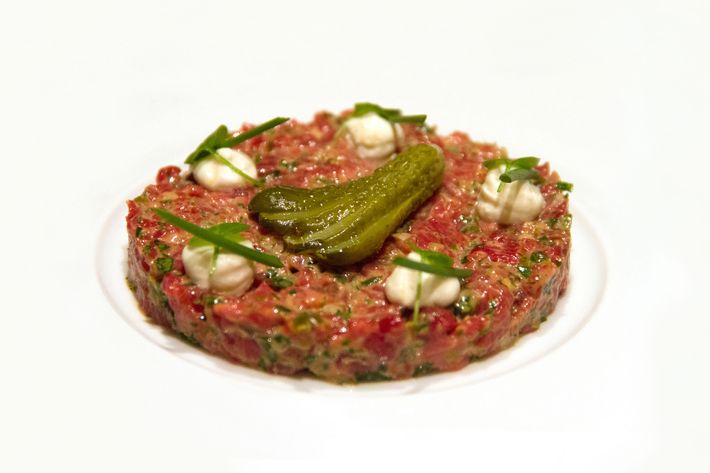 But as dinner unfolded, I found myself enjoying my time aboard the good ship Vaucluse more and more. This was thanks in part to the presence, on several visits, of my parents, who, like many of their distinguished uptown neighbors who've been filling the joint night after night, appreciated the kinds of things they don't often find when their fatso critic son takes them out to other fashionable places around town. These quaint, slightly dated touches include white linen on the tables, generally attentive service, and a noise level that, in my father's words, "doesn't make it feel like I'm eating dinner in the middle of a train station." My father's mood was further improved by the classic "Hors d'Oeuvres" section of the menu, chocked with familiar delicacies like beef tartare (rosy, hand cut, and dotted with capers), smooth rounds of foie gras terrine, and an excellent slice of pâté en croûte stuffed with nuggets of duck and pork and seized in a cool gelée.
The newly trim White is a constant presence in the dining rooms, drifting among the tables, dispensing pleasantries like a ship's captain in his neatly pressed whites, and the large, state-of-the-art kitchen is staffed by members of the Altamarea A-team, including his trusted lieutenant Jared Gadbaw, who also opened Marea. The other starters we sampled included a slightly limp helping of cold lobster (garnished, according to ancient tradition, with a mound of recently unrefrigerated celeriac) and a strange rendition of escargots à la bourguignonne, plated over red rice with bits of feta cheese on top. But if rubbery snails over rice isn't your thing, fans of the chef's Italian cooking can take refuge in a selection of pricey "Housemade Artisan Pastas" like tangles of fresh tagliatelle smothered in mushrooms and duck confit, bowls of orecchiette topped with fresh tomatoes, and a plump lobster raviolo served in a thin, slightly disappointing shellfish bisque.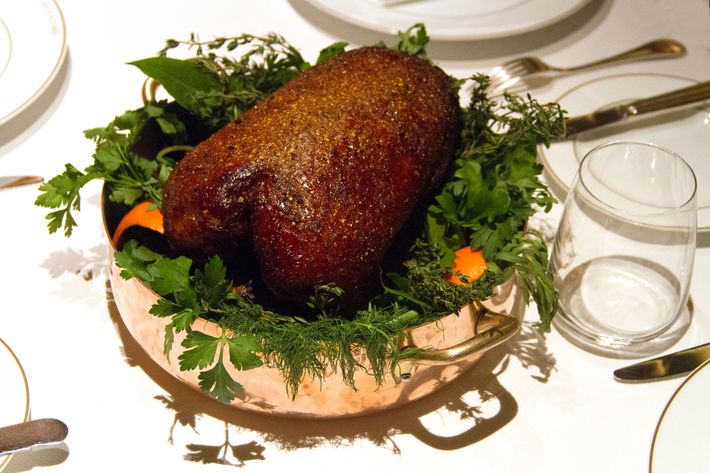 A few of the bigger-ticket dishes at Vaucluse are on the thin side, too, although don't tell that to my father, who took one bite of his fat pink côtelette de porc entrée, put down his fork, and declared, "This is possibly the best pork chop in the entire world." My discerning mother made similar polite noises about the aforementioned sole meunière, which was professionally prepared but, at $64, cost roughly $7 per bite. My helping of poulet rôti "grand-mère" was a slightly better deal but lacked any sense of grandmotherly love, and so did the lamb duo, which managed to be both overcooked (the shoulder) and overrare (the rack of ribs). If you have the resources, the center-cut rib-eye entrecôte is a safer bet (served with a stack of frites and a choice of four classic French sauces), and so is the duck à l'orange for two, which the kitchen plates Peking duck style, in delicately crisped lozenge-size bites.
Like many restaurant empires, the Altamarea Group comprises one or two flagship establishments that feel permanent and rooted in place (Marea, Osteria Morini) and many others that appear to have landed randomly, and somewhat less permanently (on East Village street corners, in a Hong Kong retail mall, etc.), from outer space. With its nostalgic menu, its posh location, and its built-in clientele, Vaucluse feels to me like a more permanent addition to the portfolio. There are regular blue-plate specials for every night of the week (Tuesday is cassoulet night) and a sturdy, French-accented chef burger (garnished with Dijonnaise and tomato jam), and if you go at lunchtime, when the peaceful rooms fill with sunlight bouncing in from the taxis running up and down Park Avenue outside, my father suggests the fluffy, lardon-dotted quiche du jour, followed by one of the recognizable, old-fashioned pastries for dessert, like the lemon tart, or the Paris-Brest, which is shaped like a ring in the classic style and plated, a little radically, with a dollop of vanilla ice cream.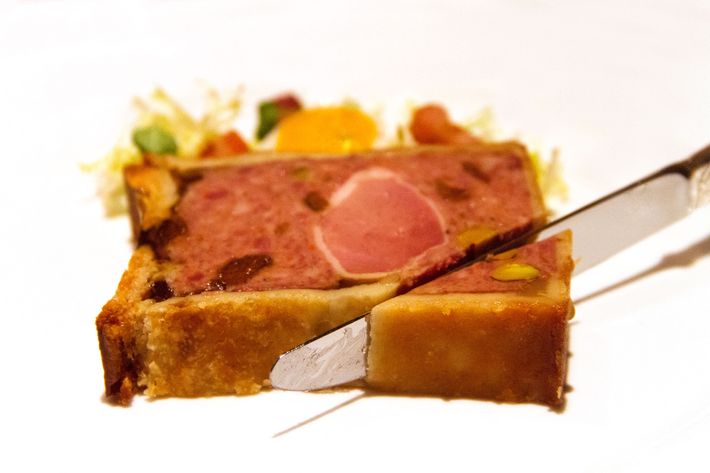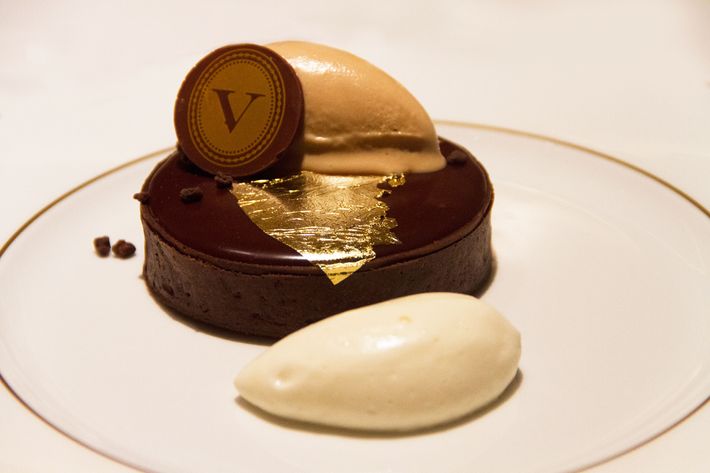 Vaucluse
100 E. 63rd St., at Park Ave.; 646-869-2300; vauclusenyc.com
Open: Daily for dinner; lunch Monday to Friday; Sunday brunch.
Prices: Appetizers, $17 to $29; entrées, $24 to $64.
Ideal Meal: Pâté en croûte, duck à l'orange for two, lemon tart.
Note: The good news: There are 25 Champagnes to choose from on the elaborate, French-centric list. The less good news: Only four of them cost less than $100.
Scratchpad: One star for the service and the ideal location and another for Chef White's stolid rendition of the old French canon.
*This article appears in the January 25, 2016 issue of New York Magazine.