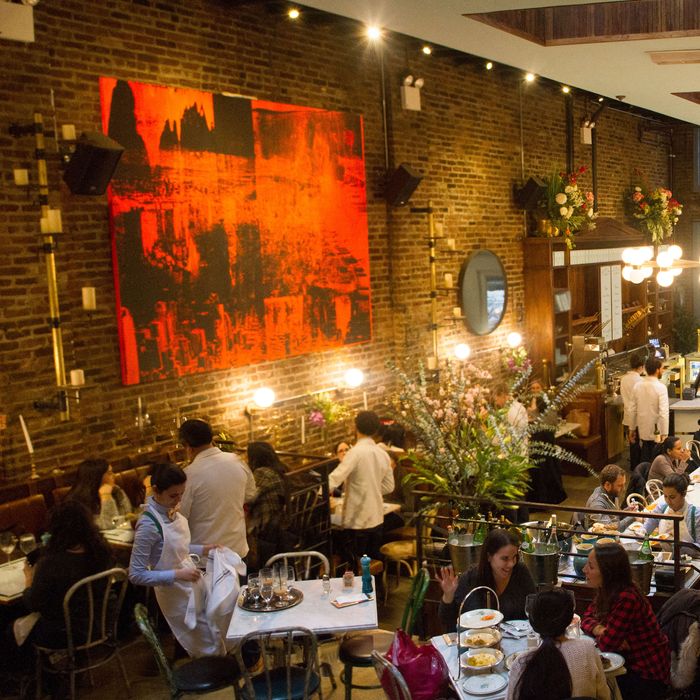 The dining room at Sadelle's.
"Leave it to these guys to try and make deli hip," said one of my slightly shell-shocked guests as we peered out over our lizard-skin menus at the madcap proceedings at Rich Torrisi and Mario Carbone's latest theatrical restaurant production, Sadelle's. As you may have heard by now, the Major Food Group's new Soho venture features a glittering display case piled with trophy-size sides of lox and sablefish and canisters of caviar flown in from the Russian steppes. In the middle of the room is a bagel station enclosed, like the DJ booth at a nightclub, by walls of translucent, possibly bulletproof glass. The wait staff wear natty white apothecary coats and snap-on salmon-colored bow ties (the lizard-covered menus and handles of the butter knives are aqua green), and when fresh bagels arrive, they carry them aloft through the boisterous room on wooden spindles, crying, "Bagels, hot bagels!" at the top of their lungs.
Not that Sadelle's is a deli, exactly, at least not in any classic sense of that sacred, overused, increasingly obsolete word. There is no pastrami on the menu, nor any platters of stuffed cabbage poured with viscous red sauce like in the old country (although for a time, the kitchen produced a nice bowl of kasha varnishkes mingled, in a jaunty, postmillennial way, with quinoa). There is no deli counter, either, although one of the long marble-topped tables is designed for communal dining, in accordance with the fashions of today. Torrisi and Carbone don't use the word deli to describe their place, which is named for partner Jeff Zalaznick's great-grandmother, and at dinnertime the tables are set with vintage flatware, the menu fills up with exotic blini, caviar, and vodka options, and the brick walls glimmer, like in some antic Moscow pop-up, with light from a hundred guttering candelabra.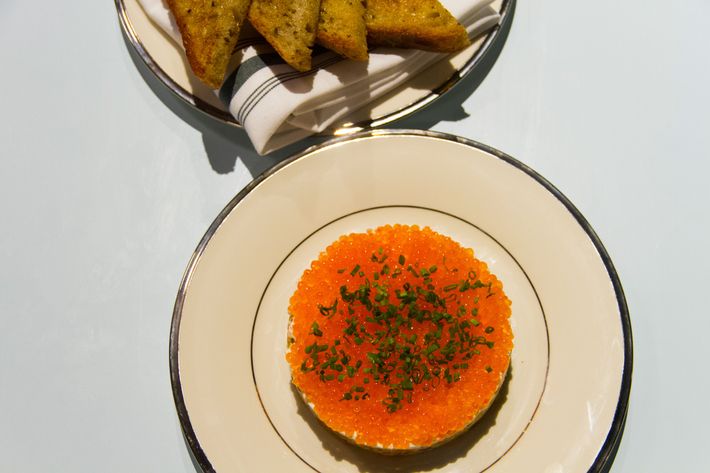 My favorite time to visit this slightly confused Rube Goldberg operation is in the late morning for a sturdy breakfast, just before the '70s-nostalgia theme music gets turned up (Paul Simon ballads, late Sinatra, Billy Joel at his most bouncy and insufferable) and the chaos of lunch closes in. I never could bring myself to fork over $100 for the well-publicized smoked-fish "Tower," but if you order bagels and the excellent salmon or whitefish salads, the efficient wait staff will put the plates in a tower for you alongside a garnish of tomatoes, capers, and thin-cut red onions for the bagels. The classic Barney Greengrass-style egg dishes I sampled (a salty lox-and-eggs scramble, a rock-hard $20 "salami and eggs") were badly executed and grievously overpriced, so get the salmon Benedict instead, or, even better, the excellent egg sandwich, which the kitchen constructs with thick pieces of toasted challah, bacon, and a sinful, barely visible scrim of mayonnaise.

During the week, breakfast is served until three in the afternoon at Sadelle's, but as the day goes on, the theme and purpose of this somewhat rudderless establishment grow increasingly garbled and confused. Lunchtime appetizers include a messily deconstructed steak tartare, dainty helpings of that suddenly trendy New York-restaurant dish pigs in a blanket, and a crouton-strewn tomato soup that, in the words of the poor soul who ordered it, was "as salty as seawater." There's a passable matzo-ball soup, too, garnished modishly with various greens, and a small army of "classic" New York salads (Waldorf, Greek, Cobb, lobster, etc.), carefully arranged in giant white bowls. The sandwich selection is sparse even by the standards of faux, ironic deli, but it's redeemed by the grand triple-deckers (you can mix and match turkey, roast beef, salami, and ham), which are stuck with twirling bamboo toothpicks and served with their crusts cut off, in high-teatime style.

Cheese blintzes.
Photo: Tirzah Brott/New York Magazine
Style is one of the Major Food Group's strongest calling cards, of course, but now that they've opened seven restaurants in five years (not counting the proliferating outlets of Parm and Carbone), the feeling you get here, especially at dinnertime, is that they're running out of good ideas. Not that I didn't enjoy my sip of chilly pomelo-infused vodka one night, or the moist crispy-fried-chicken dinner special, which appeared like a vision (with Crystal hot sauce and a jar of honey) among the hodgepodge of retro, half-baked, possibly Eastern European, possibly Russian, possibly Lower East Side dishes on the table. Not that I didn't enjoy my salmon rillettes (shaped in a wheel and spread with crème fraîche and popping trout roe), either, although how this dish meshed thematically with the dank, oversauced "salmon paillard," or the long tendril of Roumanian skirt steak that the kitchen douses unaccountably in a thick salsa-verde-like substance, I have no idea.

The hardworking PR arm of the Major Food Group rightly describes Sadelle's as a restaurant and also a bakery, which means you can take refuge, during the course of all this uneven grub, in a variety of freshly fired breads and pastries overseen by Melissa Weller, who honed her craft working the ovens at Roberta's in Bushwick. The buttery, sweet "fantail" buns were one of the highlights of my schizophrenic banquet dinner, and so were the desserts, like the smooth, crumbly-crusted cheesecake capped with pineapple, and a slice of dense, bundt-shaped ginger cake served in a pool of crème anglaise. The cheesecake is available for lunch, but if you don't feel like taking a seat in the dining-room scrum, do what the old deli traditionalists do and take your babka, your lox and bagels, and your warm loaves of onion bread away in a pretty green box, to eat in the quiet comfort of your own home.


Sadelle's
463 W. Broadway, nr. Houston St., 212-776-4926; sadelles.com
Open: Dinner Tuesday to Saturday; breakfast and lunch Tuesday to Sunday.
Prices: $10 to $48; Sadelle's Tower is $100; caviar is $100 to $1,950.
Ideal Meal: Breakfast: bagels, egg sandwich, blintzes, salmon Benedict; lunch: pigs in a blanket, triple-decker turkey and roast beef, side of coleslaw; dinner: salmon rillettes, fried chicken (special), cheesecake.
Note: Platt's favorite take-home pastries, in order of preference: sticky buns, chocolate-chip loaf, chocolate babka.
Scratchpad: One star for the baked goods and another for breakfast. Minus a star for everything else.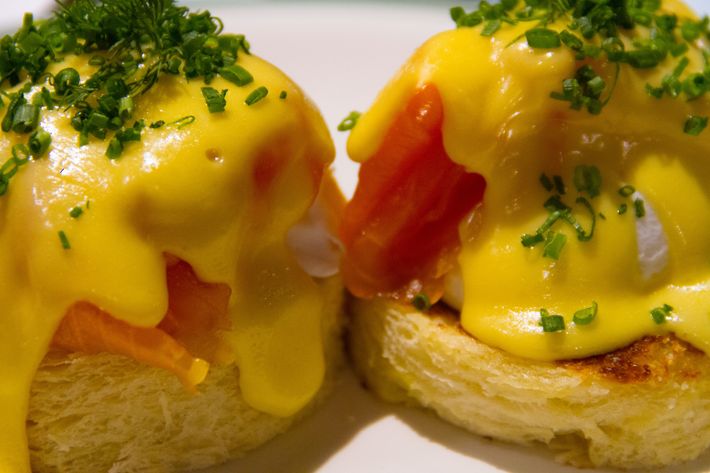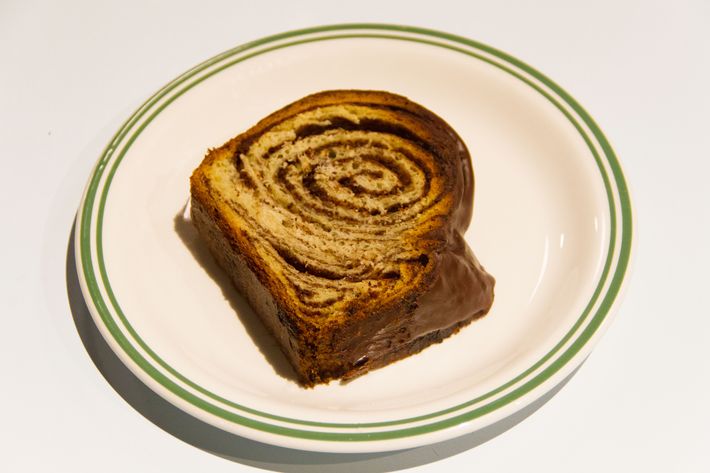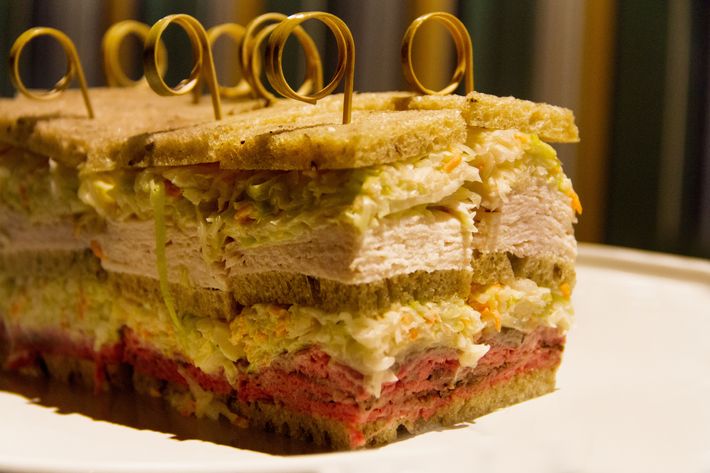 *This article appears in the January 11, 2016 issue of New York Magazine.