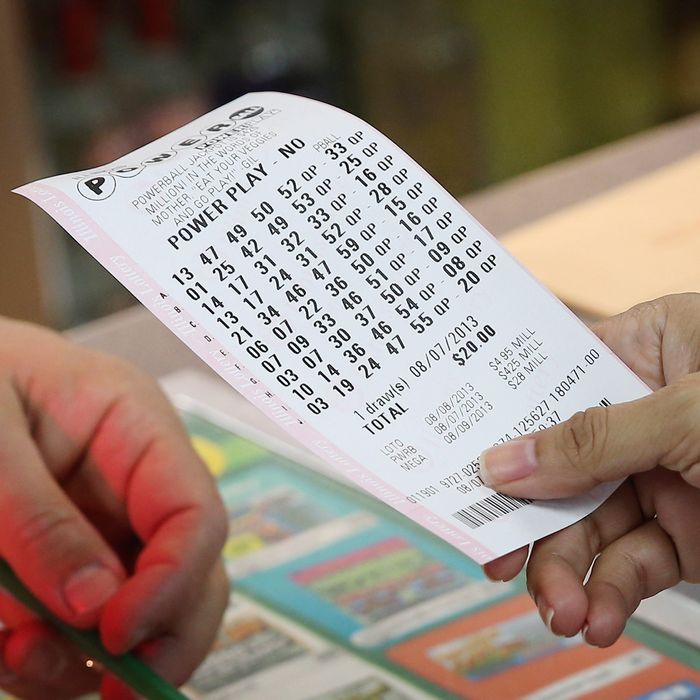 Close, but not close enough.
Photo: Scott Olson/Getty Images
Employees at Grissini, an Italian restaurant in New Jersey, formed a workplace pool and bought Powerball tickets last Saturday, back when the jackpot was $949 million. Apparently, they convinced themselves for a brief moment that they'd won:
In the clip, one employee enthusiastically reads the winning numbers — "2! 11! 47! 62! … " — with co-workers' delirium growing at each match. Finally, after a Powerball of 17, employees scream, hug, wipe tears, and leap high into the air. One quit on the spot, probably so he could pack for his early retirement in Bermuda.
It's unclear when exactly the blow to morale occurred, but at some later point, employees realized they'd been looking at Wednesday's numbers for the $528 million drawing, for which no winning tickets were sold. Of course, with something like this, there's always the possibility it's a cruel joke or publicity stunt (after all, the odds of picking the previous winning numbers are as bad as picking the current ones). Either way, it looks like the money to buy a better video camera will have to come from elsewhere.
[NBC NY]