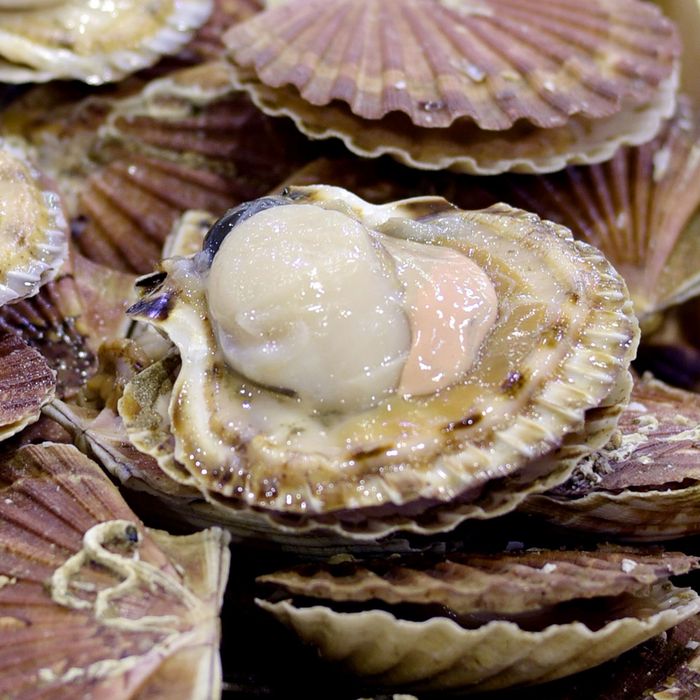 Raw deal.
Photo: Adrien Morlent/AFP/Getty Images
Three daughters of a former San Diego sportscaster have sued Redd, a well-regarded Napa Valley restaurant, after their dad died from food poisoning he allegedly got from scallops at the restaurant. According to the lawsuit, Larry Sacknoff, who was 61 at the time, ate at Redd in 2013 with two friends; everybody had the scallops, and everybody got really sick, though his friends eventually recovered. Sacknoff, however, was already in bad health — he'd quit his career in sportscasting and had just undergone a heart transplant — and the Vibrio parahaemolyticus he acquired was too much for his compromised immune system. He died about a year later, in August 2014, from complications the lawsuit attributes to this common seafood bacteria.
The facts of the case don't appear to weigh in the restaurant's favor. The Napa County Public Health Department undertook an investigation of Sacknoff's illness, and eventually traced it to Redd's scallops. Redd lost its A grade on the next health inspection, which cited the restaurant for not heating food to proper temperatures and reported, "Scallops prepared during this inspection were less than thoroughly cooked." Seafood is of course often "undercooked," from health inspectors' standpoint, but the lawsuit claims Redd also forgot to include a menu advisory, as required by law in these situations.
The family settled earlier this year with Pierless Fish Corp., the restaurant's Brooklyn-based seafood supplier that was named a co-defendant in the suit, and now they're asking for an unspecified amount of wrongful-death damages from Redd.
[SFGate]