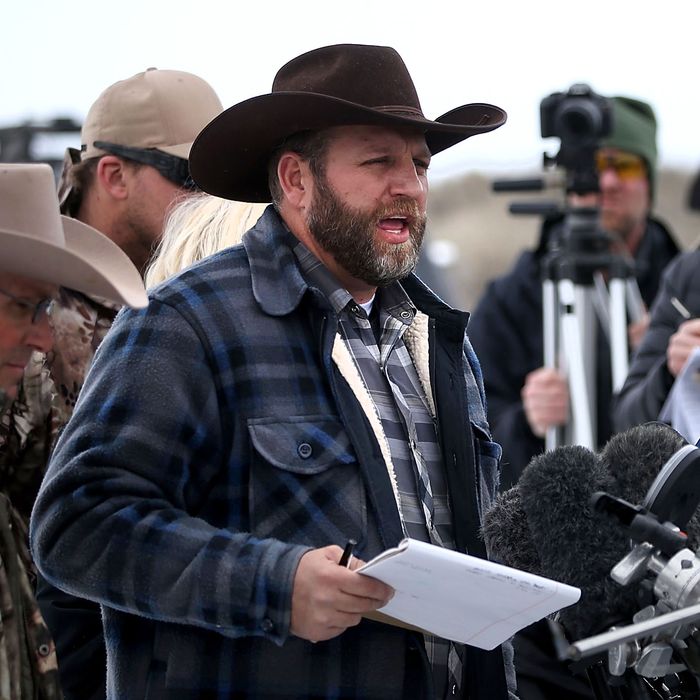 Ammon Bundy, realizing PETA has arrived with vegan jerky.
Photo: Justin Sullivan/Getty Images
The militant ranchers who are protesting federal policies by occupying an Oregon bird sanctuary, the Malheur National Wildlife Refuge, have appealed for snacks, and PETA has answered the call by trolling them with a delivery of vegan jerky. PETA being PETA, it's taking the opportunity to spin this from a story about armed citizens threatening violence and illegally taking over buildings into one about the evils of animal agriculture.
The animals-rights organization says in a blog post that the package will fashionably be "hand-delivered" to the ranchers, now calling themselves Citizens for Constitutional Freedom, by staffers with signs reading, "The End (of Animal Agriculture) Is Nigh: Get Out Now!" Twitter, predictably, reacted to PETA's preachy tweets with scorn — asking, "You for real?" — but others have gotten in on the fun, too, with Redditors planning baby food and glitter packages and The Oregonian running a joke poll on the top snacks to send ranchers with the munchies. As that publication pointed out, Ammon Bundy, one of the ringleaders of the group, said that he and his pals are so committed that they're willing to stay for years, but apparently they all forgot to ask their moms to pack their lunch boxes for the field trip.
[PETA]