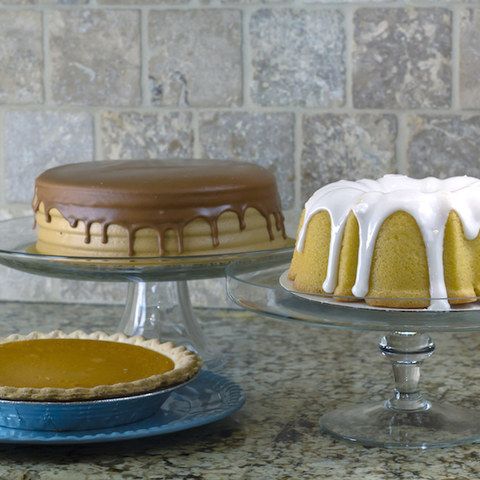 The three desserts, in all their splendor.
Photo: WalMart
Walmart says it may have a cure for those still experiencing sweet-potato-pie-itis, described as inflammation of morale at the inability to acquire the Patti LaBelle pie that got internet-famous last Thanksgiving. Not only has the Grammy winner's dessert — whose limited quantities in November caused ample Twitter anguish and eBay scalping — been turned into a year-round item at all Walmart bakeries, but the supermarket chain is also releasing two new Patti's Good Life brand sweets in January that, if all goes according to plan, will re-create the pie's baked-goods hysteria.
This time, they're cakes: The first is a vanilla Bundt cake so "generously" coated with vanilla icing that it required 50,000 pounds of icing for the initial run. It's available starting today, though only in stores for now. It costs $6.44, almost double the price of the $3.98 sweet-potato pie, but it features a "straight-out-of-the-oven look." The second cake rolls out on January 18, and it's a caramel one that has "three layers of yellow cake filled with caramel buttercream and topped with caramel icing."
"I have a hit pie," LaBelle tells BuzzFeed about the situation. "I have other products that will do better now — the cakes, and more food coming out — because of the success of the pies." Which means watch out, because her website has no shortage of sauces and cookbooks ready to be mass-produced, although, strangely, there's no marmalade as of yet.
[BuzzFeed]