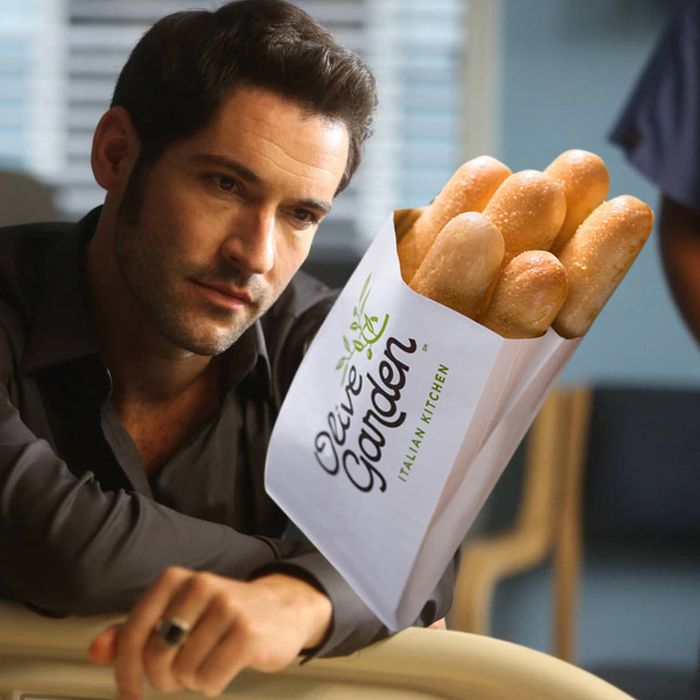 Not salting the pasta water was obviously Satan's doing.
Photo-Illustration: Fox; Olive Garden
Many would argue Olive Garden's greatest sin involves never-ending-pasta hell, but a group of super-P.O.'d Christian mothers is here to set the record straight: One Million Moms, the conservative group that even found something insidious about Teddy Grahams, reveals that Middle America's favorite Italian chain has struck a bargain with Satan by sponsoring Lucifer, Fox's new show based on a Neil Gaiman comic. OMM is demanding Olive Garden pull its ads to prove it isn't "supporting sympathy towards the devil and glorifying Satan," or face the wrath of a boycott.
The group doesn't sugarcoat the "spiritually dangerous" message being tacitly backed by the chain:
The new program "Lucifer" glorifies Satan as a caring, likable person in human flesh. The character Lucifer Morningstar makes being the devil look cool, drives a fancy car, gets out of a speeding ticket, owns a nightclub in LA, and is irresistible to women. …

The series focuses on Lucifer portrayed as a good guy "who is bored and unhappy as the Lord of Hell." He resigns his throne, abandons his kingdom, and retires to Los Angeles, where he gets his kicks helping the LAPD punish criminals.
That was more than enough evil for bread-stick-loving OMM supporters, so the Facebook page is already teeming with comments like these:
• "I truly enjoy your restaurant and the food you serve. I recently saw the adds for the 'lighter Italian' meals and was planning on making a visit soon, but I won't be able to do that. It has been brought tomy attention that Olive Garden is a sponsor of the new FOX show 'Lucifer.'"
• "If Olive Garden continues to support a tv show, such as Lucifer, which depicts Satan in a human, likeable form, I choose to boycott the restaurant!"
• "I'm a Christian who was so up set at seeing a wonderful company like yours sponsoring a terrible program like Lucifer. As for my family my church and anyone that will listen we will stop eating at your restaurants until you stop siding with Satan and stand with GOD!! Please stop your support RIGHT NOW!!!!!!!!!!"
• "IF YOU SUPPORT THIS SHOW 'LUCIFER' I AND MY FAMILY WILL NO LONGER SUPPORT OLIVE GARDEN BY EATING OUT AT YOUR FACILITIES ! PLEASE STOP THIS NONSENSE.."
Just wait until these moms learn about Olive Garden's Faustian deal with the bread stick.