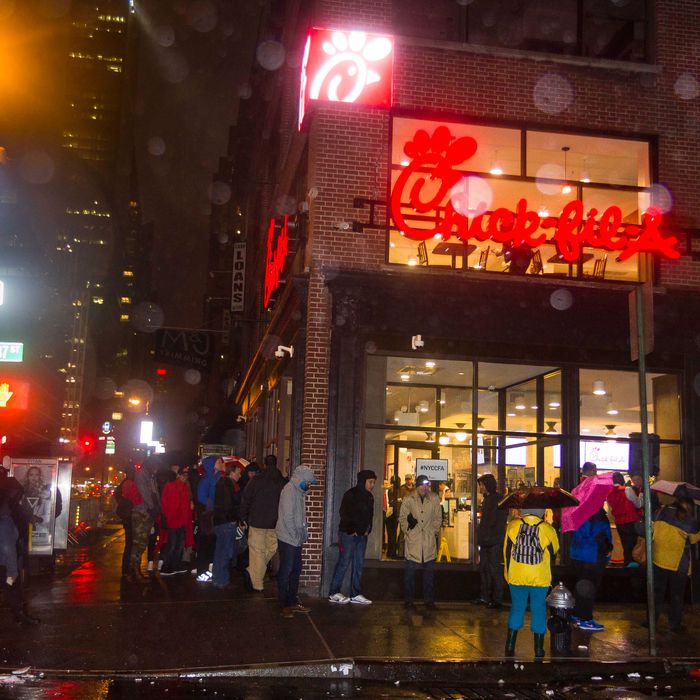 Two separate inspections didn't go very well.
Photo: Camilo Fuentealba
Anyone who's visited the massive, multi-story Chick-fil-A in midtown Manhattan knows that, whatever your feelings are about the chain itself, the shop feels surprisingly bright and clean for a fast-food establishment located near Herald Square. Well, all is not as it appears: During a Christmas Eve health inspection, the shop received 59 violation points for infractions, including food that was not protected from potential contamination, dirty wiping cloths, the presence of flies, and the always-popular "cold food item held above 41˚ F." According to the health department's official site, the location was also inspected on December 15, when it received 39 points for similar issues. (As you no doubt know by now, anything over 13 points earns a restaurant a "B" grade, while anything over 27 points is enough for a "C" grade.)
So it closed, temporarily. As the Daily News reports, though, the closure wasn't ordered by the city's DOH but was instead voluntary. Alas, lovers of Polynesian Sauce and waffle fries should know that even though the restaurant was originally scheduled to reopen Monday, the company said there was more work to be done. As of 6:30 a.m. on Tuesday morning, however, the shop is open for business yet again.
This post has been updated throughout.